A Hungarian lorry driver drove the wrong way for three miles in the dark down one of the country's busiest motorways - after getting drunk on home-made plum brandy and beer.
A 56-seater bus was forced onto the hard shoulder as the HGV headed straight for oncoming vehicles.
Driver Pal Korbely was jailed for eight months, and said knew his actions were "dangerous to the max".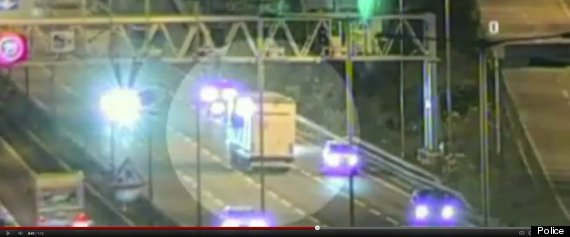 Pal Korbely set off south on the northbound carriage of the M6
Last month, Korbely set off in his HGV south at 10.25pm down the northbound carriage of the M6, with his headlights off, with cars, lorries and a petrol tanker swerving to avoid him.
Three other lorries formed a barrier across the road to stop the drunken driver careering down the motorway any further.
Jailing the 50-year-old father at Birmingham Crown Court, Judge Paul Farrer QC said: "It is little more than good fortune that nobody was killed or seriously injured.
"You described your driving as 'dangerous to the max' and you were right. This was a prolonged course of dangerous driving which presented danger to innocent motorists at the highest level."
Phillip Bradley, prosecuting, said Korbely told police he had spent the afternoon swilling beer and brandy, which was 51% proof, and watching the Grand Prix with two other drivers at Hilton Park service station in Staffordshire.
The prosecutor said he had been intending to spend the night at the services.
He said: "He had no recollection of driving...he said [in police interviews] that his driving was dangerous to the max and he asked whether or not he had killed anyone."
Korbely, who has been a heavy goods vehicle driver for 30 years, was found to have 81mg of alcohol in 100ml of breath when he was breathalysed by the police - more than twice the legal limit for driving.
He was sentenced to eight months imprisonment for dangerous driving and three months for driving with excess alcohol, to run concurrently.
Korbely has also been banned from driving for three years.
Sergeant Robin Barker, from the Central Motorway Police Group, said: "Korbely drove along one of the busiest stretches of the motorway network in Britain, into oncoming traffic, forcing dozens of innocent motorists to swerve out of the way.
"It is a miracle that his dangerous driving did not result in a serious accident, causing injury or even death.
"He knowingly got into this vehicle whilst twice the legal drink drive limit, which is dangerous in itself, before he even started driving the wrong way along the motorway.
"The co-ordinated efforts of Highways Agency staff and emergency services, and the quick-thinking of the passing motorists, means that we are not talking about a more serious incident.
"Hopefully Korbely's sentence will serve as a warning to others to think before they act in such an irresponsible fashion."