We have a feeling we're going to be with Imogen Thomas every step of the way during her pregnancy, whether we have a choice in the matter or not.
She only announced the news less than a week ago, but Imogen has already shared a picture of her baby scan with her Twitter followers.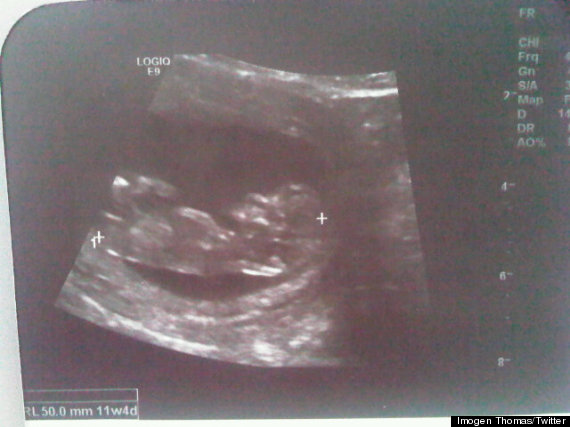 The former Big Brother star tweeted the snap of the little'un growing inside of her alongside the caption: "Our precious little baby :-) xxx"
Imogen - who is expecting the baby with boyfriend Adam Horsley - attended her first midwife appointment this morning and also told her followers of how she asked all the usual silly expectant mum questions.
"Had my 1st midwife appt today :-) asked all the silly questions haaa! Then had a meeting and left so overwhelmed :-) what u all up to? X," she wrote. Imogen debuted her baby bump to the world earlier this week
Earlier this week, Imogen had to dash to hospital when she became concerned about some bleeding.
But thankfully, both mum and baby were ok, as Imogen's rep told us: "Imogen had some clotting yesterday morning which gave her a scare. She went straight to the hospital for an internal scan and thankfully everything was fine with her and the baby."
> IN PICS: Pregnant celebs

Loading Slideshow
<strong>Who's the mumma? </strong>Peaches Geldof <strong>Who's the daddy? </strong>Thomas Cohen <strong>Baby ETA: </strong>April 2013 <strong>Interesting fact: </strong>Peaches and Thomas are expecting a boy and are planning to name him Phaedra.

<strong>Who's the mumma? </strong>Fearne Cotton <strong>Who's the daddy? </strong>Jesse Wood <strong>Baby ETA: </strong>Late 2012 <strong>Interesting fact: </strong>Fearne had to deny she knew the sex of her baby when she referred to her bump as 'her'.

<strong>Who's the mumma? </strong>Imogen Thomas <strong>Who's the daddy? </strong>Adam Horsley <strong>Baby ETA: </strong>February 2013 <strong>Interesting fact: </strong>Imogen and her boyf had been dating 10 months when the star fell pregnant

<strong>Who's the mummy? </strong>Lily Allen <strong>Who's the daddy?</strong> Sam Cooper <strong>Baby ETA:</strong> December <strong>Interesting fact: </strong> For Lily, a source revealed, "work comes second to Sam, Ethel and now their bump. She's just so excited."

<strong>Who's the mummy?</strong> Sarah Michelle Gellar <strong>Who's the daddy? </strong> Freddie Prinze Jr <strong>Baby ETA:</strong> Autumn <strong>Interesting fact:</strong> The couple met on the set of <em>I Know What You Did Last Summer</em>. How - umm -romantic

<strong>Who's the mummy?</strong> Drew Barrymore <strong>Who's the daddy? </strong> Will Kopleman <strong>Baby ETA:</strong> She confirmed she was pregnant in June, but hasn't shared the due date <strong>Interesting fact: </strong> The couple married on 5 June, when Drew was pregnant. So that means the baby was present - aww

<strong>Who's the mummy?</strong> Melissa Joan Hart <strong>Who's the daddy? </strong> Mark Wilkerson <strong>Baby ETA:</strong> Unknown <strong>Interesting fact: </strong> This is the <em>Sabrina The Teenage Witch</em> star's third baby

<strong>Who's the mummy?</strong> Camila Alves <strong>Who's the daddy? </strong> Matthew McConaughey <strong>Baby ETA:</strong> They haven't given a due date yet, but as soon as we know you'll know <strong>Interesting fact:</strong> They have two children Levi, 3, and Vida, 2

<strong>Who's the mumma? </strong>Anne Hathaway <strong>Who's the daddy? </strong>Adam Shulman <strong>Baby ETA:</strong> Well, it's just rumours at the moment, so we can't be sure <strong>Interesting fact: </strong>Despite playing Catwoman in The Dark Knight Rises, it is highly unlikely that Anne will give birth to a litter
Also on HuffPost: