Manchester United have slashed their share price value from $16-20 to $14 ahead of their flotation on the New York Stock Exchange.
Bought by the Tampa-based Glazer family in 2005, the Floridian owners previously failed to generate substantial demand to sell United's shares in Hong Kong and Singapore.
And Wall Street analysts' negative feedback, as well as Facebook's underwhelming stock market debut three months ago, have contributed to the reduction.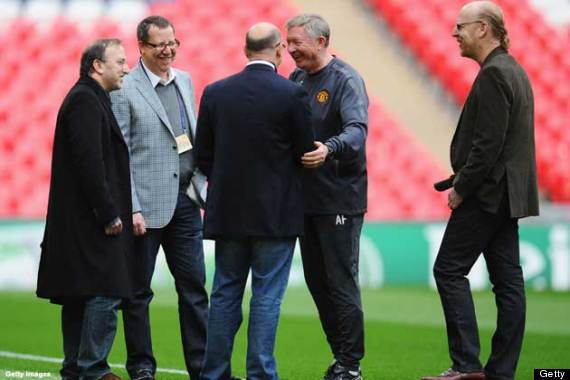 The Glazers with Sir Alex Ferguson prior to the 2011 Champions League final
A statement released by the 19-times English champions last night read:
"Manchester United have announced the pricing of its initial public offering of 16,666,667 class A ordinary shares at a price of 14.00 US dollars per share.

"The class A ordinary shares will be listed on the New York Stock Exchange and will trade under the symbol 'MANU' beginning on August 10, 2012.

"The underwriters have an option to purchase up to an additional 2,500,000 class A ordinary shares from the selling shareholder."
United's debt stands at £423.3m, and the hope amongst more optimistic fans was that the entire sum raised from the flotation would be used to pay off the debt.
However, the initial public offering (IPO) prospectus indicated only half the money will be used in that respect, with the rest going directly to the Glazers, who have not invested a single cent into the club.
Despite the reduced value, United will still be valued at $2.3bn (£1.5bn), ranking them as the most valuable football club in the world, according to Forbes.
A successful IPO would reportedly result in investors owning 42% of the shares available but only carrying voting rights of 1.3%.
Some United supporters' discontent is growing however. The influential RedIssue fanzine, which started the green and gold movement in 2010, recently penned an open letter to manager Sir Alex Ferguson, questioning his complicity with the loathed American owners.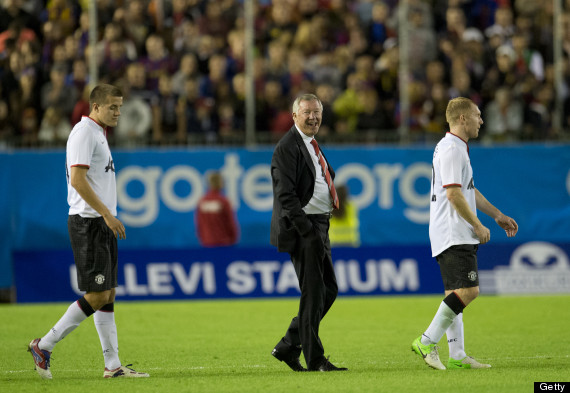 Ferguson on Wednesday night after United's friendly with Barcelona
The Manchester United Supporters Trust (MUST) meanwhile has implored supporters to boycott the club's sponsors.
"The MUST has today called for a worldwide boycott of Manchester United sponsors' products, with support across the UK, Europe, Asia and the US. The boycott strategy is intended to send a loud and clear message to the Glazer family and club sponsors that, without the support and purchasing power of the fans, the global strength of the Manchester United brand doesn't actually exist."