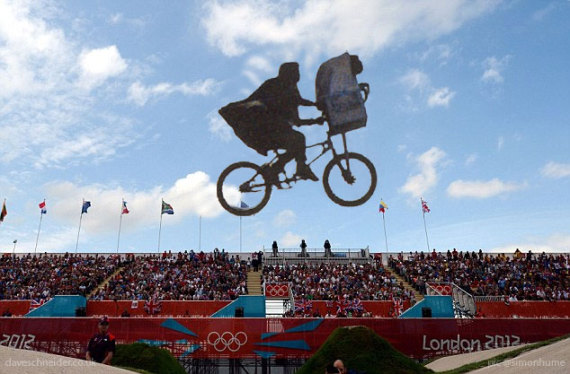 Picture courtesy of the marvellous @DavidSchneider and @SimonHume (with inspiration from The Guardian).
Related on HuffPost:
Loading Slideshow
Bravo to the people of Great Bradley in Suffolk!

Princess Anne gives David Cameron the 'loser' sign. No wonder the Queen looks awkward.

Amazing that he is still able to play, despite having no eyes, ears... or other facial features.

A scene on the volleyball court. Who says sport and media don't mix?

David Cameron calls an emergency Cabinet meeting to discuss Olympic strategy.

MI5's latest recruits are spotted 'incognito' at the equestrian event, and promptly sacked.

Tom Daley may have missed out on a medal, but he <em>does</em> have a pair of Danger Mouse pants and thus is, in fact, one of life's winners.

Team GB diver Sarah Barrow is mortified by the colour of her teammate's nail varnish.

David Cameron: highly uncomfortable when faced with a pretty lady. Although not as uncomfortable as...

...this poor gold medallist.

Words fail us. Also: Camilla.

Bored during a preliminary football game, David Beckham and Prince William entertain themselves with a 'stretch face-off'.

Basketball - our favourite non-contact sport.

David Cameron is snapped practising ahead of his next game against Barack Obama.

Don't worry, he <em>is</em> a physio.

All that hard work going into photo opps, and this will, of course, be the one lasting image we'll all remember from the London 2012 Olympics. Ah well. It's the British way!