Usain Bolt basked in the glow of his fifth Olympic gold medal after winning the 200 metres at the London 2012 by taking photographs of spectators.
The Jamaican, having already shown off some press-ups after clocking in at 19.32 seconds, embarked on a lap of honour with fellow medalists - and countrymen - Yohan Blake and Warren Weir with the trio draped in Jamaican flags.
Bolt, who is eager to embark on a football career, then dabbled in photography when he was given permission by freelance snapper Jimmy Wixtrom to click away.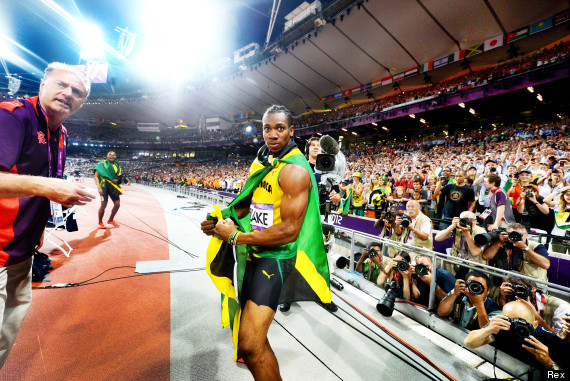 Blake, known as "The Beast", turned beastly for Bolt as he struck a scary pose similar to the one Bolt displayed at their press conference after Sunday's 100m final.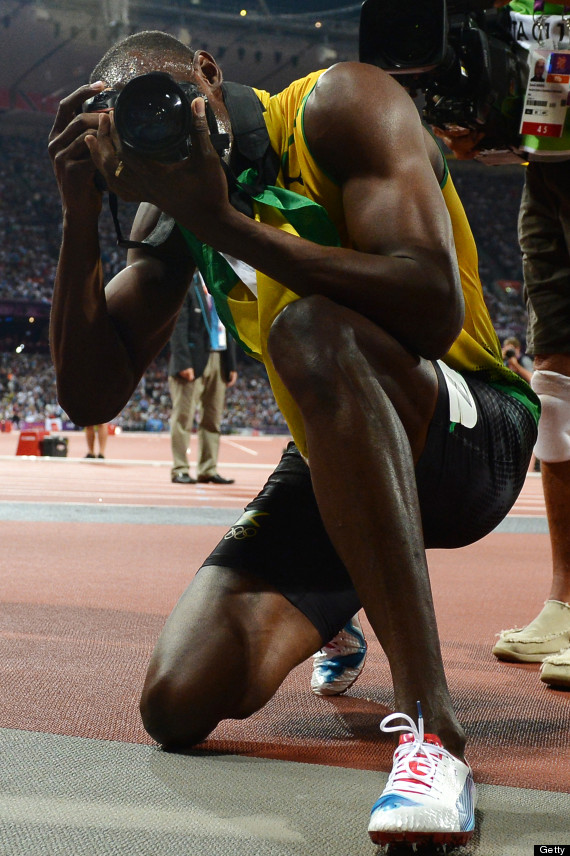 Already Bolt had endeared himself prior to his win. He chatted with a volunteer before the race, bumped fists with another and after his victory attempted to celebrate with anyone and everyone.
Loading Slideshow
Jamaica's Usain Bolt gestures (R) as he crosses the finish line ahead of compatriot Yohan Blake (2nd R) and the rest of the field Jamaica's Warren Weir (3rd R), US' Wallace Spearmon (3rd L), The Netherlands' Churandy Martina (2nd L) and France's Christophe Lemaitre (L) in the men's 200m final of the athletics event during the London 2012 Olympic Games on August 9, 2012 in London. Bolt won gold. (Photo credit: ODD ANDERSEN/AFP/GettyImages)

Usain Bolt of Jamaica celebrates after winning gold in the Men's 200m Final on Day 13 of the London 2012 Olympic Games at Olympic Stadium on August 9, 2012 in London, England. (Photo credit: Clive Brunskill/Getty Images)

Jamaica's Usain Bolt hands back a photographer's Nikon D4 camera as he reacts after victory in the men's 200m final at the athletics event during the London 2012 Olympic Games on August 9, 2012 in London. (Photo credit: JOHN MACDOUGALL/AFP/GettyImages)

Usain Bolt of Jamaica grabs a photo camera from one of the photographers' cameras as he celebrates winning gold in the Men's 200m Final on Day 13 of the London 2012 Olympic Games at Olympic Stadium on August 9, 2012 in London, England. (Photo credit: Harry How/Getty Images)

Jamaica's Usain Bolt uses a photographers camera as he takes pictures after winning the gold medal in the men's 200-meter during the 2012 Summer Olympics, Thursday, Aug. 9, 2012, in London. (AP Photo/Charlie Riedel)

Jamaica's Usain Bolt is surrounded by photographers as he uses one of their cameras after winning the Men's 200m final at the World Athletics Championships in Daegu, South Korea, Saturday, Sept. 3, 2011. (AP Photo/Lee Jin-man)

Photo taken by Usain Bolt on photographer Jimmy Wixtrom's camera of silver medalist Yohan Blake after the men's 200m final. (Photo credit: Rex)

Jamaica's Usain Bolt, left, is surrounded by photographers as he uses one of their cameras after winning the Men's 200m final at the World Athletics Championships in Daegu, South Korea, Saturday, Sept. 3, 2011. (AP Photo/Lee Jin-man)

Jamaica's Usain Bolt, foreground, is surrounded by photographers as he uses one of their cameras after winning the Men's 200m final at the World Athletics Championships in Daegu, South Korea, Saturday, Sept. 3, 2011. (AP Photo/Lee Jin-man)

Jamaica's Usain Bolt takes pictures with a camera of a photographer after winning gold in the men's 200m final at the athletics event during the London 2012 Olympic Games on August 9, 2012 in London. Usain Bolt retained his 200m title on Thursday to become the first man to achieve the sprint double at consecutive Olympics. (Photo credit: FRANCISCO LEONG/AFP/GettyImages)
Related on HuffPost: