Arsenal midfielder Alexandre Song has admitted Spanish giants Barcelona are interested in signing him.
The Cameroonian has been heavily linked with the Catalan club over the past week, and when questioned by Sky Sports on the subject he revealed Barça's interest was concrete.
"I am not going to lie if I said there is no interest," he said. "They [Barcelona] are the best team in the world, but I am at Arsenal and i am happy."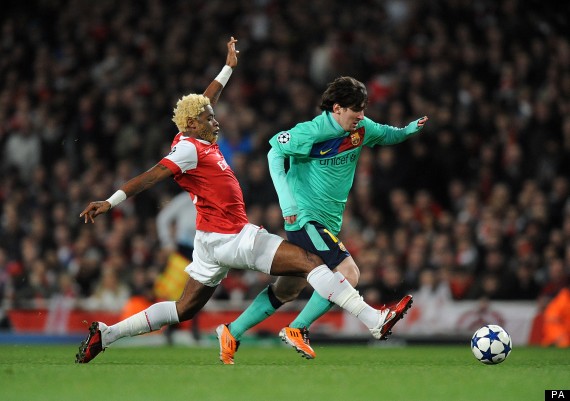 Song challenges Lionel Messi in the 2010/11 Champions League
Song, 24, emerged as a vital cog in Arsène Wenger's team last season after Cesc Fàbregas moved to Barcelona.
Originally a defensive midfielder who also played at centre-back, he enjoyed a more creative role at the Emirates Stadium in Fàbregas' absence, making 46 appearances for the Gunners and scoring one goal.
Most memorably, he provided two cultured assists for Robin van Persie's winning volleys against Everton and Liverpool during the campaign.
Signed from Bastia for £1m in 2006, the African has made 206 appearances for the Reds, scoring 10 goals in the process.
As well as selling Fàbregas to Barça last year, Wenger also sold Marc Overmars and Emmanuel Petit to the four-times European Cup winners in 2000 for a combined fee of £25m.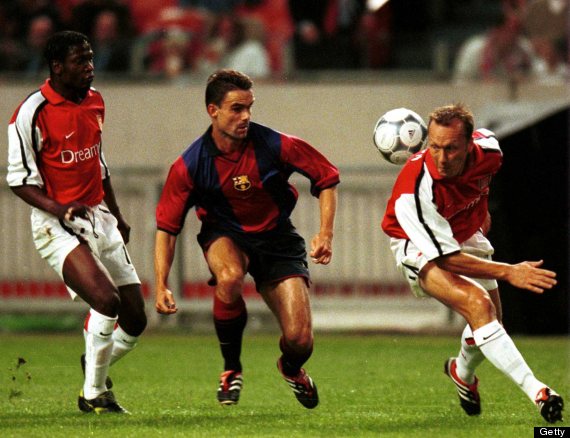 Overmars faces Arsenal shortly after his transfer at the Amsterdam Tournament