Samantha Cameron has a well deserved reputation for dressing well, but unfortunately her husband has torpedoed her holiday look.
A series of photographs released by the Conservative Party show the prime minister on the Spanish island of Majorca sporting his favourite "chillaxing" blue shirt with matching blue jeans.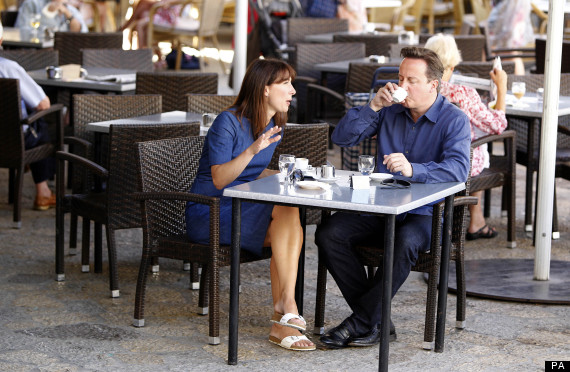 Katie Jones, the assistant editor of the fashion and style website MyDaily, observed: "Sam Cam looks great. Unfortunately her husband has spoilt her chic style moment by wearing the closest thing to her denim dress.
She added: "A big fashion faux pas from Dave."
Cameron is spending time between the closing ceremony of the London Olympics and the start of the Paralympics on 29 August.
"If you don't think politicians ought to have holidays I think you need to have a serious think," he told reporters before jetting off to Spain with his family.
SEE ALSO: Double Denim: Samantha And David Cameron's Matchy-Matchy Holiday Style
Loading Slideshow
Cameron holiday

Prime Minister David Cameron and his wife Samantha sit at a cafe in Majorca, Spain, while on holiday in the area.

Cameron holiday

Prime Minister David Cameron and his wife Samantha sit at a cafe in Majorca, Spain, while on holiday in the area.

Cameron holiday

Prime Minister David Cameron and his wife Samantha sit at a cafe in Majorca, Spain, while on holiday in the area.

Cameron holiday

Prime Minister David Cameron and his wife Samantha sit at a cafe in Majorca, Spain, while on holiday in the area.

Cameron holiday

Prime Minister David Cameron and his wife Samantha sit at a cafe in Majorca, Spain, while on holiday in the area.

Cameron holiday

Prime Minister David Cameron and his wife Samantha sit at a cafe in Majorca, Spain, while on holiday in the area.

Cameron holiday

Prime Minister David Cameron and his wife Samantha sit at a cafe in Majorca, Spain, while on holiday in the area.

Cameron holiday

Prime Minister David Cameron and his wife Samantha sit at a cafe in Majorca, Spain, while on holiday in the area.

Cameron holiday

Prime Minister David Cameron and his wife Samantha sit at a cafe in Majorca, Spain, while on holiday in the area.

Cameron holiday

Prime Minister David Cameron and his wife Samantha sit at a cafe in Majorca, Spain, while on holiday in the area.

Cameron holiday

Prime Minister David Cameron and his wife Samantha sit at a cafe in Majorca, Spain, while on holiday in the area.

British Prime Minister David Cameron Holidays In Spain

MAJORCA, SPAIN - AUGUST 14: British Prime Minister David Cameron and his wife Samantha sit at a cafe on August 14, 2012 in Majorca, Spain. The Prime Minister and his family are enjoying a short holiday in Spain and will return to to London next week. Foreign Secretary William Hague is in charge of the Government while the Prime Minister is away. (Photo by Peter Byrne/WPA -Pool/Getty Images)