Scientists at the University of Florida say the snake, which was dead when it was found, is the biggest ever recorded.
The female python was pregnant with 87 eggs - an unheard of number.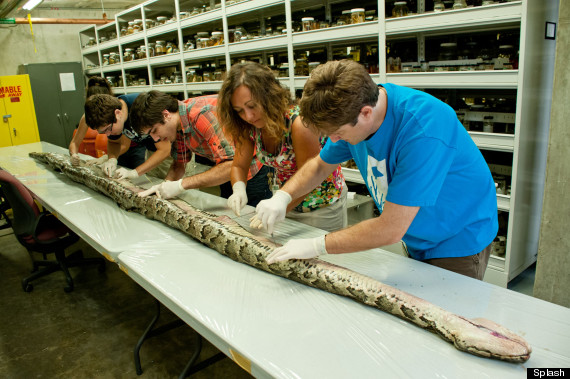 The giant snake is laid out in full as scientists examine her
SEE ALSO:
"There's nothing stopping them, and the native wildlife are in trouble."
The giant snakes have no known predators and prey on birds, deer, bobcats and alligators.
He added: "A 17-and-a-half foot- snake could eat anything it wants."
Some 1,825 Burmese pythons were found between 2000 and 2011 in and around the Everglades National Park.
Huge Python Sets Florida Record
SUBSCRIBE TO & FOLLOW UK DAILY BRIEF