Look, everyone - it's a candid shot of full-time US president/part-time wizard Barack Obama staring into his crystal ball during a campaign stop in Iowa on Monday. Just fancy that!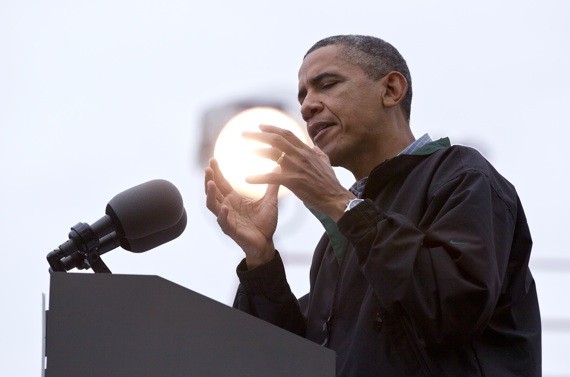 We should just add that this photograph - taken by Carolyn Kaster of the Associated Press - hasn't been doctored in any way at all. Honestly.
Some less imaginative types have suggested the effect was merely due to a light shining behind the president, which made him look like he was holding a glowing orb. But frankly, we'd prefer to stick to the crystal ball/wizard version of the story.
Indeed, it's a little known fact that Barack predicted Sharon's recent return to EastEnders, having 'seen' it in his magic orb.
He also knew England were going to crash out of Euro 2012 in a penalty shoot-out and that Australia would under-perform in the Olympics. So how do you explain that away, eh?
Want more proof that Obama is the coolest man on the planet? Take a look...
Loading Slideshow
President Obama Sings Al Green

Obama At The 2011 White House Correspondents' Dinner

'Slow Jam The News' With Barack Obama

Obama Enjoys Fast Food

Obama Orders Stephen Colbert To Shave His Head

Behind The Scenes With Obama And Colbert

President Obama's Letter To Betty White

Obama Calls Kanye West A Jackass

Obama Swats Fly During Interview

Obama On Letterman: 'I Was Black Before The Election'

Obama Plays Basketball

President Obama Tells Journalist Off

Jump to 20 seconds before the end...

Obama On The 'Coolest Thing He's Ever Said'

Ever heard of a "vanadium redox fuel cell"? Well, neither has President Obama, speaking at a small business forum in Cleveland, but that hasn't stopped it from being one of the coolest things he's ever said out loud.

Obama's 'Cool Handshake'

Not real, sure, but still funny...

Jibjab's 'He's Barack Obama' Song

Also not real, of course, but still very brilliant.

Obama's Coolest Moments - A Compilation