England manager Roy Hodgson has expressed his hope John Terry will be "freed" from a Football Association charge for allegedly using racist language.
Terry was charged by the FA last month after he was cleared by Westminster Magistrates' Court for racially abusing Anton Ferdinand on 13 July during a Premier League match between Queens Park Rangers and Chelsea.
But the FA then charged the former England captain a fortnight later for making "reference to the ethnic origin and/or colour and/or race of Ferdinand".
Hodgson surprisingly weighed in with his opinion at his pre-match press conference ahead of England's friendly with Italy on Wednesday night.
"John, hopefully, will be freed as he was freed in a court of law, and will carry on playing for England. That's my hope. What will happen, I have no idea," he opined.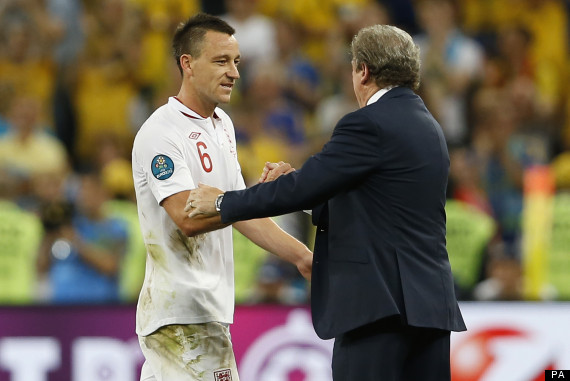 Hodgson has shown noticeable loyalty towards Terry
Before his candour, Hodgson initially stressed "I'm not prepared to discuss John" when asked about the charge.
@sachinnakrani

sachin nakrani
Roy Hodgson's inability to think before he speaks to a group of journalists really is quite astonishing.
And aready the England manager is facing a backlash, with former Three Lions boss Graham Taylor suggesting "He shouldn't be getting involved in commenting" on the matter.
Since his appointment as England manager in May, Hodgson has had to deal with criticism of Rio Ferdinand and Michael Carrick's European Championship squad omissions as well as the archaic tactics he adopted during the tournament.
Piara Powar, executive director of Football Against Racism, has labelled Hodgson's comments as "foolish".
"It is not helpful to the process the FA has undertaken in any way," Powar added.
"Whatever support Roy Hodgson wants to give to a member of his squad, he also has to remember the FA's wider role. For the England coach to go public with his view like this calls into question that dual function."
Lord Herman Ouseley, chair of Kick It Out, football's equality and inclusion campaign, meanwhile said:
"Kick It Out honours and respects the process currently underway by the FA in relation to John Terry and won't make any further comment until this investigation is concluded.
"Any comments made by Mr Hodgson on it, equally, are a matter for the FA, not for Kick It Out."