Globe On Screen: Doctor Who's Arthur Darvill Is One Of The Stage Stars - Scarier Than Weeping Angels?
Arthur Darvill is looking forward to the end of his stint as Rory, Amy Pond's REAL companion, in Doctor Who, for one reason only…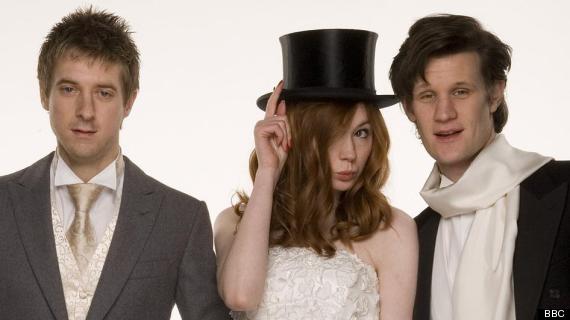 Rory, Amy and the Doctor - just one big happy family
"I'll be able to watch it like a real fan, without knowing what's going to happen. And Matt's such a good actor, so I'll definitely be tuning in, just to watch him."
Darvill admits, though, that he'll be a bit sad to say goodbye after three years on the show: "It's like one big family, in every job I do now, there's someone I've met on Doctor Who. And it's got so good, we've just been really lucky to have Stephen Moffat at the helm of it all, with his complete vision of everything."
Click here for all the latest news and pictures from Doctor Who
Darvill is confident, however, that the end of Rory does not mean the end of Arthur – with good reason. The classically-trained actor has already enjoyed a celebrated stint on London's Globe stage with another Doctor - this time, it's Faustus – where he got to be far more devilish as Mephistopheles than he ever did as the long-suffering Rory.
So which is more frightening, facing the Weeping Angels reported to wreak havoc one more time as he and Amy make their departure, or to take to the London stage in a leading role? He ponders...
"Being on stage at the Globe, I have to say.
"But I was given some great advice by my co-star's wife. She said to imagine on the first night that everyone in the audience is just holding up the stage, literally supporting you.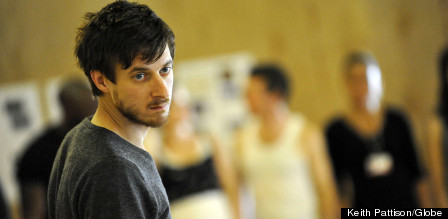 Arthur Darvill in action as Mephistopheles in Dr Faustus, on stage at the Globe
"I normally don't go in for all that, but I was really bricking myself. And the Globe's audience are very non-judgmental, it's not your normal stroky-chinned London audience."
Darvill's Dr Faustus is one of the Globe's productions on offer at cinemas around the country as part of its Globe on Screen new season - click here for more info. To celebrate, HuffPostUK has an exclusive launch video below... see if you can spot some familiar faces...