A teenager who carried the Olympic Torch days before he sat his A-level exams said he was overjoyed at getting three A* grades and two As on Thursday.
Jamie Green, 18, of Malton, North Yorkshire, said it was impossible to decide which was more exciting - parading the flame through the seaside town of Scarborough during the Games relay in June, or finding out he had been awarded some of the highest A-level marks in Yorkshire.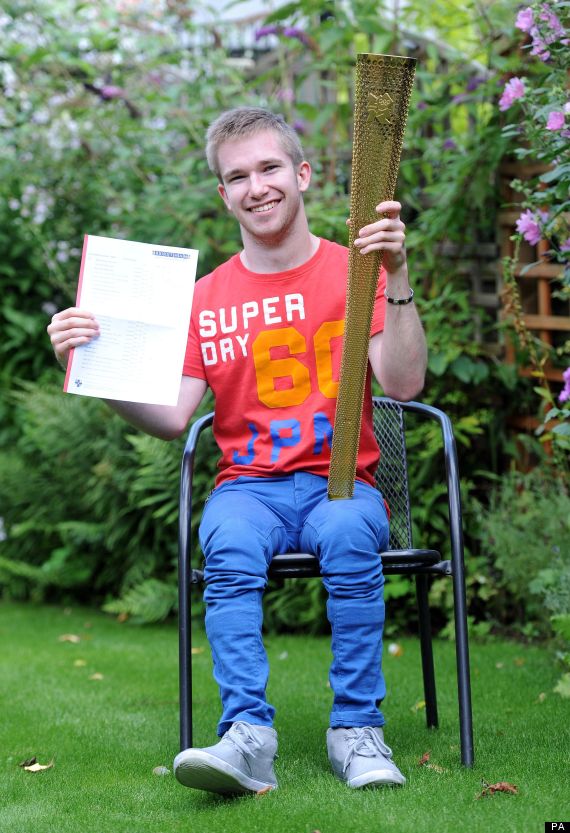 Jamie Green carried the torch a day before his exams
"It's been a fantastic summer," said Jamie, adding that he was shocked to receive such strong grades.
"I had the torch-carrying event on the Monday, then I had my French exam and English exam later that week, so it was quite a week but a great experience.
"Both are absolutely brilliant but for different reasons. The torch was a once-in-a-lifetime experience but these results will set me up for the rest of my life."
He got A* for French, German and his extended project and A grades in English and history at Bootham School in York. He will now study languages at Durham University.
Jamie, who has cerebral palsy and has used a wheelchair all his life, was picked as an Olympic torchbearer in recognition of his work with Whizz-Kidz - a charity that provides wheelchairs for disabled children.
In his role as children's patron, he has spoken at events in Downing Street and addressed MPs at both the Labour and Conservative Party conferences
He also plays wheelchair basketball for Wakefield in the national junior league.
"I find it's best to keep yourself busy," he added.
Loading Slideshow
Hazel Bergin celebrates her 600 points in leaving certificate exams at Loretto College in Dublin. Radical changes in the way Leaving Certificate maths and Irish are being taught has reaped rewards for students, exam results reveal. Photo credit: Niall Carson/PA

Eli Ingle, 19, from Sheffield who has been taught at home since he was 13 and says his exam successes show it is possible to be educated at home right up to A-level. Hundreds of families across the UK every year choose to take their children out of school and teach them at home. But but very few continue this past GCSEs into the traditional sixth-form stage. Eli, from Sheffield, already has two A*s - in business studies and sociology - and is hoping for similar high standards when he gets his psychology result later today. He said he thought about going back to college for A-levels but he and his family had enjoyed his home education so much he wanted to carry on. Photo: Dave Higgens/PA

Nicole McGrath celebrates her leaving certificate results at Loretto College in Dublin this morning. Radical changes in the way Leaving Certificate maths and Irish are being taught has reaped rewards for students, exam results reveal. Photo credit: Niall Carson/PA

Joe O'Sullivan from Kenmare Co Kerry celebrates with his 9 A1s in his Leaving Cert results in the Stillorgan Park Hotel, Dublin. Radical changes in the way Leaving Certificate maths and Irish are being taught has reaped rewards for students, exam results reveal. Photo credit: Julien Behal/PA

L-R Niambh Boyle and Nicole McGrath celebrate their leaving certificate results at Loretto College in Dublin this morning. Radical changes in the way Leaving Certificate maths and Irish are being taught has reaped rewards for students, exam results reveal. Photo credit: Niall Carson/PA

Cliodhna Ryan celebrates her leaving certificate results at Loretto College in Dublin this morning. Radical changes in the way Leaving Certificate maths and Irish are being taught has reaped rewards for students, exam results reveal. Photo credit: Niall Carson/PA

Nicole McGrath and her mother Audrey celebrate her leaving certificate results at Loretto College in Dublin. Radical changes in the way Leaving Certificate maths and Irish are being taught has reaped rewards for students, exam results reveal. Photo credit: Niall Carson/PA

Students Kathryn McCanaan and her best friend and fellow student Rob Johns celebrate both gaining university places after receiving their A-Level results at Hillsborough College, Sheffield. Photo credit: Anna Gowthorpe/PA

(From left to right) Rachel Peacock, 18, Katie Winter 17 and Hannah Jovey, 18, hold their A-level results outside Newcastle Church High School, after they achieved six A*s and three As between them. Katie, Hannah and Rachel all succeeded in getting the grades they needed and will be heading off to their first-choice universities in September. Photo credit: Tom White/PA

(From right to left) Rebecca Bland, 18, Liz Hierons, 18, Sophie Thompson, 18, Emily Wilson, 18, and Hannah Knox, 18, all hold their A-level results at Central Newcastle High School, after Emily Wilson's grades set her up to become a helicopter pilot with the RAF. Emily, who achieved an A* in biology and an A in chemistry and physics, has been accepted to study biology at the University of Edinburgh and will then head to Sandhurst for her military training. Photo credit: Tom White/PA

Emily Wilson holds her A-level results at Central Newcastle High School, after her grades set her up to become a helicopter pilot with the RAF . Emily, who achieved an A* in biology and an A in chemistry and physics, has been accepted to study biology at the University of Edinburgh and will then head to Sandhurst for her military training. Photo credit: Tom White/PA

Students queue for their A-level results at the Capital FM Arena, Nottingham, as official figures showed that the proportion of A-levels scoring at least an A grade has fallen for the first time in more than 20 years. In total, 26.6\% of the exams were given an A or A*, down from 27\% in 2011 - a record drop of 0.4\%. Photo credit: Rui Vieira/PA

Charlotte McGuiness (left) and Georgia Herron, who both achieved three As, pupils from Chelmsford county high school for girls in Chelmsford, Essex, who were both Olympic Volunteers during the London 2012 Olympic Games. Photo credit: Sean Dempsey/PA

Students from the left; Theodore Zobas, Rob Johns, Garth Williams, Callum Cockbill and Sam Crossland celebrate after receiving their A-Level results at Hillsborough College, Sheffield. Photo credit: Anna Gowthorpe/PA

Students react after receiving their A-level results at the Capital FM Arena, Nottingham. Photo credit: Rui Vieira/PA

Jack Perkins, from Newark, reacts after receiving his A-level results at the Capital FM Arena, Nottingham. Photo credit: Rui Vieira/PA