Not content with achieving his Olympic dream of winning a medal at the London Games, Tom Daley has proved he's also pretty smart by achieving three A grades in his A and AS levels.
The poster boy of Team GB tweeted on Thursday morning that he had got one A* grade and one A grade at A level, as well as an A grade at AS level.
"I got an A in Spanish! Overall I have A* photography(A2), A spanish(A2) and A maths(AS) :) thanks 2 @PlymouthColleg1 :D," he said.
@TomDaley1994

Tom Daley
Daley also shared a picture of his Spanish results with his one and a half million Twitter followers: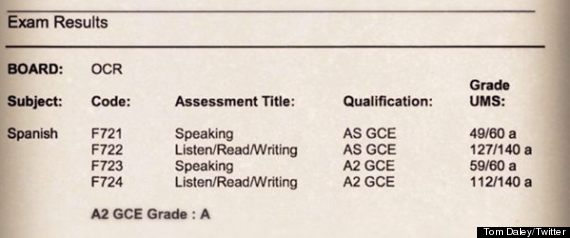 The 18-year-old wished his fellow students good luck as thousands across the country nervously peeled open their results letters.
@TomDaley1994

Tom Daley
Good luck to everyone collecting A level results today!!! I am getting mine soon :O
According to official figures the proportion of A-levels scoring at least an A grade has fallen for the first time in more than 20 years.
In total, 26.6% of the exams were given an A or A*, down from 27% in 2011 - a record drop of 0.4%.
SEE ALSO:
Related on HuffPost:
Loading Slideshow
Tom Daley goes for gold

Tom Daley goes for gold

Tom Daley goes for gold

Tom Daley goes for gold

Tom Daley goes for gold

Tom Daley goes for gold

Tom Daley goes for gold

Tom Daley goes for gold

Tom Daley goes for gold

Tom Daley goes for gold

Tom Daley goes for gold

Tom Daley goes for gold

Tom Daley goes for gold

Tom Daley goes for gold

Tom Daley goes for gold

Tom Daley goes for gold

Tom Daley goes for gold

Tom Daley goes for gold

Tom Daley goes for gold

Tom Daley goes for gold

Tom Daley goes for gold

Tom Daley goes for gold

Tom Daley goes for gold

Tom Daley goes for gold

Tom Daley goes for gold

Tom Daley goes for gold

Tom Daley goes for gold

Tom Daley goes for gold

Tom Daley goes for gold

Tom Daley goes for gold