"You are either going to love her or hate her, but we love her," said Tulisa at the launch about Spice Girl Mel B, who appears as a guest judge on the X Factor in episode one of the new series, to be shown on Saturday evening.
In scenes which will leave you wondering, "Is Mel B possibly the best X Factor judge ever?" the outspoken singer's opinions gave Simon Cowell's quips a run for their money as she terrified the hopefuls at the Manchester auditions.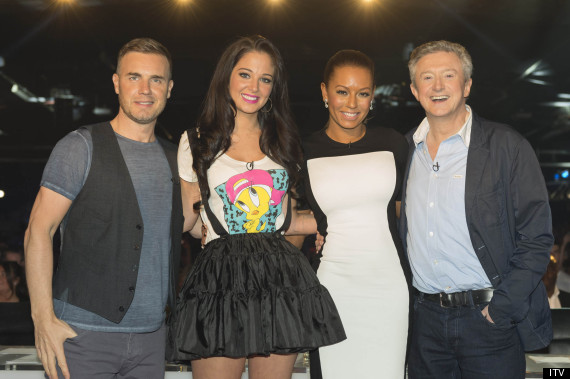 Gary Barlow, Tulisa, Mel B and Louis Walsh
Living up to her 'Scary' nickname, here are just a selection of the brutally honest quotes that came out of her mouth while she gave feedback to the acts:
"I've had more fun watching paint dry"
"You look like a popstar, but you don't sound like one"
"There was nothing right about that at all"
"I actually wanted to fall asleep"
"I found it irritating"


And if these don't sound that bad, wait until you see the context in which they're said, and you'll soon change your mind... think everyone else saying YES and some very sweet contestants.
Defending her feisty attitude, seasoned X Factor judge Louis Walsh said: "She's just saying what everyone is thinking at home, she's very honest."
CLICK HERE for all the latest news and pictures on our special X Factor page
And although Nicole Scherzinger wasn't on the judging panel at the same time as Mel, she added: "She's pretty scary."
Pictures of the X Factor launch...

Loading Slideshow
X Factor press launch

X Factor press launch

Nicole Scherzinger

X Factor press launch

Tulisa

X Factor press launch

Caroline Flack

X Factor press launch

Louis Walsh

X Factor press launch

X Factor press launch

Dermot O'Leary

X Factor press launch

Caroline Flack

X Factor press launch

Tulisa

X Factor press launch

Sinitta

X Factor press launch

X Factor press launch

Nicole Scherzinger

X Factor press launch

Nicole Scherzinger

X Factor press launch

Caroline Flack

X Factor press launch

Tulisa

X Factor press launch

Dermot O'Leary

X Factor press launch

X Factor press launch

Louis Walsh

X Factor press launch

Nicole Scherzinger

X Factor press launch

Sinitta

X Factor press launch