It's a new day, which can only mean one thing - another swimsuit shot from Kim Kardashian.
The reality star is beginning to rival Rihanna in the size of her bikini collection as she has debuted another two-piece on Twitter (where else?).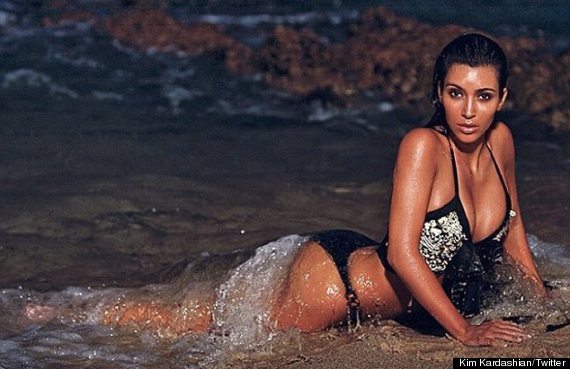 Kim posted snaps of herself writhing around in the sand in a black bikini alongside the captions "Night swim" and "Night shoot". Inventive.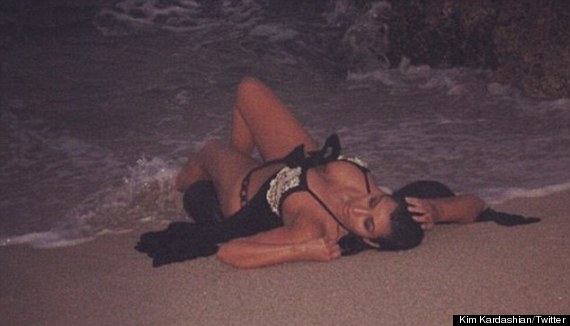 Meanwhile, it has been reported that Kim is becoming increasingly frustrated at her ex-husband Kris Humphries as his legal team stall on their divorce proceedings.
Their lawyers came face to face in court on Wednesday, when they accused each other of being uncooperative. Kim and ex-husband Kris Humphries
Kris' lawyer Marshall Waller is reported to have told the judge: "I don't want to use the word uncooperative, but they are not making the process easier," says E! news.
Waller then claimed he hasn't been able to get hold of Kim's mother and manager Kris Jenner's financial records, which they were hoping would prove the marriage was fraudulent.
"I'm not going to depose Ms. Jenner until I get the business records," Waller said. "I'm trying to get information."
Kim's lawyer, Laura Wasser, then vented her frustration, saying: "I'm at a loss to figure out what the holdup is. They had a prenup and were married 72 days."
"To say I am frustrated is an understatement," she added.
> IN PICS: BEACH BABES

Loading Slideshow
Beach Babes

Fearne Cotton

Beach Babes

Katy Perry

Beach Babes

Tulisa

Beach Babes

Kim Kardashian

Beach Babes

Lindsay Lohan

Beach Babes

Louise Redknapp

Beach Babes

Lydia, Lauren and Chloe (TOWIE)

Beach Babes

Naomi Watts

Beach Babes

Paris Hilton

Beach Babes

Rihanna

Beach Babes

Rosie Huntington-Whiteley

Beach Babes

Tulisa

Beach Babes

Denise Richards

Beach Babes

Amy Childs

Beach Babes

Anne Hathaway

Beach Babes

Coleen Rooney

Beach Babes

Michelle Rodriguez

Beach Babes

Gwen Stefani

Beach Babes

Janice Dickinson

Beach Babes

Nicky Hilton

Beach Babes

Michelle Rodriguez