A 16-year-old student called Ella gave the X Factor judges goose bumps on Saturday when she took to the stage and performed a song written after her granddad's death.
The touching lyrics even won over guest judge Mel B at the Manchester auditions; up till that point the former Spice Girl had offered up a raft of negative comments towards contestants.
Mel B said: "What we just witnessed was incredible," and Louis Walsh agreed: "You're a class act."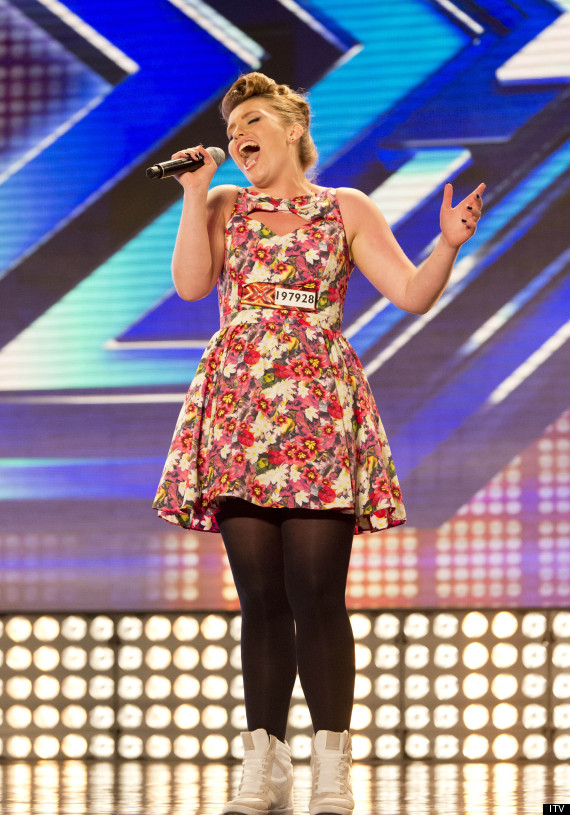 Ella chose to sing a song written after her grandfather's death
CLICK HERE for all the latest news and pictures on our special X Factor page
Ella, from Tetney in Lincolnshire, who told audiences she had been performing for her grandfather since she was a toddler, seemed to capture Tulisa's heart.
The outspoken judge, gushed: "There's so many good things I could sit here and say about you, I could go on and on - the list is endless, but the one thing is that you are the one person that I personally go 'I really want to mentor, I really do' I see something so special in you, there's just a spark, you're just a star."
Meanwhile, Gary Barlow labelled the young singer: "Out of this world."
Saturday's 75-minute episode saw a revamp of The X Factor, with producers allowing wannabes to write and perform their own original music.
PHOTOS: X Factor returns! All of the contestants from the first episode...

Loading Slideshow
X Factor 2012 Episode 1

Alexander, or should that be Rod Stewart?

X Factor 2012 Episode 1

Alexander

X Factor 2012 Episode 1

Tulisa wannabe Ashley

X Factor 2012 Episode 1

Ashley

X Factor 2012 Episode 1

Curtis

X Factor 2012 Episode 1

Curtis, more than a geek

X Factor 2012 Episode 1

Curtis

X Factor 2012 Episode 1

Ella

X Factor 2012 Episode 1

Fe

X Factor 2012 Episode 1

Jahmene

X Factor 2012 Episode 1

Jahmene

X Factor 2012 Episode 1

Jahmene

X Factor 2012 Episode 1

Jahmene

X Factor 2012 Episode 1

Jahmene

X Factor 2012 Episode 1

Jahmene

X Factor 2012 Episode 1

Jahmene

X Factor 2012 Episode 1

Jahmene

X Factor 2012 Episode 1

Omar

X Factor 2012 Episode 1

Omar

X Factor 2012 Episode 1

Rick

X Factor 2012 Episode 1

Rick

X Factor 2012 Episode 1

Sheyi

X Factor 2012 Episode 1

X Factor 2012 Episode 1

Sheyi

X Factor 2012 Episode 1

Sheyi

X Factor 2012 Episode 1

Tasha

X Factor 2012 Episode 1

Tasha

X Factor 2012 Episode 1

Zoe

X Factor 2012 Episode 1

Zoe

X Factor 2012 Episode 1

Zoe

X Factor 2012 Episode 1

Zoe

X Factor 2012 Episode 1

Zoe

X Factor 2012 Episode 1

Ella
Loading Slideshow
X Factor press launch

X Factor press launch

Nicole Scherzinger

X Factor press launch

Tulisa

X Factor press launch

Caroline Flack

X Factor press launch

Louis Walsh

X Factor press launch

X Factor press launch

Dermot O'Leary

X Factor press launch

Caroline Flack

X Factor press launch

Tulisa

X Factor press launch

Sinitta

X Factor press launch

X Factor press launch

Nicole Scherzinger

X Factor press launch

Nicole Scherzinger

X Factor press launch

Caroline Flack

X Factor press launch

Tulisa

X Factor press launch

Dermot O'Leary

X Factor press launch

X Factor press launch

Louis Walsh

X Factor press launch

Nicole Scherzinger

X Factor press launch

Sinitta

X Factor press launch