The wife of a disgraced Chinese politician has received a suspended death sentence for murdering British businessman Neil Heywood.
Gu Kailai poisoned Mr Heywood with cyanide last year in the south-western city of Chongqing, where her husband Bo Xilai was chief of the Communist Party, the court in Hefei heard. Neil Heywood was poisoned with cyanide last year
A suspended death sentence is usually commuted to life imprisonment under the country's legal system.
A family aide was jailed for nine years for his part in the death of Mr Heywood, a former associate of the family.
Mr Bo was dismissed in March as party secretary for Chongqing, having once been considered a strong contender for a top position.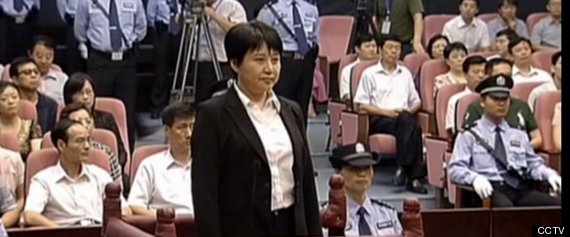 Gu Kailai in court in Hefei, for the one-day murder trial
He Zhengsheng, a lawyer for Mr Heywood, said he had to discuss the verdict with the Heywood family and did not know if they would lodge an appeal.
He added: "We respect the court's ruling today. Thank you all for your concern."
The Hefei court has been closed to international media, but state media said Gu confessed to intentional homicide at a one-day trial in the eastern city on August 9 under heavy guard.
According to the reports, she and Mr Heywood had a dispute over money and Mr Heywood allegedly threatened her son.
The official Xinhua News Agency said she was depressed and on medication at the time. The family aide, Zhang Xiaojun, also confessed after being charged as an accessory.
Zhang had reportedly invited Mr Heywood to travel with him to a holiday resort in Chongqing from Beijing.
The report said Kailai met Mr Heywood in his hotel room for a drink. After Mr Heywood was drunk, vomited and asked for water, but instead, Kailai gave him poison to drink, provided to her by Zhang. Bo Xilai, right, then China's Minister of Commerce, and his wife Gu Kailai
The British embassy, whose consular officials attended the trial, said in a statement that it welcomed the fact China had tried those who were identified as being responsible for killing Mr Heywood. The embassy said it had "wanted to see the trials in this case conform to international human rights standards and for the death penalty not to be applied".

Prime Minister David Cameron's official spokesman said: "We made clear to the Chinese authorities that we wanted to see that case properly investigated. The outcome is a matter for the Chinese authorities."
Mr Heywood's death in a hotel last November was initially ruled an accident and put down to alcohol abuse, although his friends insisted he was not a heavy drinker.
Gu's arrest and the ousting of her husband sparked the biggest political turbulence in China since the bloody crackdown on the Tiananmen Square pro-democracy protests in 1989.
Mr Heywood, who tutored Bo Xilai's son Bo Guagua to get him into Harrow, had lived in China for a decade and was close to the aspiring politician, despite having fallen out with his wife some years before.
British media have suggested the two may have been lovers.
Mr Heywood's Chinese wife Lulu initially declined an autopsy, and his body was cremated.
Prosecutors were said to have relied on just a sliver of heart muscle as physical proof of the poisoning.
The case is believed to be the first murder of a British national in China for 30 years.
It is not yet known what Mr Bo's fate will be, as he has been investigated by his party over corruption claims.