Gu Kailai, the woman convicted of the murder of Neil Heywood, hired a body double to appear in court and serve her suspended death sentence, according to rumours circulating on social networks.
People using Chinese microblogging site Weibo claimed that the wife of disgraced politician Bo Xilai had paid the lookalike to appear in the docks on Monday.
Rumours became so widespread that China banned the use of the phrase 'body double' on social networks, reported The Age.
A comparison of the faces of Gu Kailai and the woman who appeared in court on Monday appear to show significant differences.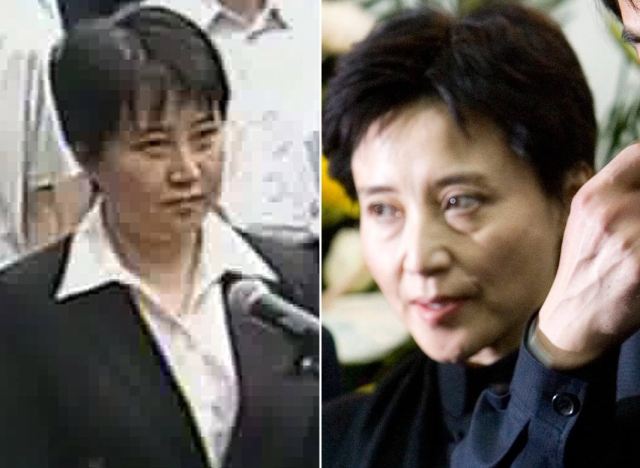 Will the real Gu Kailai please stand up?
Some Twitter users noted the handcuffed woman has a much rounder face than old pictures of Gu Kailai. She also appears to have put on weight, something rarely observed in those incarcerated in Chinese jails.
However many speculated she was afforded the special privilege of being held under house arrest, which may have led her to gain weight.
@zoomtokyo

Geoff Botting
Gu Kailai was NOT the woman in the docks. No way. No real physical resemblance, only short hair and age range. Mark my words.
Her features also appear less angular and her eyes less wide in the pictures from the trial, though images are blurry and foreign media has not been allowed observe the proceedings.
@mattfelici

Matt Felici
Well that most definitely isn't Gu Kailai.
The mother-of-one has reportedly been suffering from psychological problems, including paranoia and insomnia. She has also suffered from chronic anxiety and been dependent on medication in the past, something which the court took into consideration after finding her guilty of murdering Old Harrovian Neil Heywood. She is reported to have plied him with drink then poured cyanide into his mouth after a financial disagreement.
However many commentators on the case insist that there is no doubt that Gu Kailai's status as the wealthy wife of a formerly prominent Communist politician will have influenced the trial. Neil Heywood was close to the powerful family of Bo Xilai but relations had begun to sour, according to reports
Mo Shaoping, the lawyer who represents jailed
Nobel Peace Prize winner Liu Xiaobo,
told the BBC:
"It is undeniable that under the current political situation here, Bo Xilai's status and influence are extra-judicial factors that will have unavoidable impacts on the case."
Although hiring a body double to serve jail time is an outlandish concept to Western society, the idea of a replacing oneself with a hired substitute is a common practice in China according to The Daily Herald.
The paper reports that the practice is so the Chinese have coined a term for it: ding zui, which translates as "substitute criminal."
It may be immaterial whether or not the real Gu Kailiai will serve her life sentence. The 53-year-old is likely to serve her time in 'luxurious' Qincheng prison, reports The New York Times, a penitentiary so well known for offering corrupt officials their 'final privilege', it is nicknamed 'China's Club Fed.'
Related on HuffPost: