Plunging through the deep blue, these images of underwater swimmers have a certain ethereal, dream-like quality.
The snaps are part of photographer Mark Tipple's Underwater Project, which has seen him document human beings out of their element and in the ocean.
To take his extraordinary shots, Tipple holds his breath and dives to the seafloor where he waits for the perfect moment as his fellow swimmers take the plunge.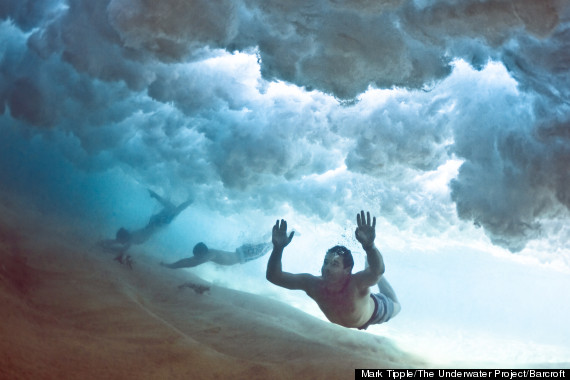 Deep blue: Swimmers push against the current
He said: "I've always been intrigued by what happens below the surface.
"Coming from a surfing background I used to wonder what happens when we're duck-diving.
"I always wondered what it looks like from a different angle than what we can see above the surface."
Loading Slideshow
Mark Tipple captures stunning pictures of divers beneath the waves in Sydney. (Photo credit: Mark Tipple/The Underwater Project/Barcroft)

Mark Tipple captures stunning pictures of divers beneath the waves in Sydney. (Photo credit: Mark Tipple/The Underwater Project/Barcroft)

Mark Tipple captures stunning pictures of divers beneath the waves in Sydney. (Photo credit: Mark Tipple/The Underwater Project/Barcroft)

Mark Tipple captures stunning pictures of divers beneath the waves in Sydney. (Photo credit: Mark Tipple/The Underwater Project/Barcroft)

Mark Tipple captures stunning pictures of divers beneath the waves in Sydney. (Photo credit: Mark Tipple/The Underwater Project/Barcroft)

Mark Tipple captures stunning pictures of divers beneath the waves in Sydney. (Photo credit: Mark Tipple/The Underwater Project/Barcroft)

Mark Tipple captures stunning pictures of divers beneath the waves in Sydney. (Photo credit: Mark Tipple/The Underwater Project/Barcroft)

Mark Tipple captures stunning pictures of divers beneath the waves in Sydney. (Photo credit: Mark Tipple/The Underwater Project/Barcroft)

Mark Tipple captures stunning pictures of divers beneath the waves in Sydney. (Photo credit: Mark Tipple/The Underwater Project/Barcroft)

Mark Tipple captures stunning pictures of divers beneath the waves in Sydney. (Photo credit: Mark Tipple/The Underwater Project/Barcroft)