We're in Edinburgh for the final week of the Fringe, and we've never seen so many stars. And we don't just mean Tim Key in the Pleasance Courtyard bar or Al Murray on Waverley station platform.
We mean the stars that have been added to show posters. The show posters that are everywhere.
Yes, anyone who's earned a four- or five-star review from a paper or website has now added said stars to their posters. Which is understandable - tension is mounting ahead of the Foster's Comedy Award on Sunday (with nominations coming out on Wednesday), and the Bank Holiday weekend is likely to see thousands of extra punters descend on the city with limited cash and time. Both of these things mean that, more than ever, performers need their posters to scream 'Look! This show is good! Everyone says so!' - and there's no quicker, easier way to show this than by slapping star ratings all over it.
Unfortunately, however, it doesn't necessarily mean that your show will now stand out in the crowd - because guess what? Everyone around you is slapping star ratings all over their posters, too. Sometimes at the expense of their show title: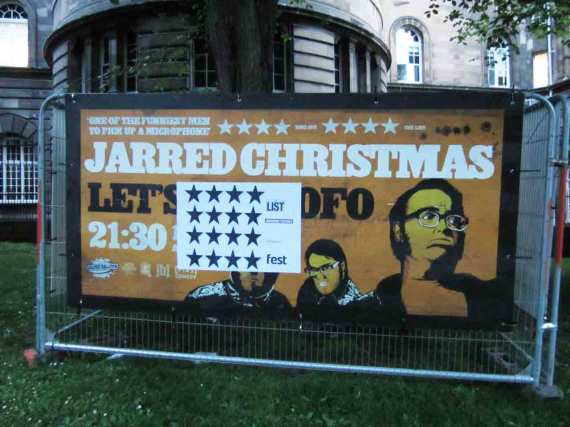 And sometimes at the expense of their entire poster: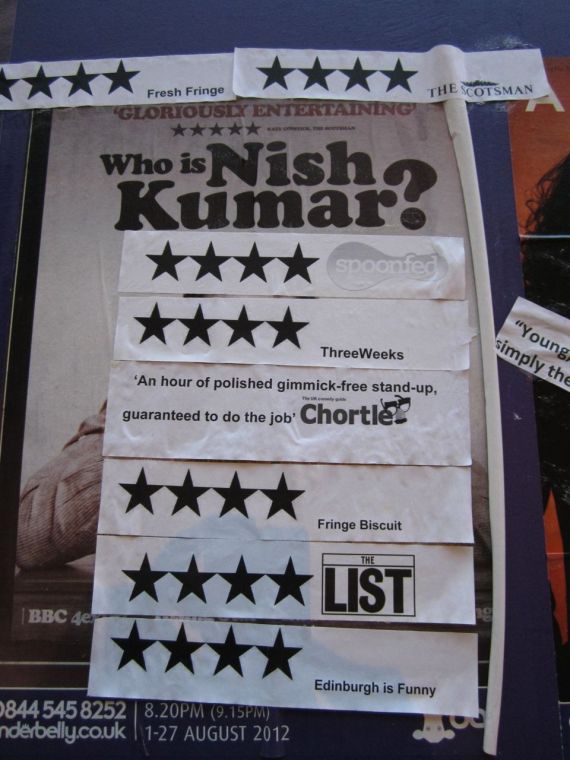 Still, if these posters prove anything, it's surely that all that matters, in the end, is your name. And your star-rating.
Meanwhile, in other Edinburgh Fringe-tasticness...
News we've heard:
That Hugh Grant was refused entry at a venue. That Marcel Lucont has the funniest show on the Fringe. That this is the funniest joke of the festival. That Andrew Doyle is great at dealing with hecklers. That Phil Nichol doesn't like all those posters we were just talking about.
Shows we've loved:
Josie Long: Romance And Adventure An impassioned, hilarious hour of comedy in which our heroine muses over both the political and personal, covering such issues as the enjoyment of upper-class activities, things to do before you're 30, and how to be "a prick for good". Sometimes in a 1920s American accent.
Sara Pascoe: The Musical! Quirky without being alienating, natural without being dull, and very, very funny without being cocky, Pascoe takes her audience through her (mainly adolescent) life story - complete with the occasional song. Not just a gifted storyteller but a great singer, too. Mind you, in her own words, she is an over-achiever.
The Horne Section: Live At The Grand! Alex Horne and his intrepid band of jazzers once again provided an utterly delightful mix of songs and silliness - culminating in all the audience members with beards standing on stage. Tuesday night's guests were a pretty special bunch, too - Simon Amstell performed an epic medley of Enrique Iglesias's Hero, Seal's Kiss From A Rose, Vanessa Carlton's A Thousand Miles and Circle of Life from The Lion King (no, really). And just when you thought that couldn't be topped, Suggs turned up to lead the audience in a singalong of It Must Be Love.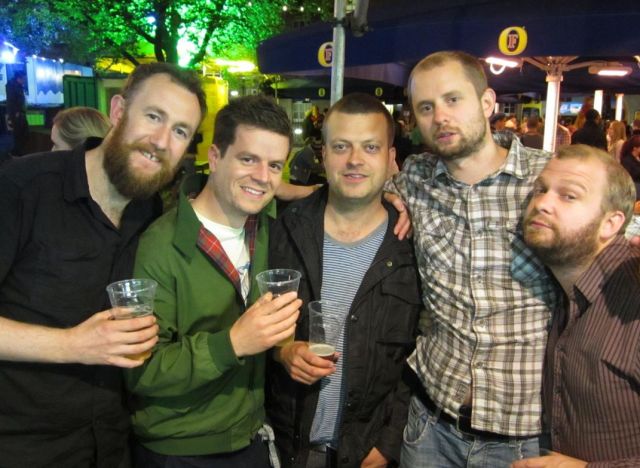 Five-sixths of The Horne Section. It must be love.
Pictures we've taken:
A slideshow we'll keep adding to as we make our way around the city and the shows. Warning: may contain images of street performers.
Loading Slideshow
The Fringe starts here - official!

This sort of thing is perfectly normal on the Royal Mile right now.

...as is this...

...and this.

Thought Julian Assange was safely holed up in the Ecuadorian Embassy? Think again...

And the award for Best Lighting In A Fringe Venue Bar goes to... The Underbelly Cowgate!

They also win the Most Imaginative Form Of Signage award, too.

Unfortunately, we haven't got round to asking him yet.

Only in Edinburgh. On a former church.

Some lampposts (and posters) have seen better days. Well, it is the last week of the Fringe.

No, readers, we didn't.

Again, perfectly normal Royal Mile behaviour.

It's 'Wind In The Willows', in case you were wondering.

Well, it beats 'Golf Sale'.

And THAT'S how you hand out flyers with style.

Imaginative marketing for The Boy With Tape On His Face, aimed at giants.

What is it? We're afraid we can't tell you. Because it's hidden. Sort of.

And no, that 'hidden gem' isn't the castle.

The main BBC venue at the Edinburgh Fringe. It is very large, and very blue.

Although there is also a pink tent, if you prefer...

...and a table tennis table!

Inside the blue venue you saw earlier. We told you it was big.

Waiting to see a show at the Voodoo Lounge - possibly the coolest venue entrance. Especially at 3 o'clock in the afternoon.

Even MacDonald's has got into the Fringe spirit!

The best beer mat ever - and a nice Fringe show marketing ploy.

Where to find a show at The Pleasance.

Show posters - now with added stars.

Not the Battersea Power Station, but the Underbelly venue.

The Gilded Balloon - pretty in pink (and purple).

The Assembly - lit up like a Christmas tree. (Includes mini Christmas trees)

Audiences are down - but there are still queues. Very long queues.

Need a ride?

Every space is covered.

No, really.

Proof that it doesn't always rain in Edinburgh: sunshine on The Meadows...

...where performers like to chill out.

The reviews board at the Underbelly.

Has Richard Herring's cock ever been so big?

The Pleasance Courtyard - still a festival focal-point...

...and still one of the prettiest venues.

Although if you prefer Magners to Foster's, head to the Underbelly.

Avalon Comedy's 'street team' of flyers are now, wisely, equipped with umbrellas.

Star ratings - more important than show titles...

...and sometimes more important than the entire poster.

The giant inflatable cow that IS the Underbelly.

We told you it was giant.

You saw the Underbelly show - now buy the sweatshirt!

Lights! No cameras! Action!

Yeah - what ABOUT a Fat Stag Burger?

The Pimms man is happy, despite rain affecting sales.

The Pleasance courtyard by night.