Celebrity Masterchef is currently on our screens, with its usual charms - famous faces screwed up with the efforts of creating the perfect souffle, the benevolent smiles of John Torrode and Greg Wallace as they search for the best things to say about each dish (even when it's actress Anne Charleston's overdressed salad), the deceptively dulcet tones of the voice-over lady.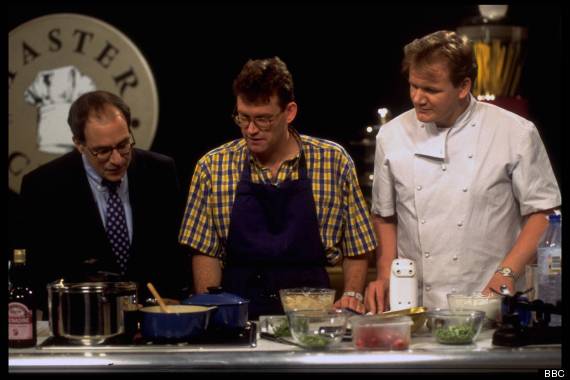 Something missing from the MasterChef kitchen? This could be it
But, there is a ghost in the kitchen, and it's one who used to "deliberate, cogitate and digest" through the original version of the show back in the 1990s.
What the Telegraph called the 'Bostonian brainiac' Loyd Grossman was a distinctive presence when the show was a Sunday afternoon guilty TV pleasure, when three contestants were each asked to create the perfect three-course meal for one... for £30 or so (20 years ago? For one person? Pure decadence!)
Grossman's elongated vowels and purring his way through the tasting process with the likes of fellow boffins Sir Clement Freud all added to the impression that cookery at this level was not for the likes of those with TV dinners on their laps.
So when powers-that-be decided on a revamp, Grossman (and presumably his bosses) were happy to let someone else more jolly, less refined, pick up the rolling pin and bring it bubbling into the 21st century - and global domination (one final of the new version of MasterChef was the second most-watched show in Australian TV history).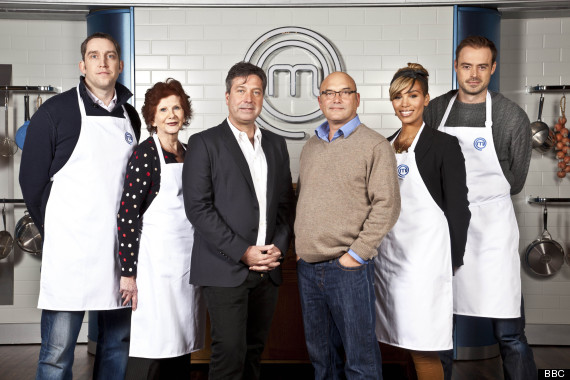 Grossman was not a fan of the 'combative' form of cookery that came to TV - but he appears to have changed his mind
As Grossman told the Telegraph, "The winds of reality TV were starting to blow pretty strongly," says Grossman, "so the BBC wanted it to be more aggressive. Food as a combat sport. I was happy to let someone else try it in this new style." (Read the full interview here...)
But he's back! Not content with peppering our palates with his collection of sauces, and turning himself into a bespectacled Martha Stewart with his huge range of cooking ware, Grossman has - according to the Sun - somehow got over his distaste for the combat sport of cookery and been lured by Simon Cowell to be a judge on a new cookery reality show.
The newspaper reports that he'll be joined by Prince Charle's stepson food writer and TV presenter Tom Parkes Bowles on Food Glorious Food, with a very prestigious, possibly lucrative prize promised to the winning contestant... (Read more here)
Of Grossman, who also presented Through the Keyhole for a long time with host Sir David Frost, a show insider was quoted in the Sun: "It is a great coup signing up Loyd to the show as he was always a favourite on the original version of MasterChef.
"Tom is also one to watch – and will bring a touch of class to proceedings."
As if Loyd doesn't! No word yet on reactions of Masterchef bosses to this more populist rival in a newly culinary Cowell. Presumably, they're still deliberating, cogitating, etc...
Celebrities cooking? Here are some other stars with more extreme hobbies to take their mind off the hard graft of entertaining us..
Extreme Celebrity Hobbies
Harrison Ford not only flies planes but also owns a helicopter, and has even offered up his services to local authorities near his Wyoming ranch. In 2000, he was credited with helping rescue some sick hikers with his helicopter.

Tom Cruise is an avid flier and has had his pilot's license since 1994.

Madonna's a fan of horseback riding ... and has been injured several times after falling from horses.

John Travolta has had his pilot's license for many years, and owns several aircrafts. However, things haven't always gone smoothly in the air. In 1992, a plane he was flying had an electrical failure and he was forced to make an emergency landing. Yikes!

He may play a surgeon on "Grey's Anatomy," but in his spare time, Patrick Dempsey likes to hit the road and race. He's competed in several auto races and is the owner of Dempsey Racing and co-owner of the Vision Racing IndyCar Series team.

Is there anything sexier than a hot guy on a motorcycle? No. Don't believe us? Just look at Bradley Cooper...

...or George Clooney.

Angelina Jolie is no stranger to the pilot's seat -- she's been flying small planes for years.

Just like Angie, Brad Pitt likes to take flight every once in a while.

He may not be an avid skydiver, but Bill Murray did take a leap of faith with a member of the U.S. Army parachute team, the Golden Knights, at the 50th Chicago Air and Water Show in 2008. (Really, we just couldn't pass up including a photo of Mr. Murray skydiving!)

Is there anyone cooler than Matthew McConaughey? Yes, and he's called Matthew McConaughy on a surfboard.