What do Prince Harry, Paris Hilton, Brad Pitt and Kim Kardashian have in common?
They've all had their naked bits flashed around the internet for all and sundry to see.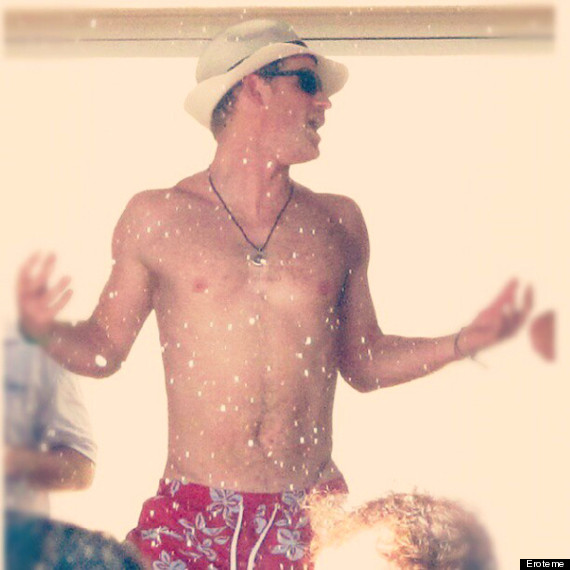 Hope he's wearing suncream: Prince Harry bares his pasty torso in Las Vegas
Whether they've fallen prey to a wardrobe malfunction, found themselves starring in a leaked sex tape (step forward Paris Hilton and Kim Kardashian), had their phones hacked (Scarlett Johansson) or are simply born exhibitionists (yes, you Madonna), being naked, especially accidentally, is big business.
So, as the world pores over Prince Harry's Las Vegas exploits (and his bits), we've collected some of the most notable nude scandals of recent years and packed them into this one handy gallery.
Enjoy.
Loading Slideshow
Christina Hendricks

In March 2012, <a href="http://www.huffingtonpost.co.uk/2012/03/05/christina-hendricks-topless-mad-men-actress-admits-phone-was-hacked-but-denies-picture-is-her-pictures_n_1320514.html" target="_hplink">photos of what appeared to be a topless Christina Hendricks leaked online. </a> A rep for the actress denied that the breast-baring photos were stolen from her phone, claiming that the breasts belonged to another woman. (Getty)

Brad Pitt

While on vacation in St. Barts with then-girlfriend Gwyneth Paltrow in 1995, Brad Pitt was photographed sunbathing nude, and the illegally procured photos were sold and published by <em>Playgirl. </em> Pitt sued the magazine and a judge ordered <em>Playgirl</em> not to deliver any more copies of its 1997 August edition, which contained the photos, <a href="http://www.nytimes.com/1997/07/15/us/brad-pitt-sues-playgirl-over-nude-photographs.html" target="_hplink">according to the <em>New York Times</em>. </a>

Chris Brown

In 2011, an ex-girlfriend of Chris Brown turned on him and leaked <a href="http://perezhilton.com/2011-03-04-chris-brown-naked-photo-leaks" target="_hplink">full body nude photos online</a>. The photos showed Brown posed in a bathroom with his new blond-dyed hair. Brown later addressed the photos on radio show "Big Boy's Neighborhood" and brushed off the photo leak, <a href="http://theybf.com/2011/03/15/finally-chris-brown-talks-openly-about-leaked-nude-pics" target="_hplink">claiming he wasn't ashamed of his body and has no regrets. </a> (Getty)

Vanessa Hudgens

In 2007, then-Disney darling and "High School Musical" star Vanessa Hudgens had nude photos leaked online. The actress, who was 18 at the time, <a href="http://today.msnbc.msn.com/id/20631297/ns/today-entertainment/t/vanessa-hudgens-apologizes-nude-photo/" target="_hplink">released an apology to fans</a>, saying " want to apologize to my fans, whose support and trust means the world to me. I am embarrassed over this situation and regret having ever taken these photos." Disney issued a statement about the scandal, explaining: "Vanessa has apologized for what was obviously a lapse in judgment." (Getty)

Scarlett Johansson

Scarlett Johansson's nude photos leaked in 2011 after they were hacked from her personal email account. The photos were meant for then-husband Ryan Reynolds, but ended up online for all to see. When asked about the photos in an i<a href="http://nymag.com/daily/fashion/2012/04/johansson-discusses-nude-photo-scandal-in-vogue.html" target="_hplink">nterview with <em>Vogue</em> magazine, the actress said: </a> "I don't want to be a victim and say, 'Oh, well' and just hide my head in shame. Somebody stole something from me....It's sick." Getty)

Rihanna

It seems as if Rihanna is hardly ever dressed these days, so we can barely call this a scandal. In 2009, naked photos of the singer surfaced online and were rumored to have been leaked by Rihanna's ex-boyfriend Chris Brown. Though the singer isn't shy about her body, she wasn't happy when the photos leaked. She told radio station Hot 97 that it was "the worst thing that could possibly ever happen to" her. "I just felt like my whole privacy was taken before that [by the injury photo] and then, when that came out, I thought, 'Oh great, so now there's nothing they don't know about me and my private life.' It was humiliating and it was embarrassing," <a href="http://music-mix.ew.com/2009/12/02/rihanna-talks-naked-photos-leak/" target="_hplink">she said in December 2009.</a> (Getty)

Christina Aguilera

In 2010, semi-nude photos of singer Christina Aguliera leaked online. The photos showed the singer nearly naked, wearing pasties to cover her nipples, and another photo leaked that clearly showed a scar on her underarm from breast implant surgery. Reps for the singer claimed the photos were taken from her stylist's computer and leaked by a hacker. <a href="http://www.marieclaire.co.uk/news/celebrity/509663/christina-aguilera-hit-by-nude-photo-scandal.html" target="_hplink">In a statement to the press, her reps said: </a> "The photos of Christina Aguilera being leaked to the press were illegally obtained by a hacker who tapped into Christina's personal stylist's account. 'We find the actions of the hackers and the press who purchased and/or obtained these photos to be irresponsible and actionable' the statement continued. 'We are attempting to determine the identity of the hackers and will pursue them aggressively. Their conduct is reprehensible.' (Getty)

Paris Hilton

Night vision sex tape, Sidekick hacked. You know the story. In 2005, <a href="http://www.engadget.com/2005/02/20/paris-hiltons-hacked-sidekick-releases-unedited-tell-all/" target="_hplink">Hilton's phone was hacked and dozens of nude photos</a> of the reality star hit the web. Some of the photos featured Paris and a female friend kissing and getting cozy. <a href="http://www.andpop.com/2005/02/20/update-paris-hiltons-phonebook-nude-pics-leaked-to-web/" target="_hplink">Hilton's contact list was also leaked along with the photos</a>. Hackers posted more than 100 email addresses and phone numbers believed to belong to celebrities, including Ashlee Simpson, Christina Aguilera, Fred Durst, Eminem, Anna Kournikova, Lindsay Lohan, Fergie, Jay-Z, Pharrell Williams and Lil Jon. (Getty)

Snooki

"Jersey Shore" star and mother-to-be Snooki has had not one, but two nude photo scandals. The pint-size reality star's nudes first hit the web in April 2010, when a photo was anonymously posted at the website nakedSnooki.com. The <a href="http://www.huffingtonpost.com/2010/02/12/snooki-naked-nude-pic-rel_n_460388.html" target="_hplink">photo showed the reality star naked and posed on all fours, with a thought bubble floating over her head, reading</a>: "There are no nude photos nor will there ever be. The tabloids just love snook gossip ;]" The star had <a href="http://www.huffingtonpost.com/2012/06/09/snooki-nude-photos-jersey-shore-nude-cell-photos-leak_n_1583167.html" target="_hplink">another nude photo leak in June 2012</a>, which featured Snooki wearing a white robe left open to reveal her body. A rep for the star told reporters, "Clearly these are old and personal photos that were not meant for the public. It's a shame someone decided to leak them for obvious personal gain."

Pete Wentz

In 2006, photos of Fall Out Boy bassist Pete Wentz's penis rocked the Internet. The photos were orginally posted on the Live Journal gossip site Oh No They Didn't and the incident <a href="http://www.urbandictionary.com/define.php?term=peengate" target="_hplink">became known as "Peengate '06" by members. </a> The original poster reported that she received the photos third-hand, and that Wentz originally sent the pictures to a girlfriend. Wentz later admitted that he handled the leaked photos "pretty terribly for the first 48 hours," and went so far as to quit his band temporarily. "But then then what I realized is that it's not the worst thing on the planet that's ever gonna happen," <a href="http://www.celebuzz.com/photos/celebrity-nude-photo-scandals/6th-annual-kidstock-music-and-arts-festival-arrivals/" target="_hplink">he told Celebuzz</a>. The entire incident was later parodied in Fall Out Boy's video for "<a href="http://www.youtube.com/watch?v=GNm5drtAQXs" target="_hplink">This Ain't a Scene, It's an Arms Race</a>". (Getty)

Tori Spelling

We'd hardly call it a scandal, but in November 2011, Tori Spelling's husband, Dean McDermott, a<a href="http://www.huffingtonpost.com/2011/11/17/tori-spellings-husband-dean-mcdermott-tweets-her-boobs_n_1099621.html" target="_hplink">ccidentally tweeted a photo of his son with his wife topless in the background.</a> McDermott shared the photo with his 74,000 Twitter followers and although he deleted the tweet, the actual photo remained viewable on his Lockerz account for some time. Initially, Spelling, who is nursing her newborn baby girl, Hattie, says she was "shocked" and "devastated" by the blooper. But she took it all in stride. "But it's like, what am I going to do? I am a mom, I was nursing my baby... [Dean] was so devasted about it that I couldn't be mad. I mean it was genuinely an accident,"<a href="http://www.huffingtonpost.com/2011/12/01/tori-spelling-talks-tople_n_1123162.html" target="_hplink"> Spelling told CNN</a>. "I would rather it happen now than any other time because when you are nursing, your boobs look better than ever, bold [and] beautiful." (Getty)

Kim Kardashian

A nude photo scandal seems like nothing next to Kim Kardashian's sex tape with ex-boyfriend Ray J, but luckily all of her nude photo scandals since the video have turned out to be fake. In April 2012, a photo of a woman frying eggs in a kitchen in the buff surfaced online. <a href="http://www.huffingtonpost.com/2012/04/27/kim-kardashian-denies-naked-kitchen-photo-not-me_n_1458758.html" target="_hplink">While the woman did bare a striking resemblance to Kim, reps for the reality star denied it was her. </a> And most recently, it was believed that Kim's boyfriend, rapper Kanye West, tweeted a naked photo of his love, but it turned out to be a hoax. The photo in question was actually of porn star Amia Miley, who had tweeted the photo to her own account. <a href="http://www.tmz.com/2012/06/13/kim-kardashian-naked-picture-kanye-west-twitter-porn-star-wanksterwednesday/" target="_hplink">Amia told TMZ that she's never hooked up with Kanye, and it turned out the photo was never even posted on Kanye's account</a>. According to TMZ, it's all part of #WanksterWednesday -- a prank day where people try to get bogus rumors started. (Getty)

Jessica Alba

In 2010, Jessica Alba fell victim to a hacker who leaked t<a href="http://www.wwtdd.com/2010/11/jessica-alba-has-naked-cell-phone-pictures/" target="_hplink">opless photos of the star, </a>who was pregnant with daughter Honor Marie. The photos showed her growing belly and one shot showed the star pulling down her shirt to expose her nipple. (Getty)

Ke$ha

We'd be surprised if Ke$ha didn't have a nude photo or two online. In 2010, a topless photo of the singer, who describes herself as a "hot hobo," hit the Internet. The photo showed the singer topless with an arrow pointing at her chest along with a sexually-explicit description. Later, two more photos leaked that showed the <a href="http://egotastic.com/entertainment/celebrities/kesha/viewer-discretion-advised-purported-kesha-muff-diving-photos-cause-internet-unsensation-006706/" target="_hplink">singer engaging in sexual acts</a>. (Getty)

Kristin Davis

In 2008 alleged nude photos of "Sex and the City" star Kristin Davis leaked online. The photos were taken in 1992 by her then-boyfriend Eric Stapelman, and it was rumored that the pictures were stills from a sex tape. <a href="http://www.tmz.com/2008/03/18/sex-in-kristins-city/" target="_hplink">Reps for the actress denied the photos were of Davis, telling TMZ</a>, "This is not a photo of Kristin Davis. There is no sex tape." (Getty)

Kanye West

In 2010, <a href="http://www.huffingtonpost.com/2010/10/14/kanye-west-nude-photos-be_n_763426.html" target="_hplink">Kanye West snapped pictures of his penis and sent them to multiple women</a>--who shopped the photos around to various media outlets. One image shows a nude Kanye from the chest up, wearing sunglasses and a gold chain, while the second photo shows the singer's genitals provocatively exposed from his boxer briefs. The rapper's song "Runway" also happens to describe his nude photo leak perfectly: "She find pictures in my email/I sent this girl a picture of my dick." (Getty)

Rob Lowe

In 1989, then-22-year-old Rob Lowe was caught in a sex tape where it was discovered one of the girls was underage. In an in<a href="http://www.dailymail.co.uk/tvshowbiz/article-1381935/Rob-Lowe-My-sex-tape-scandal-greatest-thing-happened-me.html#ixzz1xnsZFkZY" target="_hplink">terview with Oprah in 2011, he spoke about the tape: </a> "Let me just say this -- sometimes being a trailblazer is highly overrated," Lowe said of what was the first celebrity sex tape. He also went on to insist that he was absolutely sure the underage girl was 21 at the time, when asked about finding out that she was only 16. "'Ha! A little too late!'" he said. (Getty)

Amber Rose

In 2011 nude photos of Amber Rose leaked online and had the model in tears for days. <a href="http://articles.nydailynews.com/2011-07-01/gossip/29744667_1_nicki-minaj-amber-rose-x-rated-photos" target="_hplink">According to the NYDN,</a> Amber was distraught after a trusted friend leaked explicit pictures of her online. The photos show Amber completely nude and touching herself and ran along side a Media Take Out story claiming that she send the images to Nicki Minaj's boyfriend. Both Amber and Nicki denied the story, but the photos of the model were in fact real.

Brett Favre

In 2010, photos of Minnesota Vikings quarterback Brett Favre's penis surfaced online after he sent naked photos to 26-year-old sports reporter Jenn Sterger. <a href="http://www.huffingtonpost.com/2010/10/07/brett-favres-answers-ques_n_754876.html" target="_hplink">According to the report on Deadspin</a>, Favre contacted Sterger via MySpace when he was with the New York Jets and began leaving her voicemails. When Sterger declined, Favre reportedly sent her multiple pictures of his penis. (Getty)

Kat Dennings

In 2010, "2 Broke Girls" star Kat Dennings had <a href="http://yeeeah.com/2010/11/05/kat-dennings-leaked-nude-cell-phone-pics/" target="_hplink">topless photos hit the web. </a> The photos showed the actress in her bedroom, lifting up her top to expose her breasts to her webcam. Dennings' photos were leaked along with topless photos of actress Jessica Alba. (Getty)

Heather Morris

In March 2012, "Glee" actress <a href="http://www.eonline.com/news/glees_heather_morris_nude_pics_hit_web/300326" target="_hplink">Heather Morris was another star to have nude photos leaked online</a> in a string of photo leaks. The photos show a serious of cellphone self-portraits and a variety of poses. Some photos show the star in skimpy athletic gear, and others show her modeling her sexy Britney Spears-inspired costume for the "I'm a Slave 4 U" number she performed on "Glee." (Getty)

Ashley Greene

In 2009, topless photos of "Twilight" star Ashley Greene hit the Internet and the actress was not happy. Ashley i<a href="http://omgcelebritynews.com/2009-08-11-ashley-greene-nude-photos-controversy" target="_hplink">mmediately contacted her attorney, </a>who then threatened to sue anyone who unlawfully posts the pictures. "The photos in question, which appear to be of our client, are illegal and are being unlawfully displayed. Our client intends to take legal action," her lawyer told reporters. (Getty)

Renee Olstead

<a href="http://www.buzzfeed.com/gavon/renee-olstead-nude-photos-nsfw" target="_hplink">Explicit photos</a> of "The Secret Life of the American Teenager" actress Renee Olstead hit the Internet in March 2011. The then-21-year-old star never commented on the nude photos, but the photos, posted along with several other celebrity nudes, got the <a href="http://www.radaronline.com/exclusives/2011/03/celebrity-nude-photo-blogger-goes-underground-fbi-continues-hacker-investigation" target="_hplink">FBI involved</a>. (Getty)

Taylor Swift

After celebrity skin website <a href="http://www.huffingtonpost.com/2011/10/31/taylor-swift-caught-in-nude-photo-scandal_n_1066923.html#s=442981" target="_hplink">Celeb Jihad posted photos of an allegedly topless Swift with the headline "Taylor Swift Topless Private Pic Leaked?"</a> the poised and pretty country crooner is in full attack mode, assuring her fans that she is not the girl in the photo, according to <em>The Hollywood Reporter.</em> The photo in question shows a young blonde, who bares a striking resemblance to Swift, sprawled across a bed wearing only a pair of blue underwear. Swift's lawyers acted quickly, demanding that the fake photo be removed from websites. (Getty)

Hayley Williams

Paramore lead singer Haley Williams had a <a href="http://perezhilton.com/2010-05-28-hacker-posts-topless-photos-of-hayley-williams-on-her-twitter-account#.T9pK4ytYuLU" target="_hplink">topless photo posted to Twitter</a> and claimed her account had been hacked. The photo appeared to have been taken by the singer, and later explained to fans on Twitter, ""Well...my night just changed drastically. Got hacked."

Olivia Munn

Nude photos of Olivia Munn hit the Internet in March 2012, but the actress i<a href="http://www.huffingtonpost.com/2012/03/05/olivia-munn-fake-nude-photos_n_1320771.html" target="_hplink">mmediately denied their veracity</a>. The photos include a midriff-baring Munn, a lingerie shot and finally a fully nude photo that does not picture Munn's face -- raising the possibility that the subject is not Munn but a woman who has a similar body type. The photos that picture Munn's face are likely legitimate. Munn herself took to Twitter to laugh off the scandal by posting photos of a baby and a cat and writing, "If you ever hacked my phone, these are the pictures you'd find." <a href="http://www.huffingtonpost.com/2012/03/10/olivia-munn-sxsw-letter_n_1336986.html" target="_hplink">Later Munn wrote a hilarious letter to fans</a>, in which she adorably bragged about all the good deeds she was doing while not sending lewd texts, ending with a note about the pictures' obvious fake nature because of certain absent physical traits. (Getty)

Blake Lively

In 2011, photos of a <a href="http://egotastic.com/2011/05/breaking-news-purported-blake-lively-topless-pictures-fly-across-the-net/" target="_hplink">woman resembling Blake Lively surfaced online. </a> The batch of self-taken photos show multiple shots of the woman's cleavage, a close-up of her nipple and some full-body nudes as well. There were also some non-nude photos that feature the woman with the same fake tattoos Lively wore for her role in "The Town" and a photo that shows the actress's face. <a href="http://www.huffingtonpost.com/2011/06/01/blake-lively-nude-pics-ar_n_869590.html" target="_hplink">Lively's reps claim the photos are fake</a>, but if so, they are best fakes we've ever seen.

Vanessa Williams

In 1984, nude photos of Vanessa Williams cost her the crown as the first black Miss America winner. In the September issue of <em>Penthouse,</em> Bob Guccione had published a series of nude photographs of Williams, posing with another young woman. The photos raked in $24 million for <em>Penthouse, </em>and Williams was pressured by pageant officials and resigned. She lost her title and lost at least $2 million worth of endorsement contracts, <a href="http://www.people.com/people/archive/article/0,,20197080,00.html" target="_hplink">according to <em>People</em> magazine. </a> In her 2009 book, "You Have No Idea," Williams addressed the scandal and wrote that at the time <a href="http://uinterview.com/news/exclusive-vanessa-williams-worried-what-parents-would-think-during-penthouse-scandal-4617" target="_hplink">she worried most about how her parents would react. </a> (Getty)