If your knowledge of clouds only extends to 'white and fluffy', then prepare to be amazed by this cloud atlas.
Some can fool the unwary into thinking they're having a UFO experience; others send people rushing into storm shelters.
Out of all the weird clouds in this collection the last one you'd want to see is the one created by humans - the distinctive cloud produced by an H-bomb. A Lenticular cloud in Mauna Kea, Hawaii.
Lenticular clouds are popular with UFO believers due to their unusual 'flying saucer' shape. They are usually formed when air passes over mountain tops.
When viewed from the ground Shelf clouds appear as low, wedge shaped clouds and are usually associated with severe thunderstorms.
Cumulonimbus clouds rise vertically until they hit a natural barrier, known as the tropopause, which causes them to flatten out. They usually herald the onset of a severe storm.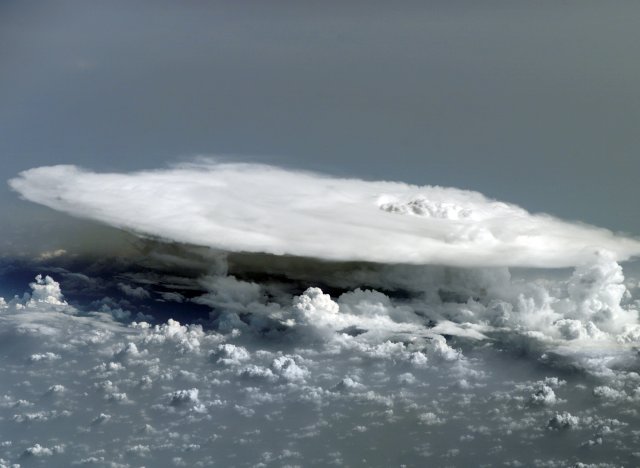 Cumulonimbus cloud over western Africa, taken from the International Space Station (ISS).
The physics of waves determines how some clouds behave. Votices look like they have had a hole punched through them but in fact they are naturally occurring and are crafted by wind patterns.
Noctilucent clouds are crystals of ice hanging around 80 kilometres high in the atmosphere that catch the light of the sun long after it has set on the horizon.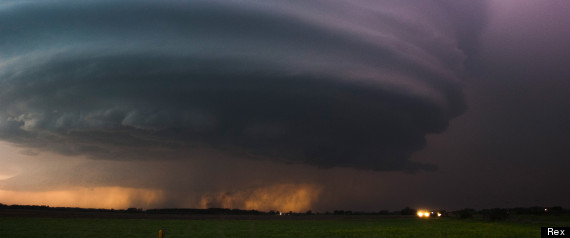 Supercell thunderstorms rotate with immense energy, causing a strong updraft and severe weather including tornadoes, hail, heavy rain, lightning and heavy winds.
Gravity Clouds are distinctive ripple-like clouds that usually form over the ocean as buoyancy pushes air up and gravity pulls it back down - causing a wave like effect
Mammatus clouds derive their name from the Latin for mammary glands due to theirlobed hanging shape. They can produce some dramatic and unusual patterns on the sky and are also associated with severe storms.
Pileus clouds are small clouds that form on top of a bigger cloud; for example, forming above a cloud of volcanic ash during a volcano eruption. Sonic boom cloud created by an American F/A-18 Hornet over the Pacific Ocean.
Sonic Boom clouds are created when aircraft accelerate towards the speed of sound (768mph). It is thought that the drop in air pressure around the plane causes moist air to condense and form water droplets.
Actinoform clouds are only visible from space and the large formations create ray like patterns over hundreds of kilometres. They are associated with drizzle and gloomy weather.
When an atomic weapon is detonated the chain reaction heats the ground to an extremely high temperature and causes hot air and debris to rise into a column. Cooler air then gets sucked in to the column, which creates an inward spiralling vortex (the mushroom cap) until it falls back down again.
Loading Slideshow
Gravity wave clouds over the Gulf of Mexico, Texas,

Sonic Boom Cloud

Lenticular cloud,

Lenticular cloud, Mauna Kea, Hawaii.

Actinoform clouds from space

Cumulonimbus cloud over western Africa

Supercell clouds

Jetstream cirrus clouds across the Sahara Desert, Egypt.

Altocumulus undulatus clouds, Abruzzo National Park, Italy.

Steam Ring

A steam ring being blown from the Bocca Nuova vent of Mount Etna, Sicily

Flying saucer or Lenticular cloud

Noctilucent clouds

Lenticular cloud

Mammatus clouds over northeast South Dakota, .

Supercell thunderstorm