Manchester United and Liverpool have both enquired about the availability of Pachuca midfielder Héctor Herrera.
According to the club's sporting director, Andrés Fassi, there is "official interest" and both United and Liverpool "have talked to us [Pachuca]". Herrera is valued at around £10m.
NOT THE BEST FINISH...

"We want him to continue with Pachuca. But when he decides to leave, the club will give him the opportunity to do so," Fassi added.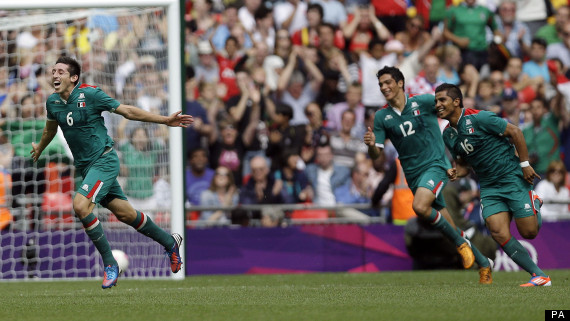 Herrera (left) celebrates after his goal against Senegal in the London 2012 quarter-final
Herrera, 22, was part of Mexico's triumphant Olympic squad at the London 2012 Games, taking gold for the first time in their history.
The Mexicans defeated Brazil 2-1 in the Wembley final, following up their 2011 Gold Cup win against the United States, although Herrera was not included in the squad.
Quirkily, Rosarito-born Herrera also boasts two nicknames: Zorro ('the skunk') he zorro ('fox').