Police are investigating a mass shooting outside the Empire State Building in New York, with reports of two dead and nine injured.
Officials confirmed one of the dead is the gunman 53-year-old Jeffrey Johnson, and the other person killed is believed to have been linked to a "workplace dispute."
Police confirmed two deaths at the scene with nine injured, who have been taken to a number of hospitals in the city.
The city's mayor, Michael Bloomberg, appeared before media on the New York streets to praise the work of the emergency services as well as civilians who aided them.
SCROLL DOWN FOR LIVE UPDATES AND PICTURES
"New York City is the safest city in the country," Bloomberg said. "But we are not immune to the national problem of gun violence."
Ray Kelly, the NYPD commissioner, addressed the crowd after Bloomberg, confirming the 53-year-old man had pulled a .45 caliber semi-automatic pistol on police officers, who returned fire killing him.
Kelly added that the man was fired one year previously from a job as a women's accessories designer at a company named Hazan.
The shooting happened at 34th Street and 5th Avenue, as people hurried to work in the morning rush hour.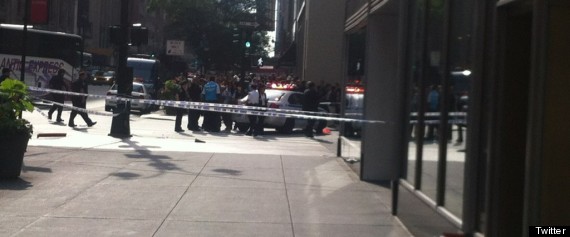 A picture posted on Twitter from the scene outside the Empire State Building in New York
A fire department spokesman says it received a call about the shooting just after 9am on Friday and that emergency units were on the scene within minutes, according to AP.
Several news outlets were reporting that the incident related to a "workplace dispute" and officials said it did not appear to be terrorist-related.
A guard at the landmark said the shooting was not close to any parts of the building near where tourists queue to visit the top of the Empire State building.
Sid Dinsay, 38, who works in a PR firm on Fifth Avenue, told the New York Post: "This is the last thing you are expecting to see walking to work – someone shot dead in broad daylight in Midtown.
"I am shocked – something like this is enough to rattle your nerves. My nerves are rattled right now."
Construction worker Chris Ogden told the New York Daily News the gunman wore a grey suit and carried a briefcase.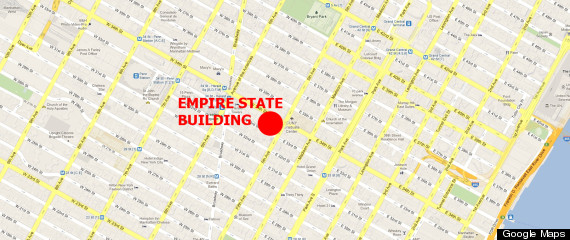 The location of the shooting on Friday morning
"He shot the guy in the head. The guy went down. He took a second shot when he was down."
The well-dressed shooter then "walked down the block, like nothing was happening, real casual. We were screaming from the top, 'It's the guy in the grey suit!'"
Reuters reported Mail courier James Bolden, 31, as saying he saw a "guy laying on the (sidewalk), bleeding from the neck and barely breathing."
"Everybody was crowded around him taking pictures and video, and security guys were yelling everybody to get back, and give him space. He was barely breathing."
Those at the scene posted photographs on Twitter, and expressed shock at the incident, warning people against going to the area.
Aliyah Imam told Fox 5 News that she was standing at a red light when a woman standing next to her fell to the ground. She says the woman was hit in the hip and the gunman was "shooting indiscriminately at people."
Police closed roads all around the incident, causing traffic chaos for blocks around the city.
24/08/2012 22:52 BST
8 Of Those Injured In Shooting Were Shot By Police
From The Village Voice:
Mayor Mike Bloomberg confirmed at a press conference this morning that there's a chance some of the victims were accidentally shot by police who were trying to take out the initial gunman, 53-year-old Jeffery Johnson. We're told eight of those wounded were shot by police, who were returning fire at Johnson, who pointed a 45-caliber handgun at officers and witnesses say fired at least one round. However, it's unclear whether he actually fired the weapon.

Before any alarm bells are rung, it should be noted that Johnson drew his gun on officers before fatally meeting the business end of a cop's service weapon, so the police were more than justified in taking him out. But the fact remains: eight people were shot by police this morning.
24/08/2012 21:58 BST
Shooter Remembered As 'Very Lonely'
HuffPost's John Rudolf and Anna Sanders report on the shooter:
Jeffrey Johnson, 58, almost always wore a suit and tie, even after losing his job as an accessories designer a year ago, according to Gisela Casella, 71, a neighbor who said she spoke with him often. His suits were "immaculate," and the sound of vacuuming could often be heard from inside his apartment, she said.

Guillermo Suarez, the building's superintendent, said Johnson was friendly but was always alone. "This guy was very mellow," he said. "Very mellow and very lonely."
24/08/2012 21:26 BST
Witness Tells Mother: Gunman Said Nothing
From The AP:
A woman who saw the shooting outside the Empire State Building tells her mother that the gunman came from behind two cars, pulled out a gun, put it up to a former co-worker's head and shot him three times without saying a word.

Carol Timan tells The Associated Press that her daughter Irene called her minutes after the Friday morning shooting.

Police say Jeffrey Johnson, a women's accessories designer, fatally shot a vice president of the company that laid him off. Authorities say officers killed the suspect. At least nine others were wounded, some by stray police gunfire.

Carol Timan says her 35-year-old daughter worked at the same company until about two weeks ago. She says Irene Timan knew both the shooter and the victim, Steven Ercolino.
24/08/2012 20:13 BST
The Empire State Building Is Open
Anthony Malkin, whose family controls the Empire State Building, released a statement:
"The Empire State Building and its Observatories remained open throughout [the shooting], and continue to be open and operating. At no time was there any related activity in the building. We express our deepest concern for those innocents who were hurt and our appreciation to the NYPD."
For more, go here.
24/08/2012 20:07 BST
GRAPHIC PHOTO: Police Approach Slain Shooter
The AP caption:
New York City police approach the lifeless body of Jeffrey Johnson lying on a sidewalk near the Empire State Building in New York following a shooting Friday, Aug. 24, 2012. Police say 58-year-old Johnson, who was laid off from a nearby shop in 2011, shot a former colleague to death near the iconic skyscraper, then randomly opened fire on people nearby before firing on police. New York City Mayor Michael Bloomberg said some of the victims may have been hit by police bullets as police and the gunman exchanged fire. (AP Photo/Guillermo Ratzlaff) 24/08/2012 18:26 BST
PHOTO: Pedestrians Help Shooting Victim
According to the AP, "This photo posted to an Instagram account belonging to a person identified as mr_mookie, an eyewitness at the scene, shows a victim of a shooting being tended to by pedestrians outside the Empire State Building in New York, Friday, Aug. 24, 2012."
For more photos from this morning's shootings, go here. 24/08/2012 18:02 BST
Politicians React To Shooting
New York Senator Kirsten Gillibrand tweets, "My thoughts and prayers are with the families and loved ones of the victims of yet another senseless tragedy today."
For more reactions from politicians, go here.
24/08/2012 17:51 BST
Victim Identified
@ NYTMetro :

#EmpireState shoot victim Steve Ercolino had order of protection against Jeffrey Johnson at one point, co-worker says.
24/08/2012 16:56 BST
Ongoing Dispute Between Shooter And Victim
And update from Gothamist:
Kelly just came back and added some more details: it seems Johnson and the victim were involved in an "ongoing dispute"—they were cross complainants in some kind of harassment case.
SUBSCRIBE TO & FOLLOW UK DAILY BRIEF