Florida is bracing itself for tropical storm Isaac after it killed as many as six people in Haiti and caused destruction in Cuba.
No casualties were reported in Cuba after Isaac hit only the east side of the island instead of snaking up its entire length, reported Reuters.
Isaac is currently 257 miles south east of Key West and moving at around 20mph.
Warnings have been issued in Florida Keys and a state of emergency declared. The storm is likely to hit Florida later on Sunday.
Louisiana and New Orleans have also been given warnings as Isaac approaches.
According to the National Hurricane Centre in Miami, the storm gathering speed and is likely to be a Category Two hurricane when it reaches Florida. Hurricanes are rated from one to five based on their intensity, and Isaac's rating means the Keys are likely to experience a hurricane with winds 96-110 mph and a storm surge of water generally 6-8 feet above normal.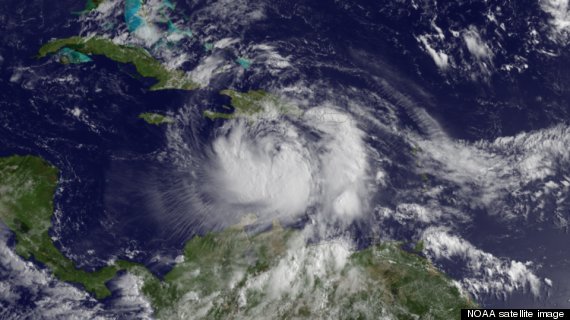 A satellite picture of Isaac taken on Friday
Republican officials delayed the start of their convention in Tampa by one day, reiterating their concern for the safety of convention delegates. The delegates would have been bussed into downtown Tampa on Monday for a procedural vote call, reported HuffPost Politics. A concert has also been cancelled over flooding fears.
Thousands of people in Haiti remain at risk from flooding and disease despite the earthquake-ravaged nation avoiding the worst of tropical storm Isaac, according to British aid agencies.
Oxfam said initial assessments of the aftermath of the storm, which cleared the country's landmass yesterday, suggest the damage was not as great as feared. Children in Haiti shelter in the aftermath of tropical storm Isaac
Charity workers are now battling to get emergency supplies to the worst hit areas of the nation, which was rocked by a massive earthquake that claimed the lives of more than 220,000 people two years ago.
Nearly 8,000 people were evacuated from their homes as 24 hours of steady rain caused widespread flooding and left makeshift camps built after the 2010 earthquake submerged by water.
The storm also laid waste to crops, knocked down telephone lines and wiped out power supplies in the worst hit areas.
According to Oxfam, camps in the capital Port-au-Prince, such as Jean Marie Vincent, were flooded, as well as towns in the south, including Les Cayes, Jacmel and Nippes.
Heavy rainfall is forecast in the wake of the storm, with up to 20 inches of rain predicted in Hispaniola.
The charity said that nearly 400,000 Haitians still living in refugee camps after the earthquake remained "highly vulnerable" to the threat of flooding, landslides and water borne diseases, especially cholera.
It said emergency teams are heading to the affected areas of the island to carry out in-depth assessments and provide clean water, hygiene kits and information about sanitation to those in need.
Jane Cocking, Oxfam's humanitarian director, said: "The storm may have passed but living conditions in Haiti remain so challenging for so much of the population that it's far too early to say the threat is over.
"People in Haiti have so little that they are incredibly vulnerable to the risks posed by flooding and disease. They remain in desperate need of our help."
The aid agency is in the process of contacting its supporters to ask for donations to help support its emergency work in Haiti, which is often cited as the poorest country in the western hemisphere with four in five of the population living on less than two US dollars a day.
In the shanty town of Cite Soleil, just north of Port-au-Prince, around 300 homes had either their roofs blown off or were sitting in three feet of water, according to Rachel Brumbaugh, operation manager for the US non-profit group World Vision.
Loading Slideshow
Heather Boss, right, and Brittney Lambert, both of Oklahoma, have fun in a flooded street due to heavy rains in Key West, Fla., Sunday, Aug. 26, 2012 as heavy storm winds and rain hit the northern coast. Rain bands from Tropical Storm Isaac are expected to continue streaming across Marion County Monday as the ninth named storm of the 2012 hurricane season continues toward the northern Gulf of Mexico. National Weather Service officials in Jacksonville on Sunday said Marion County began getting rain bands from Isaac around 2 p.m. and that the rain would continue through Tuesday. (AP Photo/Alan Diaz)

Victoria Balladares and boyfriend Jose Requejo experience the rain at Miami Beach as Tropical Storm Isaac hits the area on Sunday, Aug., 26, 2012, in Miami. Isaac gained fresh muscle Sunday as it bore down on the Florida Keys, with forecasters warning it could grow into a dangerous Category 2 hurricane as it nears the northern Gulf Coast. (AP Photo/The Miami Herald, Carl Juste)

Anton Snitgen, Jenna Curl, Jackie Curl and Michael Manemut run along a dock at Key West Bight Marina in Key West, Fla., as Tropical Storm Isaac hits the area on Sunday, Aug., 26, 2012. Isaac gained fresh muscle Sunday as it bore down on the Florida Keys, with forecasters warning it could grow into a dangerous Category 2 hurricane as it nears the northern Gulf Coast. (AP Photo/The Miami Herald, Walter Michot)

A man walks on the beach in Key West, Fla., Sunday, Aug. 26, 2012 as heavy winds hit the northern coast from Tropical Storm Isaac. Isaac is expected to continue streaming across Marion County Monday as it continues toward the northern Gulf of Mexico. National Weather Service officials in Jacksonville on Sunday said Marion County began getting rain bands from Isaac around 2 p.m. and that the rain would continue through Tuesday. (AP Photo/Alan Diaz)

A person braves the rain at Clarence Higgs Beach in Key West, Fla., as Tropical Storm Isaac hits the area on Sunday, Aug. 26, 2012. Isaac gained fresh muscle Sunday as it bore down on the Florida Keys, with forecasters warning it could grow into a dangerous Category 2 hurricane as it nears the northern Gulf Coast. (AP Photo/The Miami Herald, Walter Michot)

Folko Weltzien, 38, kite surfs as high winds from Hurricane Isaac gusts on Sunday, Aug. 26, 2012, in Miami. Isaac gained fresh muscle Sunday as it bore down on the Florida Keys, with forecasters warning it could grow into a dangerous Category 2 hurricane as it nears the northern Gulf Coast. (AP Photo/The Miami Herald, Carl Juste)

Heavy storm clouds hover over the skyline of downtown Miami as Tropical Storm Isaac's weather bands reach the Miami area aon Sunday, Aug. 26, 2012. Isaac gained fresh muscle Sunday as it bore down on the Florida Keys, with forecasters warning it could grow into a dangerous Category 2 hurricane as it nears the northern Gulf Coast. (AP Photo/The Miami Herald, Carl Juste)

Trees down in Midtown Miami.

A cyclist rides his bike in Key West, Fla., Sunday, Aug. 26, 2012. Tropical Storm Isaac gained fresh muscle Sunday as it bore down on the Florida Keys, with forecasters warning it could grow into a dangerous Category 2 hurricane as it nears the northern Gulf Coast. (AP Photo/Alan Diaz)

A person walks by a sign warning about Hurricane Isaac, in Key West, Fla., Sunday, Aug. 26, 2012. Isaac gained fresh muscle Sunday as it bore down on the Florida Keys, with forecasters warning it could grow into a dangerous Category 2 hurricane as it nears the northern Gulf Coast. (Alan Diaz)

Shira Edllan Gervasi, of Israel, puts her name on plywood protecting a storefront in Key West, Fla., in anticipation of Tropical Storm Isaac on Saturday, Aug. 25, 2012. Isaac's winds are expected to be felt in the Florida Keys by sunrise Sunday morning. (AP Photo/Alan Diaz)

Isaac Bears Down On Florida Keys

MARATHON, FL - AUGUST 26: A man rides his bike along Overseas Highway as Tropical Storm Isaac begins to move toward the Florida Keys on August 26, 2012 in Islamorada, Florida. According to reports, Isaac has become stronger as it moves toward the Florida Keys and forecasters say it could strengthen into a Category 2 storm. (Photo by Marc Serota/Getty Images)

Isaac Bears Down On Florida Keys

MARATHON, FL - AUGUST 26: People ride bikes as as Tropical Storm Isaac begins to move ashore on August 26, 2012 in Marathon, Florida. According to reports, Isaac has become stronger as it moves toward the Florida Keys and forecasters say it could strengthen into a Category 2 storm. (Photo by Marc Serota/Getty Images)

Florida Keys Under Hurricane Warning As Isaac Tracks North

KEY WEST, FL - AUGUST 25: Arthur Asti installs storm shutters on August 25, 2012 in Key West, Florida. Residents in the Florida Keys are preparing after a Hurricane Warning was issued as Tropical Storm Isaac tracks north. (Photo by Marc Serota/Getty Images)

Florida Keys Under Hurricane Warning As Isaac Tracks North

KEY WEST, FL - AUGUST 25: Two girls enter a K-Mart store on August 25, 2012 in Key West, Florida. Residents in the Florida Keys are preparing after a Hurricane Warning was issued as Tropical Storm Isaac tracks north. (Photo by Marc Serota/Getty Images)

Craig Jones, left, and Kimberly Branson secure their boat in Key West, Fla., Sunday, Aug. 26, 2012 in preparation for Tropical Storm Isaac. Tropical Storm Isaac gained fresh muscle Sunday as it bore down on the Florida Keys, with forecasters warning it could grow into a dangerous Category 2 hurricane as it nears the northern Gulf Coast. (Alan Diaz)

The southernmost point marker is covered in plastic sheeting in Key West, Fla., Saturday, Aug. 25, 2012, in preparation for Tropical Storm Isaac, Saturday, Aug. 25, 2012. Isaac's winds are expected to be felt in the Florida Keys by sunrise Sunday morning. (AP Photo/Alan Diaz)

Richie Moretti, left, and Bette Zirkelback release a kemps ridley turtle into an indoor tank in Marathon, Fla., Saturday, Aug. 25, 2012 . The turtles were moved from outside tanks to safer indoor tanks for protection in anticipation of Tropical Storm Isaac, Saturday, Aug. 25, 2012. Isaac's winds are expected to be felt in the Florida Keys by sunrise Sunday morning. (Alan Diaz)

Dale Shelton waits to be taken to a shelter in Key West, Fla., Saturday, Aug. 25, 2012, as he prepares for the arrival of Tropical Storm Isaac, Saturday, Aug. 25, 2012. Isaac's winds are expected to be felt in the Florida Keys by sunrise Sunday morning. (AP Photo/Alan Diaz)

A houseboat is towed in the middle keys as the Florida Keys prepare for Tropical Storm Isaac, Saturday, Aug 25, 2012. Florida Gov. Rick Scott had declared a state of emergency and a hurricane warning has been issued for the Florida Keys, as officials warn tourists to leave. (AP Photo/The Miami Herald, Walter Michot)

Florida Keys Under Hurricane Warning As Isaac Tracks North

KEY WEST, FL - AUGUST 25: Cars leave the Lower Keys on August 25, 2012 in Key West, Florida. Residents in the Florida Keys are preparing after a Hurricane Warning was issued as Tropical Storm Isaac tracks north. (Photo by Marc Serota/Getty Images)

Vehicles wait in line for gasoline at the Sam

Harley Rojas dismantles the tarp next to his mobile home at the Sunshine Key RV Resort as the Florida Keys prepare for Tropical Storm Isaac, Saturday, Aug 25, 2012. Florida Gov. Rick Scott had declared a state of emergency and a hurricane warning has been issued for the Florida Keys, as officials warn tourists to leave. (AP Photo/The Miami Herald, Walter Michot)

Kerol Obando and her son Andres exit a Publix grocery store in Tavernier, Fla., as the Florida Keys prepare for Tropical Storm Isaac, Saturday, Aug 25, 2012. Florida Gov. Rick Scott had declared a state of emergency and a hurricane warning has been issued for the Florida Keys, as officials warn tourists to leave. (AP Photo/The Miami Herald, Walter Michot)

Florida Keys Under Hurricane Warning As Isaac Tracks North

MARATHON, FL - AUGUST 25: A man windsurfs on August 25, 2012 in Marathon, Florida. Residents in the Florida Keys are preparing after a Hurricane Warning was issued as Tropical Storm Isaac tracks north. (Photo by Marc Serota/Getty Images)

Florida Keys Under Hurricane Warning As Isaac Tracks North

KEY WEST, FL - AUGUST 25: A sign is posted on the wall of a bar on Duval Street on August 25, 2012 in Key West, Florida. Residents in the Florida Keys are preparing after a Hurricane Warning was issued as Tropical Storm Isaac tracks north. (Photo by Marc Serota/Getty Images)

Florida Keys Under Hurricane Warning As Isaac Tracks North

KEY WEST, FL - AUGUST 25: Cars leave the Lower Keys on August 25, 2012 in Key West, Florida. Residents in the Florida Keys are preparing after a Hurricane Warning was issued as Tropical Storm Isaac tracks north. (Photo by Marc Serota/Getty Images)

Connie Rivero and her son Anthony Amador fill plastic bags with sand at the Hollywood Public Works Department as they prepare for possible floods from Tropical Storm Isaac on Saturday, Aug. 25, 2012, in Hollywood, Fla. Isaac was expected to pass over the Florida Keys as a hurricane late Sunday or early Monday. (AP Photo/The Miami Herald, Al Diaz) MAGS OUT

Most of the bottled water at Wal-Mart in Fort Walton Beach, Fla. was purchased by noon on Saturday August 25, 2012 in preparation for Tropical Storm Isaac which is forecasted to make landfall in the Florida Panhandle as a hurricane on Tuesday. (AP Photo/Northwest Florida Daily News, Nick Tomecek)

Lowes employees, Robert Tucker, right, and John Lucenti, left, load plywood for Terry King, back, and Ofelia Murphy at Lowes in Fort Walton Beach, Fla., Saturday August 25, 2012. Murphy said they needed some plywood to cover their windows in preparation for Tropical Storm Isaac which is forecasted to make landfall in the Florida Panhandle as a hurricane on Tuesday. (AP Photo/Northwest Florida Daily News, Nick Tomecek)

Florida Keys Under Hurricane Warning As Isaac Tracks North

KEY WEST, FL - AUGUST 25: Tourists take in the sites on August 25, 2012 in Key West, Florida. Residents in the Florida Keys are preparing after a Hurricane Warning was issued as Tropical Storm Isaac tracks north. (Photo by Marc Serota/Getty Images)

Florida Keys Under Hurricane Warning As Isaac Tracks North

KEY WEST, FL - AUGUST 25: A woman walks thru Malory Square on August 25, 2012 in Key West, Florida. Residents in the Florida Keys are preparing after a Hurricane Warning was issued as Tropical Storm Isaac tracks north. (Photo by Marc Serota/Getty Images)

Yoni Haim, left, and Jessica Yeshalek board their storefront as they prepare for Tropical Storm Isaac, Saturday, Aug. 25, 2012. Isaac's winds are expected to be felt in the Florida Keys by sunrise Sunday morning. (AP Photo/Alan Diaz)

Florida Keys Under Hurricane Warning As Isaac Tracks North

ISLAMORADA, FL - AUGUST 25: A man secures his boat as the Florida Keys are under a Hurricane Warning as Tropical Storm Isaac tracks North on August 25, 2012 in Islamorada, Florida. (Photo by Marc Serota/Getty Images)

Florida Keys Under Hurricane Warning As Isaac Tracks North

MARATHON, FL - AUGUST 25: People enter a store whie the Florida Keys are under a Hurricane Warning as Tropical Storm Isaac tracks North on August 25, 2012 in Marathon, Florida. (Photo by Marc Serota/Getty Images)

Florida Keys Under Hurricane Warning As Isaac Tracks North

KEY WEST, FL - AUGUST 25: A worker clears a power line on August 25, 2012 in Key West, Florida. Residents in the Florida Keys are preparing after a Hurricane Warning was issued as Tropical Storm Isaac tracks north. (Photo by Marc Serota/Getty Images)

Florida Keys Under Hurricane Warning As Isaac Tracks North

MARATHON, FL - AUGUST 25: A man installs shutters over a restaurant while the Florida Keys are under a Hurricane Warning as Tropical Storm Isaac tracks Northwest on August 25, 2012 in Marathon, Florida. (Photo by Marc Serota/Getty Images)

Tampa Prepares For Republican National Convention And Potential Hurricane

CLEARWATER, FL - AUGUST 25: Alex Guilbaud runs with a skimboard as storm clouds build offshore on August 25, 2012 in Clearwater, Florida. Tampa area residents wait for Tropical Storm Isaac as they prepare for the Repulican National Convention which will be held in Tampa during the week of August 27th. (Photo by Tom Pennington/Getty Images)

Tampa Prepares For Republican National Convention And Potential Hurricane

TAMPA, FL - AUGUST 25: Lee Bittner buys a generator and a bottle of water at Home Depot on August 25, 2012 in Tampa, Florida. Area residents are preparing for Tropical Storm Isaac just before the Repulican National Convention which will be held at the Tampa Bay Times Forum during the week of August 27th. The Tropical Storm might become a hurricane by the time it hits ground. (Photo by Joe Raedle/Getty Images)

Cheri Senecal walks with a bag of personal items to a shelter in Key West, Fla., Saturday, Aug. 25, 2012 as she prepares for Tropical Storm Isaac, Saturday, Aug. 25, 2012. Isaac's winds are expected to be felt in the Florida Keys by sunrise Sunday morning. (AP Photo/Alan Diaz)

Isaac Bears Down On Florida Keys

MARATHON, FL - AUGUST 26: A man tends to his boat as Tropical Storm Isaac begins to move toward the Florida Keys on August 26, 2012 in Islamorada, Florida. According to reports, Isaac has become stronger as it moves toward the Florida Keys and forecasters say it could strengthen into a Category 2 storm. (Photo by Marc Serota/Getty Images)

Florida Keys Under Hurricane Warning As Isaac Tracks North

KEY WEST, FL - AUGUST 25: Two men install storm shutters on Duval Street on August 25, 2012 in Key West, Florida. Residents in the Florida Keys are preparing after a Hurricane Warning was issued as Tropical Storm Isaac tracks north. (Photo by Marc Serota/Getty Images)

A message warns drivers of severe weather on Sunday, Aug. 26, 2012, in Miami. Isaac gained fresh muscle Sunday as it bore down on the Florida Keys, with forecasters warning it could grow into a dangerous Category 2 hurricane as it nears the northern Gulf Coast. (AP Photo/The Miami Herald, Hector Gabino)

In this photo provided by Florida Power & Light Company, line specialist Dustin Pezet works to restore power as Tropical Storm Isaac strikes in Miami on Sunday, Aug. 26, 2012. Isaac gained fresh muscle Sunday as it bore down on the Florida Keys, with forecasters warning it could grow into a dangerous Category 2 hurricane as it nears the northern Gulf Coast. (AP Photo/Florida Power & Light Company, David Adame)

Tampa Prepares For Republican National Convention And Potential Hurricane

TAMPA, FL - AUGUST 26: Republican Rachel Bolch Thach walks along a rainy beach on August 26, 2012 in Tampa, Florida. Tampa is preparing for the start of the Republican National Convention at the Tampa Bay Times Forum. The RNC is scheduled to convene on August 27 and will hold its first session on August 28 as Tropical Storm Isaac threatens disruptions due to its proximity to the Florida peninsula. (Photo by Spencer Platt/Getty Images)

Isaac Bears Down On Florida Keys

MARATHON, FL - AUGUST 26: People stand near downed branches as Tropical Storm Isaac begins to move ashore on August 26, 2012 in Marathon, Florida. According to reports, Isaac has become stronger as it moves toward the Florida Keys and forecasters say it could strengthen into a Category 2 storm. (Photo by Marc Serota/Getty Images)