A battalion of topless women descended upon New York City yesterday to protest for women's constitutional rights.
Go Topless Day, which is traditionally held on the last Sunday in August, has been in existence since 2007 and calls for women to have the same right as men to go bare-chested in public.
The event is organised by the Raelians, a group of UFO believers who combine free love principles with the conviction humans were created by advanced scientists known as the Elohim.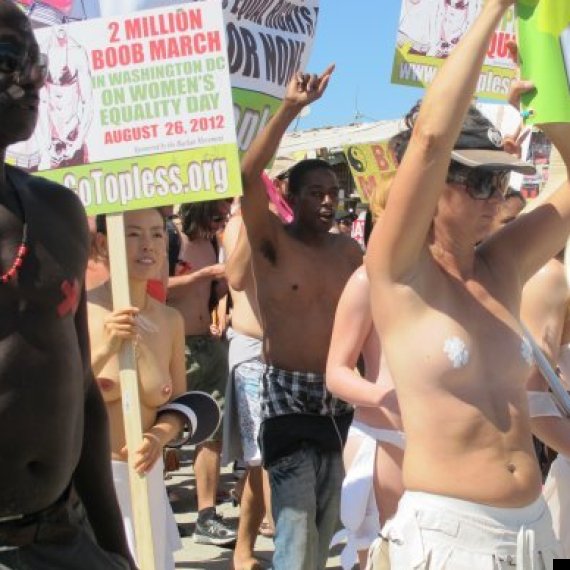 Free your breasts! Free your mind!
Go Topless Day president Nadine Gary told Huffington Post: "People say women shouldn't go topless, that it's indecent.
"But indecency is not mentioned in the Constitution. Also, it was once considered indecent for women to vote, but that changed."
Men are also encouraged to join in the protests – but are asked to wear bikini tops to highlight the hypocrisy of the situation.
SEE ALSO:
Addressing a crowd in Manhattan's Bryant Park, Karen Heaven said: "We say there is nothing wrong with the female nipple
"My dog has six, I have two, but I can be put in jail for showing my nipples. It's 2012 – what are we thinking!"
It is legal for women to go topless in public in New York City, but laws vary widely across the States, Reuters reports.

GALLERY: 2011 GO TOPLESS DAY PHOTOS (WARNING: NSFW)
Loading Slideshow
Go Topless Day (NSFW)

Nadine Gary

Nadine Gary, president of <a href="http://www.gotopless.org/" target="_hplink">GoTopless.org</a>, explains that despite the Raelian root of the protest, "Go Topless is for all people. There are Christians, there are Buddhists, Muslims, and Jewish people. We all have a different belief system, but we all have a body that has been repressed and needs to be liberated."

James Rich

James Rich, in the red bikini top, leads the protest. Part of the Raelian movement, Rich says, "It's not about the boobs, it's not about the breasts. It's about equality."

Melissa Ralph

Melissa Ralph, who is seven months pregnant, is at her first topless protest. "I'm told that at I'll have to breastfeed at a restroom if it comes down to it, in some places," she says. Ralph continues: "I don't want to have to take my child into a dirty restroom when it's more of a dining room situation. You don't bring your own food into the bathroom, so why should a child have to feed in the bathroom?"

Aaron Smith

Aaron Smith, also at his first topless protest, says "anything that's illegal should only be illegal if it's stomping on the rights of other people."