Tom Daley gained thousands of new fans with his recent performance at the London Olympics, and now X Factor bosses are hoping he can work his magic on the talent show and its contestants.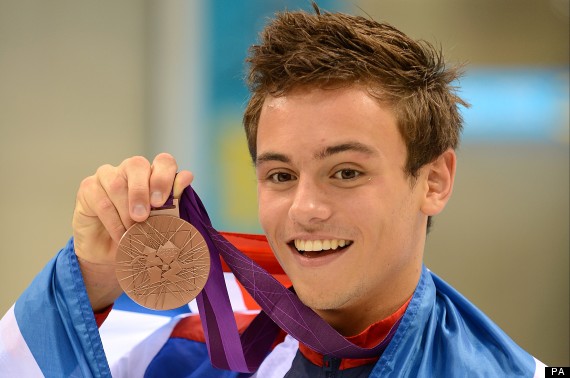 Can Tom Daley bring his winning ways to X Factor?
The Sun reports today that Daley has joined the Team GB heroes signing up to join the show - Jessica Enna, Mo Farah and Sir Chris Hoy are all due to bring their winning influence to bear during a special Olympics week, once the live shows begin.
But it seems that X Factor bosses have something a little longer-lasting for Daley, with ideas that he could help longtime host Dermot O'Leary present the show.
Daley himself is reported to be extremely keen about the plan, which would also involved him working out with the contestants, and putting them in a winning frame of mind. Read more here...
The show has seen a surge in viewers this weekend, reassuring for ITV after a dip in previous weeks.
Tom Daley in action...

Loading Slideshow
Tom Daley goes for gold

Tom Daley goes for gold

Tom Daley goes for gold

Tom Daley goes for gold

Tom Daley goes for gold

Tom Daley goes for gold

Tom Daley goes for gold

Tom Daley goes for gold

Tom Daley goes for gold

Tom Daley goes for gold

Tom Daley goes for gold

Tom Daley goes for gold

Tom Daley goes for gold

Tom Daley goes for gold

Tom Daley goes for gold

Tom Daley goes for gold

Tom Daley goes for gold

Tom Daley goes for gold

Tom Daley goes for gold

Tom Daley goes for gold

Tom Daley goes for gold

Tom Daley goes for gold

Tom Daley goes for gold

Tom Daley goes for gold

Tom Daley goes for gold

Tom Daley goes for gold

Tom Daley goes for gold

Tom Daley goes for gold

Tom Daley goes for gold

Tom Daley goes for gold