Russell Brand kissed a Spice Girl and liked it - the comic has reportedly struck up a romance with Geri Halliwell.
The pair hit it off while hanging around backstage at the closing ceremony of the London Olympics earlier this month, when Russell performed a Willy Wonka-style Beatles tribute and Geri joined her former bandmates for a one-off reunion.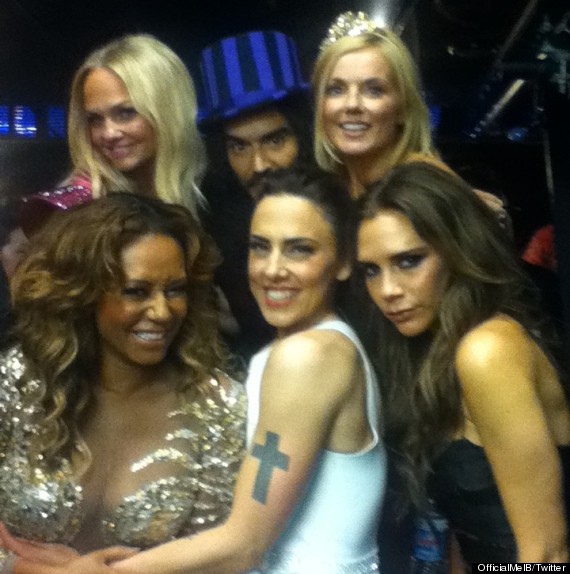 Russell Brand with Geri and the Spice Girls at the Closing Ceremony of the Olympics
According to The Sun, Russell has now ditched his girlfriend Isabella Brewster so he can date the singer. They were spotted enjoying a day out at Hampton Court Palace on Saturday along with Geri's daughter Bluebell.
A source tells the publication: "Things are getting very serious between them - they're a proper couple now. They had met several times in the past, but really got to know each other during the Olympics.
"People thought Russell was joking at the time, when he said he had a crush on Geri all over again, but it was true. They just clicked - they have so much in common."
A visitor to the palace on the same day reveals the odd couple were holding hands and flirting throughout their trip.
Greg Oram tells the paper: "I thought it was the most random thing ever to see Russell Brand of all people in a place like that - until my wife pointed out he was with a Spice Girl. They seemed like they were having a really great time, holding hands and chatting - it was 100 per cent obvious they were a couple."
The Forgetting Sarah Marshall star revealed he had a crush on Geri after his Olympics performance, telling The Mirror: "I've got Spice Girls mania all over again now, it's like going back to 1996 - and Stuart Pearce was even nearby too.
"I've got a massive crush on Geri Halliwell too, so everything in the world was as it should be."
> ENTER OUR COMPETITION TO WIN A NOKIA LUMIA 610 WINDOWS PHONE
> IN PICS: SPICE GIRLS AT THE OLYMPICS CLOSING CEREMONY

Loading Slideshow
(AFP photo)

(AFP photo)

(AFP photo)

(AFP photo)

(AFP photo)

(AFP photo)

(AFP photo)

(AFP photo)

(AFP photo)

(AFP photo)

(AFP photo)

(AFP photo)

(AFP photo)

(AFP photo)

(AFP photo)

(AFP photo)
Also on HuffPost: