Nine American soldiers have escaped criminal prosecution over two separate incidents of burning Qurans and urinating on the corpses of insurgents in Afghanistan.
Six US Army troops will be disciplined by the armed forces for accidentally burning more than 300 Qurans and other religious texts in February, while three Marines will face punishment for a video which appeared on the internet depicting the corpses of Taliban fighters being urinated on.
The books were burned at the Parwan Detention Centre, where it was feared the prisoners were sending secret messages through the holy texts. The burning of the books lead to significant protests across the country
Afghan officials initially claimed the burnings were an intentional insult. Afghanistan's president, Hamid Karzai, had previously called for a public trial of the soldiers, and will now review the punishments handed to the soldiers.
Docked pay, increased duties and/or demotion have been mentioned as possible punishments for the two non-commissioned officers and four officers involved.
The book burnings, which the US military has said were not a result of "malicious intent to disrespect the Quran or defame the faith of Islam", led to rioting in the country which killed around 30, including two American soldiers.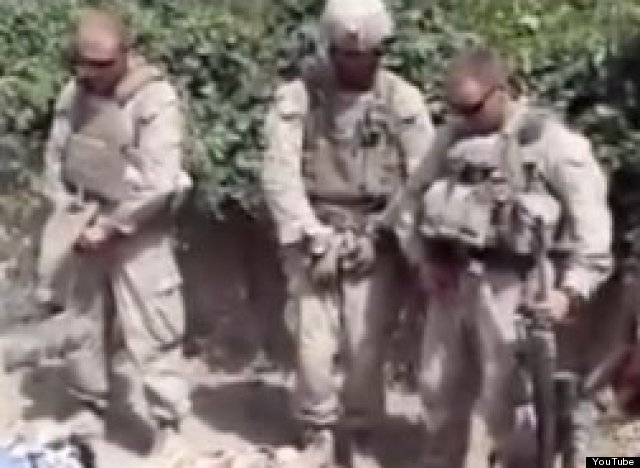 The 40-second video allegedly shows Marines urinating on Taliban corpses
The US Marine Corps have also said they will announce their sanctions on three Marines who took part in a video showing soldiers urinating on dead Taliban insurgents.
One pleaded guilty to urinating on a body, another to recording the video and posing for a photo with the men and another for lying to investigators over the video.
None of the soldiers involved has been named or their rank revealed, but the US military confirmed the video, which appeared on videosharing sites such as YouTube, was filmed on or around 27 July last year during a counter-insurgency operation in the Musa Qala district of Helmand province.
WARNING: You can watch the graphic video below