A decade ago, phones made phone calls and not much else. These days, they do everything.
Cars are now on the same trajectory.
Everything from voice control entertainment systems, App stores, complex GPS and traffic warning computers are no near-standard on many cars -- and it's only going to get more complex: talking carsConnected cars? Self-parking (or even self-driving) cars? It's all coming.
And Dr. Pim van der Jag, managing director of the Ford Research Centre in Aachen, is one of the men who has to build it all. As the head of R&D in Europe, his job is to find and build the best tech in modern vehicles, and find a way to bring it to market.
And now Ford Europehas unveiled its first UK vehicle with Sync and MyFord Touch in 2013's Electric Focus - his job is bigger than ever: find what's next, make it work, and get it to into the showroom.
We caught up with Dr. Pim van der Jag at this year's IFA conference in Berlin, to find out what the future holds for cars - and how it involves Phil Collins.
Why was now the right time to bring SYNC to the UK?
We wanted to bring it earlier but if you bring technologies like that you always need to wait for the cycle of new products. When the B-Max was launched that was the first new vehicle which allowed us to put Sync in. You can't just tear up an existing vehicle to put that in … We need to have a completely new vehicle.
Language is the other (factor). In the US you can deliver it with English and Spanish and you're pretty well covered. Here in Europe we're launching with nine languages.
Is that a tension you have to deal with often, in that you'll have a new technology but have to wait a long time to bring it to market?
Technologies are a major tear-up in the vehicle, plus there is a lot of testing going on and legislation issues also with some of these safety systems. Some things are allowed in one country but not in the other.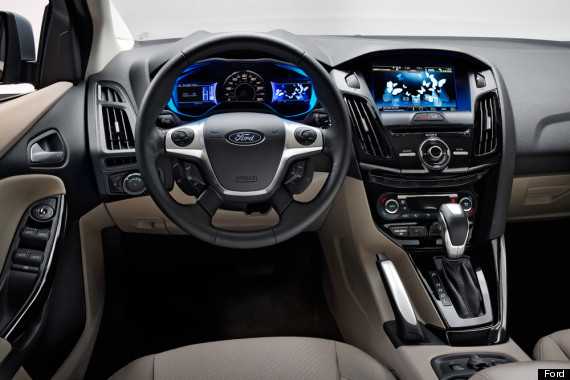 Above: the interior of the Ford Electric Focus with Sync and MyFord Touch.

What's the first thing that someone who hasn't had a 'connected car' will notice when they step into a car with Sync?
Just the ease of connecting your mobile device to the car. It's almost seamless. In previous cars it was still sometimes not that obvious how to do that. You can access all the stuff on the device - the phone and text messages, voice control, it's impressive.
The other thing with voice control is that while it's not new - there have been cars with voice control for almost 10 years - the old voice control was something you had to learn. You had to operate it with a manual.. It was totally unnatural. Most people didn't bother. What we do now is use all natural speech. So if you say 'Phil Collins' it will find the music…
Ah, well I have a friend called Phil Collins.
Then it will call Phil Collins!
Well if I like his music and also have a friend with that name…
The vehicle's so intelligent it will call the real Phil Collins. [Laughs]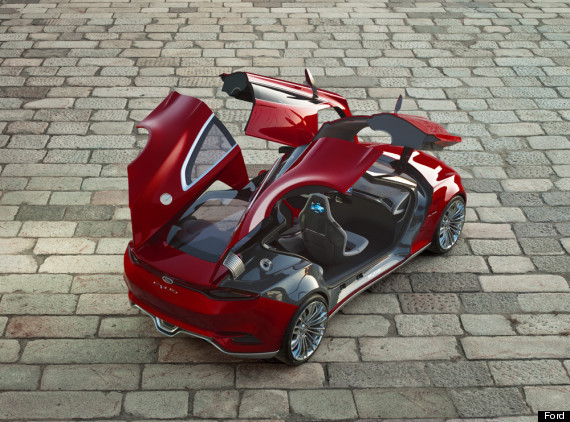 Above: Fords latest concept is the 'Evos', "based on seamless connectivity between the vehicle and the driver's "personal cloud" of information"

With a technology like voice control, is it more difficult to develop since people instinctively know how it should work, and have done since Knight Rider.
Not really. We're not driving that technology, the real tech in that area is driving by electronics. We keep a very close look at it, and it's one of the reasons why we're here at IFA. We see what they develop and how we could put that in a vehicle, and if they develop something interesting and we think it's of use we try to get it in there as soon as possible.
Outside of Sync, what areas in vehicle tech are most interesting right now to you?
Well because it's my area it's pro-active safety. We have systems now, and have introduced some and there are a lot more coming, that can very significantly reduce accidents. Less fatalities, less crashes. Most accidents still happen because drivers lose attention over a short period. We have a lot of systems that can help the driver, warn him about things he has overlooked…
That also means people have to put even more trust in their vehicles to keep them safe. Do you sense any reluctance from people to give up more responsibility to their car?
No, in most of these systems the intervention is so late it's not likely you'll be wondering why it's warning you again. It's pretty obvious to our customers that the moment that Active City Watch [an automatic brake system] warns you, or brakes, you would have hit something.

While the focus of a system like Sync is on voice control and keeping a driver's focus on the road, there is still the criticism around that it multiplies distractions for drivers. How do you respond to that?
The things a driver can do in a car have already increased. There are so many things you can adjust now in a vehicle, from climate control to the entertainment system and seats. Our vision is that the safest way for people to operate things is by voice control and get audible feedback. The next one is heads-up display.
How far along are you in terms of having a display you wouldn't have to look down to see?
We're pretty far along, that's a matter of a few years. There are displays on the market but they are relatively simple, we want to go to a higher-resolution colour display.
What is the on feature in your cars you wish you could have now, but for whatever reason can't release yet?
It's what you call car-to-car communication. It has an enormous safety potential. If all cars are talking to each other, the car can take action or warn the driver before an accident. The whole industry sees the potential of this but it only gets really effective is 70-80% of the whole fleet has this technology. For our industry that's the biggest issue.