Prince Harry watched Great Britain storm to a 5-0 win over Denmark at the Women's Goalball on day six of the Paralympic Games.
In his second public appearance since naked pictures were published of him partying in Vegas, Harry watched the goalball, a sport played by blindfolded visually impaired athletes.
Competitors play in complete silence so the athletes can hear the bells in the ball. Harry holds the ball to hear the bells inside
The event contrasted with Harry's recent trip to Las Vegas, which led to global headlines when pictures of the Prince frolicking in the nude with an unnamed woman emerged on a celebrity gossip website.
Harry was dressed in a white, red and blue Great Britain tracksuit top, politely applauded and smiled as each of the goals was scored.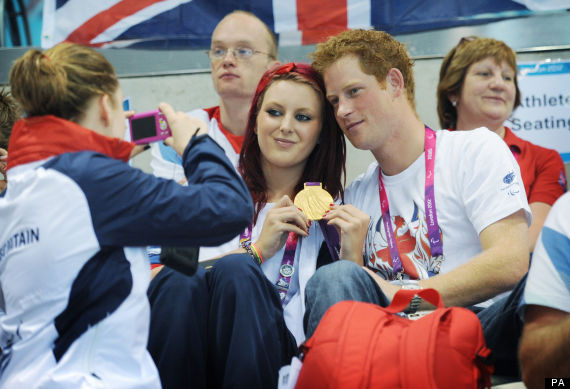 Prince Harry poses for photgraphs with Great Britain swimming gold medalist Jessica-Jane Applegate when he visited the Aquatics Centre
The rest of the crowd took every opportunity to cheer ParalympicsGB on as loud as they could, with every goal punctuated by huge cheers and rapturous applause.
The atmosphere in the Copper Box was akin to Centre Court at Wimbledon, with tension building between every break in play. Those breaks were almost always greeted with chants of "GB, GB".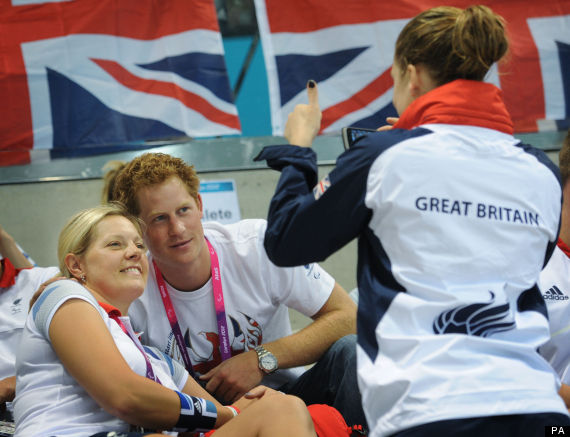 Prince Harry was as popular as ever at the Aquatic Centre this morning
When the match ended, Harry rose to give Britain's women a standing ovation.
The team were helped to victory by Anna Sharkey's hat-trick of goals, with spectators chanting "Sharkey, Sharkey" as she was substituted around a minute from the end. Did Prince Harry have a flashback of his naked Vegas antics?
Afterwards, Harry crossed the Olympic Park to the Aquatics Centre where he watched Paralympics poster girl Ellie Simmonds qualify for the women's S6 50m freestyle final.
The swimmer will be going for a hat-trick of London 2012 golds when she competes in the final later.
CLICK HERE TO SEE OUR LIVE PARALYMPICS 2012 PICTURES OF THE DAY
Loading Slideshow
London Paralympic Games - Day 6

Prince Harry meets former soldier and Paralympic athlete Derek Derenalagi at a visit to the Aquatics Centre where he watched swimming heats with Team GB swimmers during the London 2012 Paralympic Games at the Olympic Park this morning.

London Paralympic Games - Day 6

Prince Harry meets former soldier and Paralympic athlete Derek Derenalagi at a visit to the Aquatics Centre where he watched swimming heats with Team GB swimmers during the London 2012 Paralympic Games at the Olympic Park this morning.

2012 London Paralympics - Day 6 - Swimming

LONDON, ENGLAND - SEPTEMBER 04: Prince Harry poses for photgraphs with Great Britain swimming gold medalist Jessica-Jane Applegate (L) on day 6 of the London 2012 Paralympic Games at the Aquatics Centre on September 4, 2012 in London, England. (Photo by Stefan Rousseau - WPA Pool/Getty Images)

London Paralympic Games - Day 6

Prince Harry talks with Great Britain swimming gold medalist Jessica-Jane Applegate when he visited the Aquatics Centre during the London 2012 Paralympic Games at the Olympic Park this morning.

London Paralympic Games - Day 6

Prince Harry helps Team GB swimmer Hannah Russell to her seat when he visited the Aquatics Centre during the London 2012 Paralympic Games at the Olympic Park this morning.

London Paralympic Games - Day 6

Prince Harry is given a mascot from an Australian Paralympic swimmer (name not available) when he visited the Aquatics Centre during the London 2012 Paralympic Games at the Olympic Park this morning.

London Paralympic Games - Day 6

Prince Harry poses for photographs with Team GB swimmers when he visited the Aquatics Centre during the London 2012 Paralympic Games at the Olympic Park this morning.

London Paralympic Games - Day 6

Prince Harry attends the Women's Goalball on day six of the London 2012 Paralympic Games at The Copper Box in the Olympic Park.

London Paralympic Games - Day 6

Prince Harry attends the Women's Goalball on day six of the London 2012 Paralympic Games at The Copper Box in the Olympic Park.

London Paralympic Games - Day 6

Prince Harry arrives at the Goalball event in the Copperbox at the Olympic Park this morning.

Britain's Prince Harry, left, joins members of the TeamGB to watch the morning session of the swimming competition at the 2012 Paralympics, Tuesday, Sept. 4, 2012, in London. (AP Photo/Lefteris Pitarakis)
Loading Slideshow
WellChild Awards

Prince Harry meets Hope Hillis as he attends the WellChild awards ceremony InterContinental Park Lane Hotel, London.

WellChild Awards

Prince Harry meets Hope Hillis as he attends the WellChild awards ceremony InterContinental Park Lane Hotel, London.

WellChild Awards

Prince Harry meets Hope Hillis as he attends the WellChild awards ceremony InterContinental Park Lane Hotel, London.

WellChild Awards

Prince Harry meets Hope Hillis as he attends the WellChild awards ceremony InterContinental Park Lane Hotel, London.

WellChild Awards

Prince Harry talks to Alex Logan as he attends the WellChild awards ceremony InterContinental Park Lane Hotel, London.

WellChild Awards

Prince Harry talks to Alex Logan as he puts a toy penguin agaist his head as he attends the WellChild awards ceremony InterContinental Park Lane Hotel, London.

WellChild Awards

Prince Harry talks to Alex Logan as he attends the WellChild awards ceremony InterContinental Park Lane Hotel, London.

WellChild Awards

Prince Harry talks to Alex Logan as he attends the WellChild awards ceremony InterContinental Park Lane Hotel, London.

WellChild Awards

Prince Harry talks to Alex Logan as he attends the WellChild awards ceremony InterContinental Park Lane Hotel, London.

WellChild Awards

Prince Harry talks to Alex Logan as he attends the WellChild awards ceremony InterContinental Park Lane Hotel, London.

WellChild Awards

Prince Harry talks to Alex Logan as he attends the WellChild awards ceremony InterContinental Park Lane Hotel, London.

WellChild Awards

LONDON, UNITED KINGDOM - SEPTEMBER 03: Prince Harry arrives at the WellChild Awards at the Intercontinental Hotel on September 3, 2012 in London, England. (Photo by David Parker - WPA Pool/Getty Images)

WellChild Awards

LONDON, UNITED KINGDOM - SEPTEMBER 03: Prince Harry arrives at the WellChild Awards at the Intercontinental Hotel on September 03, 2012 in London, England. (Photo by David Parker - WPA Pool/Getty Images)
Related on HuffPost: