Imagine the scene. You're in a British girl band trying to crack America and you decide to take advantage of a photo opportunity to get a bit more publicity when you get attacked by a plague of seagulls, which is exactly what happened to The Saturdays.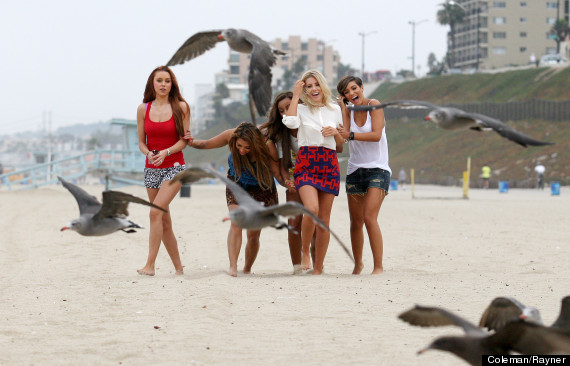 That girls, is what is known as an epic fail.
That said, the band seem to be making waves in the US. Shame it's only in the sea though. Boom boom.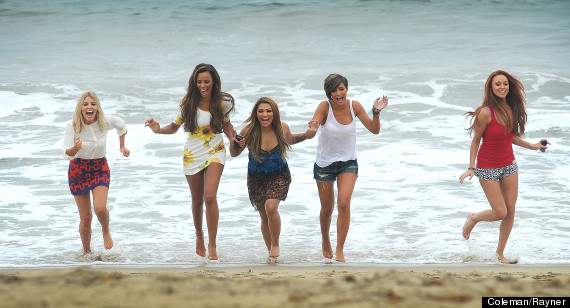 The band are currently Stateside to film their E! reality series, which is set to chart their attempts to crack the US market.
> ENTER OUR COMPETITION TO WIN A NOKIA LUMIA 610 WINDOWS PHONE
> IN PICS: CELEBS THAT BOMBED ACROSS THE POND

Loading Slideshow
Ant and Dec

They're beloved of British teatime audiences, but Ant and Dec failed to be adored by US viewers and critics alike when they hosted their US game show, Wanna Bet. It ended up as the nation's 89th most-watched programme. "Comedy sensations? We'll take their word for it", scoffed one TV columnist. (Pic: Getty Images)

Hannah Spearitt

S Club 7 star Hannah Spearitt had a couple of pint-sized roles in US movies (Seed of Chucky, Cody Banks 2). However, La Spearmint is now back in the UK and starring in Primeval, which has only enjoyed tiny success across the pond. (Pic: Getty Images)

Jeremy Paxman

If Simon Cowell can be bigger than Jesus in the States, why can't newsgrumbler Jeremy Paxman? Well, that's what BBC America bigwigs hoped when they came up with the wheeze of giving Paxo his own self-titled show. Sadly, the idea was dropped, and even Newsnight has been axed from the channel in favour of Hotel Inspector repeats. (Pic: Getty Images)

Katie Price and Peter Andre

"We've not come to LA to crack America", protested Katie Price, when rumours that she was being snubbed by members of the Hollywood titterati such as Posh Spice and Paris Hilton started doing the rounds. "Peter's just recording an album here." Because they have no studios in London, clearly. (Pic: Getty Images)

Lenny Henry

Not content with trotting out the same old impressions week after week for the BBC, Lenny Henry attempted to make his name Stateside by starring in 93 minutes of arse-quakingly tedious cinema named True Identity. It was a box office bomb, and the ex Mr Dawn French has stayed at home since. (Pic: Getty Images)

Lloyd Owen

Monarch of the Glen favourite Lloyd Owen thought he'd hit the big time when CBS selected him as the star of their high-falutin' 2007 musical drama series, Viva Laughlin. However, it was chopped after just two appalling episodes, leaving Owen's career promptly kicking the bucket in the land of the free. (Pic: Getty Images)

Michelle Ryan

After leaving the role of genetic pot noodle Zoe Slater in EastEnders, Michelle Ryan thought she'd have a crack at being reborn in the USA. She landed the lead role in a high-profile remake of Bionic Woman, but the show was a duffer and axed after just eight episodes - leaving Michelle booking a ticket on the next Heathrow-bound red-eye. (Pic: Getty Images)

Robbie Williams

Robbie Williams, the Steve McDonald of Pop, tried to make it big in the US for years - even releasing a swing album featuring Nicole Kidman in a bid to tempt suburban housewives to part with their dollars. But after repeated attempts, the fat dancer failed to "Break America" and later recorded a three-minute moan-athon with that same name. (Pic: Getty Images)

Russell Brand

After Ofcom favourite Russell Brand wooed global audiences with his turn in Forgetting Sarah Marshall, American MTV execs selected him to host their 2008 awards show. Sadly, his slurs against their outgoing president and the Jonas Brothers failed to appeal, and the love machine hasn't been invited back. (Pic: Getty Images)

Cheryl Cole

After three years of trotting out "you were amazing babe" on The X Factor, Simon Cowell decided to take her to LaLa land for the American version of the show. Poor Chez was then dropped from her new role as a US judge after four days and was replaced by Nicole Scherzinger, leaving her to lick her wounds back in Blighty. (Pic: Bauer Griffin)
> WATCH: CATCH UP ON ALL TODAY'S CELEB GOSS