The oil flew into the air, and Dallas was back in business. This completely contrived opening sequence served lots of happy purposes, not least dowsing everyone sexily in Castrol GTX. We had our history - Miss Ellie had forbidden digging on Southfork - and our future - Uncle Bobby would be furious.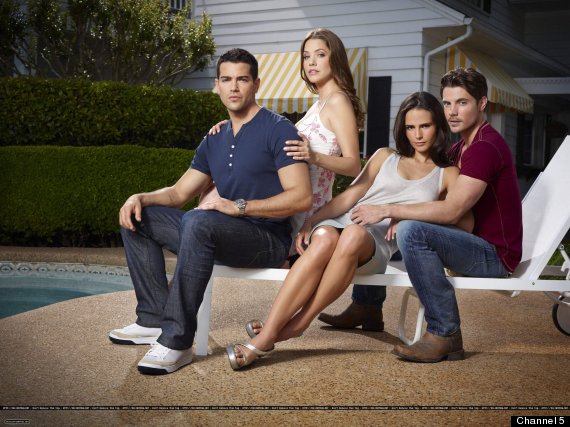 The youngsters are exhibiting the same passions and rivalries as their Dallas forebears
A key scene between Bobby and JR told us all we needed to know, with Bobby beseeching his silent brother to put the bitterness of the past to bed - "All those fights, JR... I don't want to them to be like us."
The great snoozing dragon didn't appear to hear much, however, until his negligent son John Ross turned up, mentioning the two magic words - "family" and "oil". From then on, it wasn't long before the hat and the grin were back in place, hostilities safely restored.
There were some concessions to the new. The ranch was greener, the scenery was brighter orange, with dappled sunlight redolent of The Mentalist or CSI: Miami, the music was everywhere. And Jock Ewing would have turned in his grave at the sight of some English subtitles accompanying some sexy French foreplay.
9 Reasons Why Original Dallas Was The Best Show On TV. Ever.
But the values of the old show were intact, with Bobby's honourable fury, the inevitable fisticuffs between cousins John Ross and Christopher - which was kind of about oil, but we all knew it was really about the love of a woman. Sound familiar? Initially, I wondered if these two butting rhinos had been cast the wrong way round - Josh Henderson seemed too fair and clean-cut to be mischief-making, but by the time his neck was pulsating, the bottle of Scotch was wobbling in his hand and he was double-crossing his own daddy, his malefactor credentials were secured.
Meanwhile, Bobby learned he was unwell, but had family business to attend to, a family wedding... the nearest we'll get for now to the traditional Southfork BBQ, complete with some familiar old friends - nice to see Lucy and Ray still hanging out together (hope they've remembered they're related by now).
In its fresh form, Dallas appears a glossy soap operatic family/business intrigue somewhere between that Florida dynastic Jimmy Smits vehicle Cane (I watch too much telly), and Flamingo Road (it gets worse).
But it has a massive head start over any contemporary rivals. Along with some powerful enough storylines to draw in new fans, Dallas has kept strong its strands of nostalgia to afford old fans a happy wallow. As JR would have it, "her daddy and I go way back."
Who's Who in the new era...
J.R. Ewing is the infamous scheming patriarch of the Southfork ranch, best known for his ruthless drive for power and money. J.R. made his fortune in the oil business, often at the expense of those closest to him, including his ex-wife Sue Ellen and son John Ross. Throughout the years J.R. won himself many enemies, thanks to his unforgiving business manner and constant womanising. One of these enemies is his brother Bobby, with the explosive rivalry between the pair pushing both of them to their limits.

Sue Ellen Ewing is the former long-suffering wife of J.R. and is one of life's true survivors. Over the years she has battled alcoholism and mental illness, mostly as a result of her tumultuous relationship with J.R, but is now a powerful woman in Dallas. Despite all of her success, she still harbours regret for her mistakes with her son with J.R., John Ross, and will do anything to try and right the wrongs of her past.

Ann Ewing is the third wife of Bobby Ewing, a no-nonsense woman who possesses quiet strength and dignity. An excellent horse cutter, Ann instantly fell in love with the Southfork ranch and wasted no time in making it her home.

The younger brother of J.R., Bobby Ewing was also a successful (if reluctant) oil baron but he lacked his brother's ruthlessness, and his insistence on playing fair caused ructions between the pair. Throughout the years Bobby has also had his fair share of love interests, with his marriage to Ann Ewing in the new series being his third. He adopted his son Christopher Ewing with his first wife Pam Ewing, and also has a biological son with former partner Jenna Wade.

The adopted son of Bobby, Christopher Ewing has always been aware that he is not a biological Ewing, with his cousin John Ross always happy to remind him. Now an adult, Christopher has returned to Southfork with his fiancé Rebecca Sutter, and is determined to make a name for himself in the alternative fuel industry and to prove himself a true Ewing.

Elena Ramos is the daughter of the much-loved Ewing family cook, and grew up on the Southfork ranch alongside John Ross and Christopher Ewing after moving from Mexico when she was eight years old. Growing up it was always Christopher that had her heart, and the pair went on to become engaged until a misunderstanding led to them calling off their wedding and Elena fled heartbroken back to Mexico. John Ross followed her and after he confessed his love for her, Elena returned to Southfork on his arm with her own dreams of making it big in the oil industry.

John Ross Ewing is the son of J.R., and it seems that the apple didn't fall too far from the tree. An ambitious and ruthless schemer just like his father, John Ross is determined to strike it big in the oil industry and prove himself capable of stepping into J.R.'s shoes. With his eyes set firmly on Southfork ranch and Elena Ramos, the girl he has loved since childhood, John Ross will let nothing stand in his way.

Rebecca Sutter is the beautiful and intelligent fiancée of Christopher Ewing, having met him in Asia shortly after his split from Elena Ramos. Rebecca is a self-made woman - having lost her parents at a young age, she worked hard to put herself through law school with her brother's support. Now living at Southfork she is determined to ensure they her wedding goes off without a hitch.