Chantelle Houghton was reportedly left "fearing for her life" after fiancé Alex Reid allegedly attempted to enter their Essex home in the early hours of Wednesday morning - because she was convinced he was a burglar.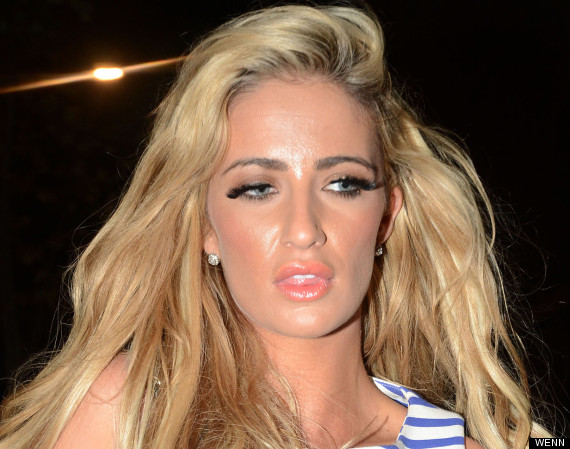 The cage fighter was taken into custody by police after he was arrested "on suspicion of criminal damage and using violence to secure entry" at the property in Brentwood. A police spokesperson told the Daily Mail: "Police were contacted just before 1.30am... with reports of a disturbance at a property in Spital Lane, Brentwood."
Cops were seen arriving at the home later in the day, while the former glamour model's mother was also photographed letting herself into the house with a key.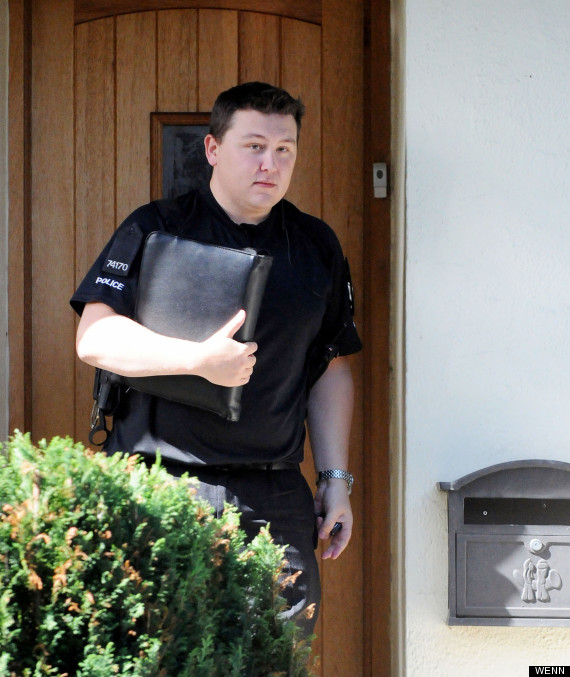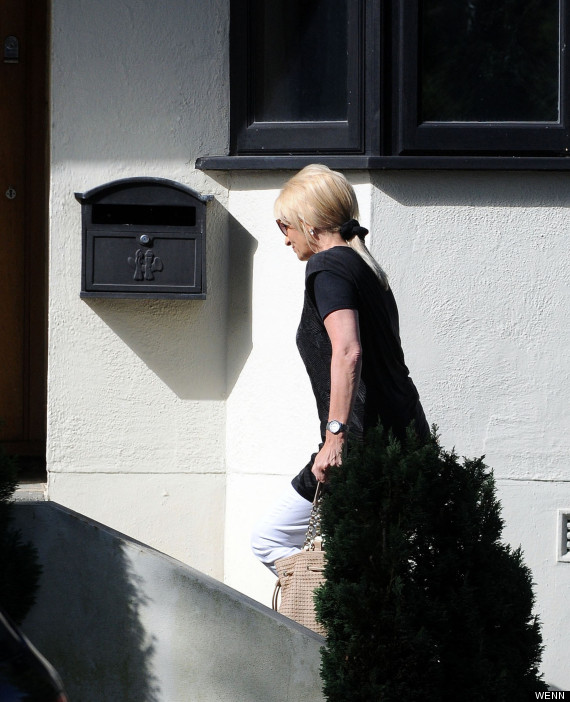 Chantelle, who has revealed the relationship has been under strain since the birth of daughter Dolly in June, reportedly thought Alex was staying at his mum's home and was left startled and "fearing for her life" when she heard him try to enter, according to pals.
A source tells The Mirror: "She was utterly terrified and thought someone was breaking in. She's been really shaken up by the whole incident."
Alex was released from custody on Wednesday afternoon, but neighbours admit his late night antics gave them a fright.
One local told the publication: "I was woke up by an almighty commotion in the street outside. I could hear a man shouting and when I looked out, I saw Alex Reid. He was yelling, 'Let me in, f**king let me in'."
Both stars and their representatives have yet to comment on the incident.
> ENTER OUR COMPETITION TO WIN A NOKIA LUMIA 610 WINDOWS PHONE
> IN PICS: CLEB MUGSHOTS

Loading Slideshow
50 Cent Curtis Jackson, aka hip-hop star 50 Cent, had this pic taken before he was famous - and after he'd benn arrested for attempting to sell cocaine to an undercover police officer. The cops later found loads more drugs at his home and he was sent down. Getty

Blake Fielder-Civil Blake Fielder-Civil is famous for getting ex-wife Amy Winehouse hooked on crack and heroin, but he actually had his mugshot taken because of an assault - which he was later convicted of attempting to pervert the course of justice over. AP

Charlie Sheen Charlie Sheen got his mugshot taken following his recent arrest on domestic violence charges - but he's just the latest in a long line of celebs to pose for the police paparazzi. X17online

Donnie Wahlberg Donnie Wahlberg was the new kid on the cell block when he was arrested for an alleged arson incident in a Kentucky hotel in 1991, although the charges were later dropped. PA

Heather Locklear Heather Locklear looks like one of those anti-drugs adverts in her mugshot, taken after she was arrested for driving erratically in 2008 - and although blood tests found no alcohol or illegal drugs in her system she was still convicted of reckless driving (while on prescribed medicine). Getty

Heidi Fleiss Hollywood madam and Celebrity Big Brother star Heidi Fleiss got in trouble with the law for a second time when she was arrested for illegal possession of prescription drugs and driving under the influence in 2008. AP

Hugh Grant Hugh Grant looks as sheepish as you'd expect him to in this 1995 mugshot, taken following his arrest for misdemeanour lewd conduct with Hollywood prostitute Divine Brown. AP

James Brown Late soul legend James Brown had a long list of arrests to his name by the time this mugshot was taken following an alleged domestic assault in 2004. AP

Jane Fonda Jane Fonda was one of the biggest stars on the planet when she was arrested for kicking a policeman after being detained at an airport with a large quantity of pills in 1970. The pills later turned out to be vitamins - but at least she still stuck it to the man! AP

Kid Rock If you think Kid Rock looks a bit rough in this 2007 picture, it's because he's just been involved in a brawl in a waffle house - which he later admitted in court. Getty

Kyle Johnson Former boyfriend of Charlotte Church and one-time tabloid regular Kyle Johnson was arrested last year after millions of pounds worth of heroin was found in his house. Looks like Charlotte's mum was right and he WAS a bad influence. PA

Larry King US TV host Larry King was arrested in 1971 after passing a bad cheque, but charges were later dropped. Getty

Lindsay Lohan Lindsay Lohan had a bad year in 2007, with at least two arrests that eventually saw her admit possessing cocaine and driving under the influence - leading to a day in jail and 10 days community service. AP

Macaulay Culkin Former child star Macaulay Culkin was busted carrying cannabis and sleeping pills in Oklahoma in 2004. AP

Matthew McConaughey Movie star Matthew McConaughey was arrested at home in Austin, Texas, in 2007 after police turned up in the early hours of the morning to find him playing the bongos very loudly while naked. Even he saw the funny side. AP

Mel Gibson Mel Gibson had this unflattering snap taken in 2006 after he was arrested for suspected drink driving, and subsequently launched into a foul-mouthed and anti-semitic tirade at a police officer. What a plonker. AP

Michael Jackson The world was shocked to see how bad the late Michael Jackson looked in this 2003 photo, taken following his arrest for the second time on child sexual abuse charges. PA

Mickey Rourke Actor-turned-boxer Mickey Rourke was arrested for spousal abuse in 1994, but the charges were later dropped. He found himself in front of the police camera again in 2007 after being caught under the influence on his Vespa scooter after leaving a Miami nightclub. AP

Mischa Barton Mischa Barton had this snap taken after being arrested for drink driving and driving without a licence in West Hollywood in 2007. The streets of LA can't be very safe with all these drunk celebs careering about on them! Getty

Nicole Richie Nicole Richie is another menace to the traffic of Los Angeles, admitting driving under the influence of marijuana and vicodin after being arrested for driving the wrong way down a freeway and in possession of heroin in 2006. In this photo released by the Los Angeles County Sheriff's department, Nicole Richie is checked in for what started out as a 90-hour sentence for driving under the influence of drugs. AP

OJ Simpson OJ Simpson is a man who knows his way around a police station - not to mention a courtroom. This mugshot was taken after O.J. Simpson surrendered to authorities at his Brentwood estate in Los Angeles. Simpson was charged with two counts of murder in connection with the June 12, 1994 slayings of his ex-wife, Nicole, and acquaintance Ronald Goldman. AP

Paris Hilton Paris Hilton initially got into trouble for drink-driving in 2006, but made matters worse by breaking the terms of her probation in 2007 - so that she was eventually sentenced to 45 days in prison. There was outrage when she only served a few days in jail before being transferred to house arrest. AP

Phil Spector Legendary record producer Phil Spector looks justifiably worried when arrested over the death of actress Lana Clarkson in 2003 - he was later convicted of her murder and is still in jail. PA

Richie Sambora Bon Jovi guitarist Richie Sambora was busted for driving under the influence with his 10-year-old daughter in the car in 2008, and later admitted the offence in court. Getty

Robert Downey Jr But Li-Lo looks like Snow White compared to Robert Downey Jr, who was arrested so many times in drug-related incidents that he must have had his own cell. Here he is in 2000. AP

Ryan O'Neal Ryan O'Neal was arrested along with his son Redmond for possession of crystal meth in 2008 - at the age of 67! He was ordered to participate in a drug awareness scheme. Getty

Tim Allen Comedian Tim Allen was busted with a hefty 1.4 pounds of cocaine at the airport in Kalamazoo, Michigan, in 1978. He testified against his accomplice and ended up serving 28 months for his crime. PA
Also on HuffPost: