Damien Hirst's plan to decorate a small seaside town with a 65ft-high statue of a naked pregnant woman has gone one step closer to becoming a reality.
Councillors from North Devon District Council have agreed that the bronze statue called Verity could be positioned on Ilfracombe pier.
Local opinion on the statue, which has been offered on a 20-year loan by the artist, has been deeply divided and the decision to award planning permission follows two months of public discussion.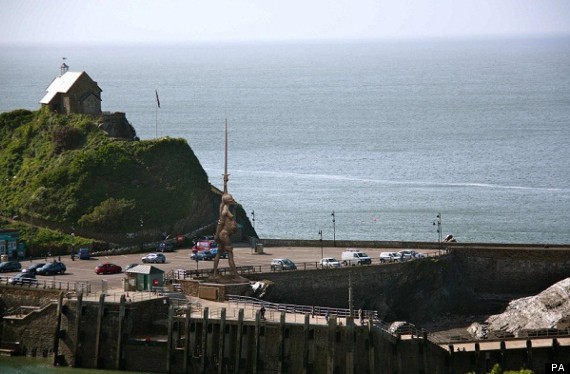 An artist's impression of what Hirst's sculpture might look like in its new home

It is thought the sculpture could attract significant tourism to the town, which has embraced modern art since the town's theatre was developed with a white, conical design and dubbed Madonna's Bra in 2007.
The council's executive will now meet to decide whether to officially accept the loan of the artwork.
From the base of the plinth to the top of the sword, Verity would be slightly taller than Gateshead's famous Angel of the North.
Hirst - one of the world's most talked-about artists - also has a restaurant in the town.
Ilfracombe Town Council gave its approval but planning permission was needed from North Devon District Council's planning committee which received around 300 letters about the planning application - with roughly 177 in support and 100 letters in objection.
Concerns ranged from security issues - with fears that Verity will attract vandalism and publicity seekers - to a dislike of the artist's work but council members heard the statue brings the possibility of attracting further investment for the town and local economy.
If given the go-ahead by the council's executive meeting, groundwork is planned to start on site later this month, with the sculpture due to arrive at the beginning of October.
Loading Slideshow
Hirst grew up in Bristol with his mother who took a hard line with her rebellious son, cutting up his trousers and melting his Sex Pistols vinyl records on the cooker.

In 1992 his <em>The Physical Impossibility of Death in the Mind of Someone Living</em> became the most notable nomination of the Turner Prize, though it didn't actually win. The shark encased in formaldehyde became one of the most iconic pieces of the 1990s. PICTURE: PA

As a student, Hirst had a placement in a mortuary, an experience that clearly influenced his later work. PICTURE: PA

In 1994 Hirst's piece, <em>Away from the Flock</em>, that features a sheep in formaldehyde, was vandalised by another artist, one Mark Bridger, who poured black ink into the tank, and retitled the work <em>Black Sheep</em>. He was subsequently prosecuted, at Hirst's wish, and was given two years' probation. PICTURE: PA

In 1995 Hirst won the Turner Prize for his cow and calf in formaldehyde. PICTURE: PA

Hirst wanted to use rotting cattle in an exhibition in New York, but was banned by the city's health authorities because of fears of "vomiting among the visitors". PICTURE: PA

In 2000 Hirst was commissioned to paint a mini in the style of one of his famous 'spot paintings', to be auctioned at the Serpentine Gallery's 30th Anniversary in London. PICTURE: PA

Hirst's 2001 work, <em>Painting-By-Numbers</em> was a do-it-yourself kit designed to make one of his 'spot paintings' - but part of the exhibition was binned by a gallery cleaner who mistook it for trash. PICTURE: PA

In his 2007 exhibition at the White Cube gallery in London, Hirst displayed <em>For the Love of God</em>, a human skull recreated in platinum. It was covered with 8,601 diamonds, worth about £15,000,000. The work didn't sell outright but to a consortium that included Hirst - maybe people were put off by the £50,000,000 asking price. PICTURE: PA

In September 2008 Hirst became the first living artist to sell a complete show, <em>Beautiful Inside My Head Forever</em>, by action at Sotheby's. It broke the record for a one-artist auction, raising £111 million. PICTURE: PA

With a wealth valued at £215m in the 2010 Sunday Times Rich List, Hirst is reported to be Britain's wealthiest artist. PICTURE: PA