Relatives of two British sisters who survived the "savage" slaying of three members of their family in the French Alps will be brought to the country to be reunited with them, authorities have said.
Post-mortem examinations will be carried out later on Iraqi-born Saad al-Hilli, 50, who was gunned down in his car alongside his dentist wife, named by neighbours as Iqbal, and a woman believed to be her mother.
The al-Hillis' four-year-old daughter, named locally as Zeena, was found alive in the BMW estate underneath the bodies of her relatives around eight hours after the massacre, which also saw a passing French cyclist, Sylvain Mollier, 45, shot dead.
The couple's seven-year-old daughter, believed to be called Zainab, was in a medically induced coma in Grenoble University Hospital after being repeatedly beaten around the head and shot in the shoulder in the attack, which took place on Wednesday.
The motive behind the killings remained a mystery on Friday, with French authorities investigating a number of lines of inquiry.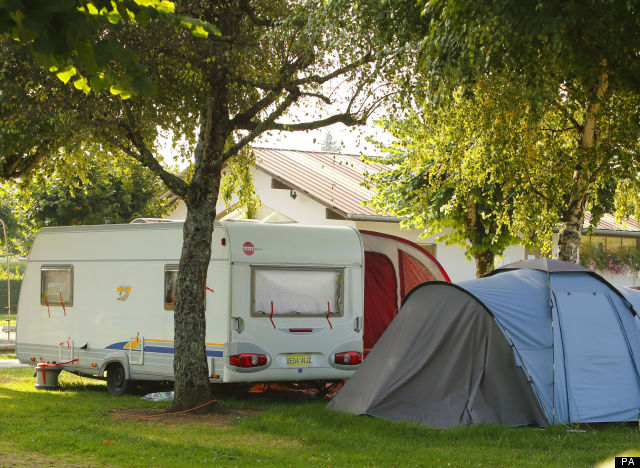 Police are investigating the campsite the al-Hillis were staying on
Prosecutor Eric Maillaud said British police had reported that the girl's father was in dispute with his brother over money.
However, there was no evidence to suggest this was connected to the incident.
The children, apparently the only witnesses to the shootings on an isolated Alpine road, are now under police protection.
Investigators said no weapon had been found and no arrests had been made. A house believed to be owned by the family in Claygate
It was also unclear if the shootings were carried out by one killer or a number of people.
One theory is that shots could have been fired during a bungled armed robbery, with Mr Mollier being a witness to the crime.
But speculation about other possible motives, including a pre-planned attack by professional hitmen, remained rife.
According to a family friend, known as James, Mr al-Hilli said his family moved to the UK in the 1970s after their mechanical engineering business was looked upon "unfavourably" by Saddam Hussein's Ba'ath party.
It was reported in the Daily Mail that Mr al-Hilli was known to the security services and was put under Metropolitan Police Special Branch surveillance during the second Gulf war.
SEE ALSO:
Loading Slideshow
Police around the BMW at scene of shooting in woods near Chevaline in the French Alps where british family and cyclist were shot dead

Police around the BMW at scene of shooting in woods near Chevaline in the French Alps where british family and cyclist were shot dead

French gendarmes talk with investigators near the caravan of the British family hit by gun attack on September 6, 2012 in the camping "Le Solitaire du lac" in the French Alpine village of Saint-Jorioz. A four-year-old girl spent hours curled up under her mother's body and miraculously survived the deadly attack that left her father, mother and grandmother dead and her elder sister seriously injured, officials said. (Photo credit: PHILIPPE DESMAZES/AFP/GettyImages)

A French gendarme stands guard near the caravan of the British family hit by gun attack on September 6, 2012 in the camping "Le Solitaire du lac" in the French Alpine village of Saint-Jorioz. A four-year-old girl miraculously survived the deadly attack that left her father, mother and grandmother dead and her elder sister seriously injured, officials said. (Photo credit: PHILIPPE DESMAZES/AFP/GettyImages)

A vehicle of rescuers arrives on Septembre 6, 2012, where four people were shot dead in or close to a British-registered car that was found in a forest car park on the edge of the French Alpine village of Chevaline. The car, a BMW, contained the bodies of a man, in the front, and two women who were seated in the back, police said. (Photo credit: JEAN-PIERRE CLATOT/AFP/GettyImages)

A road sign is seen while a Gendarme blocks access to a killing site near Chevaline, French Alps, Wednesday Sept. 5, 2012. French authorities say at least four people have been shot to death in a forest in the Alps. An official with the regional administration for the Haute-Savoie region says three of the bodies were found in a BMW registered in Britain. (AP Photo/Alexis Moro)

Gendarmes block access to a killing site near Chevaline, French Alps, Wednesday Sept. 5, 2012. French authorities say at least four people have been shot to death in a forest in the Alps. An official with the regional administration for the Haute-Savoie region says three of the bodies were found in a BMW registered in Britain. (AP Photo/Alexis Moro)

Gendarmes block access to a killing site near Chevaline, French Alps, Wednesday Sept. 5, 2012. French authorities say at least four people have been shot to death in a forest in the Alps.An official with the regional administration for the Haute-Savoie region says three of the bodies were found in a BMW registered in Britain. (AP Photo/Alexis Moro)

Gendarmes block access to a killing site near Chevaline, French Alps, Wednesday Sept. 5, 2012. French authorities say at least four people have been shot to death in a forest in the Alps.An official with the regional administration for the Haute-Savoie region says three of the bodies were found in a BMW registered in Britain. (AP Photo/Alexis Moro)

Gendarmes block access to a killing site near Chevaline, French Alps, Wednesday Sept. 5, 2012. French authorities say at least four people have been shot to death in a forest in the Alps.An official with the regional administration for the Haute-Savoie region says three of the bodies were found in a BMW registered in Britain. (AP Photo/Alexis Moro)

Gendarmes block access to a killing site near Chevaline, French Alps, Wednesday, Sept. 5, 2012. French authorities say at least four people have been shot to death in a forest in the Alps. An official with the regional administration for the Haute-Savoie region says three of the bodies were found in a BMW registered in Britain. (AP Photo / Alexis Moro)

Gendarmes block access to a killing site near Chevaline, French Alps, Wednesday, Sept. 5, 2012. French authorities say at least four people have been shot to death in a forest in the Alps. An official with the regional administration for the Haute-Savoie region says three of the bodies were found in a BMW registered in Britain. (AP Photo / Alexis Moro)

A Gendarme's car heads to a killing site near Chevaline, French Alps, Wednesday Sept.5, 2012. French authorities say at least four people have been shot to death in a forest in the Alps. An official with the regional administration for the Haute-Savoie region says three of the bodies were found in a BMW registered in Britain. (AP Photo/Alexis Moro)

Alps shooting

Members of the public arrive with flowers at the home of French shooting victim, Saad al-Hilli in Claygate, Surrey, as French police investigating the murder of four people are sending four officers to the UK to work with British detectives and plan to search the house of victim Saad al-Hilli.

Alps shooting

A police officer accepts flowers outside the home of French shooting victim, Saad al-Hilli in Claygate, Surrey, as French police investigating the murder of four people are sending four officers to the UK to work with British detectives and plan to search the house of victim Saad al-Hilli.

Alps shooting

A police officer lays flowers outside the home of French shooting victim, Saad al-Hilli in Claygate, Surrey, as French police investigating the murder of four people are sending four officers to the UK to work with British detectives and plan to search the house of victim Saad al-Hilli.

Alps shooting

British Scenes of Crime Officers (SOCO) outside the home of French shooting victim, Saad al-Hilli in Claygate, Surrey, as French police investigating the murder of four people are sending four officers to the UK to work with British detectives and plan to search the house of victim Saad al-Hilli.

Alps shooting

A British Scenes of Crime Officer (SOCO) outside the home of French shooting victim, Saad al-Hilli in Claygate, Surrey, as French police investigating the murder of four people are sending four officers to the UK to work with British detectives and plan to search the house of victim Saad al-Hilli.

Alps shooting

A British Scenes of Crime Officer (SOCO) outside the home of French shooting victim, Saad al-Hilli in Claygate, Surrey, as French police investigating the murder of four people are sending four officers to the UK to work with British detectives and plan to search the house of victim Saad al-Hilli.

Alps shooting

British Scenes of Crime Officers (SOCO) outside the home of French shooting victim, Saad al-Hilli in Claygate, Surrey, as French police investigating the murder of four people are sending four officers to the UK to work with British detectives and plan to search the house of victim Saad al-Hilli.

Alps shooting

British Scenes of Crime Officers (SOCO) outside the home of French shooting victim, Saad al-Hilli in Claygate, Surrey, as French police investigating the murder of four people are sending four officers to the UK to work with British detectives and plan to search the house of victim Saad al-Hilli.

Alps shooting

Forensic officers outside the home of French shooting victim, Saad al-Hilli in Claygate, Surrey, as French police investigating the murder of four people are sending four officers to the UK to work with British detectives and plan to search the house of victim Saad al-Hilli.

Alps shooting

Forensic officers outside the home of French shooting victim, Saad al-Hilli in Claygate, Surrey, as French police investigating the murder of four people are sending four officers to the UK to work with British detectives and plan to search the house of victim Saad al-Hilli.

Alps shooting

British police forensic officers Saturday Sept. 8, 2012, outside the home of Saad al-Hilli, in Claygate, Britain, during investigations into the death of four people shot dead on Wednesday in the French Alps. French police officers are expected to arrive Saturday in Britain as part of an investigation into the slayings of the British-Iraqi al-Hilli family members while vacationing in France. The children of the al-Hilli family survived the killing, as 4-year-old daughter Zeena stayed hidden below the body of her dead mother, and 7-year-old Zaina who was shot in the shoulder and beaten. (AP Photo / Steve Parsons, PA) UNITED KINGDOM OUT - NO SALES - NO ARCHIVES

Alps shooting

British Scenes of Crime forensic officers (SOCO) Saturday Sept. 8, 2012, outside the home of Saad al-Hilli, in Claygate, Britain, during investigations into the death of four people shot dead on Wednesday in the French Alps. French police officers are expected to arrive Saturday in Britain as part of an investigation into the slayings of the British-Iraqi al-Hilli family members while vacationing in France. The children of the al-Hilli family survived the killing, as 4-year-old daughter Zeena stayed hidden below the body of her dead mother, and 7-year-old Zaina who was shot in the shoulder and beaten. (AP Photo / Steve Parsons, PA) UNITED KINGDOM OUT - NO SALES - NO ARCHIVES

Alps shooting

British police officers places flower tributes Saturday Sept. 8, 2012, outside the home of Saad al-Hilli, in Claygate, Britain, during investigations into the death of four people shot dead on Wednesday in the French Alps. French police officers are expected to arrive Saturday in Britain as part of an investigation into the slayings of the British-Iraqi al-Hilli family members while vacationing in France. The children of the al-Hilli family survived the killing, as 4-year-old daughter Zeena stayed hidden below the body of her dead mother, and 7-year-old Zaina who was shot in the shoulder and beaten. (AP Photo / Steve Parsons, PA) UNITED KINGDOM OUT - NO SALES - NO ARCHIVES

Alps shooting

British police forensic officers Saturday Sept. 8, 2012, outside the home of Saad al-Hilli, in Claygate, Britain, during investigations following the deaths of four people shot dead on Wednesday in the French Alps. French police officers are expected to arrive Saturday in Britain as part of an investigation into the slayings of the British-Iraqi al-Hilli family members while vacationing in France. The children of the al-Hilli family survived the killing, as 4-year-old daughter Zeena stayed hidden below the body of her dead mother, and 7-year-old Zaina who was shot in the shoulder and beaten. (AP Photo / Steve Parsons, PA) UNITED KINGDOM OUT - NO SALES - NO ARCHIVES

Alps shooting

The home of Saad al-Hilli, in Claygate, Britain, who was shot dead on Wednesday with three others while vacationing in the French Alps, as it is secured by British police Saturday Sept. 8, 2012. French police officers are expected to arrive Saturday in Britain as part of an investigation into the slayings of the British-Iraqi al-Hilli family. The children of the al-Hilli family survived the killing, as 4-year-old daughter Zeena stayed hidden below the body of her dead mother, and 7-year-old Zaina who was shot in the shoulder and beaten. (AP Photo / Steve Parsons, PA) UNITED KINGDOM OUT - NO SALES - NO ARCHIVES

Alps shooting

British police secure the area Saturday Sept. 8, 2012, outside the home of Saad al-Hilli, in Claygate, Britain, who was shot dead on Wednesday with three others while vacationing in the French Alps. French police officers are expected to arrive Saturday in Britain as part of an investigation into the slayings of the British-Iraqi al-Hilli family. The children of the al-Hilli family survived the killing, as 4-year-old daughter Zeena stayed hidden below the body of her dead mother, and 7-year-old Zaina who was shot in the shoulder and beaten. (AP Photo / Steve Parsons, PA) UNITED KINGDOM OUT - NO SALES - NO ARCHIVES

Alps shooting

The home of French shooting victim, Saad al-Hilli in Claygate, Surrey, as French police investigating the murder of four people are sending four officers to the UK to work with British detectives and plan to search the house of victim Saad al-Hilli.

Alps shooting

Police outside the home of French shooting victim, Saad al-Hilli in Claygate, Surrey, as French police investigating the murder of four people are sending four officers to the UK to work with British detectives and plan to search the house of victim Saad al-Hilli.

Alps shooting

Police on Thursday Sept. 6, 2012 stand outside the home of Saad al-Hilli in Claygate, Surrey, who has been named by French media as one of the members of a British family who was shot dead by a gunman in the French Alps. (AP Photo/Steve Parsons/PA) UNITED KINGDOM OUT NO SALES NO ARCHIVE

General view of the hospital of Grenoble , France, Thursday, Sept. 6, 2012, where the young British girl is hospitalized after four people were found shot to death on a forest road, last Wednesday, in the French alps. Immobilized with fear, a 4-year-old British girl huddled for eight hours beneath the legs of her slain mother in the back of a car filled with corpses on a remote Alpine road — all while French investigators stood nearby, unaware the girl was there. The stunning discovery Thursday of the girl, apparently unharmed, heightened the drama around a mysterious shooting rampage that left four adults dead and a 7-year-old girl hospitalized with bullet wounds and skull fractures. The reason for the killing, in a wooded area near the village of Chevaline, remains unclear. (AP Photo/Lionel Cironneau)

General view of the hospital of Grenoble , France, Thursday, Sept. 6, 2012, where the young british girl is hospitalized after four people were found shot to death on a forest road, on Wednesday, in the French alps. Immobilized with fear, a 4-year-old British girl huddled for eight hours beneath the legs of her slain mother in the back of a car filled with corpses on a remote Alpine road — all while French investigators stood nearby, unaware the girl was there. The stunning discovery Thursday of the girl, apparently unharmed, heightened the drama around a mysterious shooting rampage that left four adults dead and a 7-year-old girl hospitalized with bullet wounds and skull fractures. The reason for the killing, in a wooded area near the village of Chevaline, remains unclear. (AP Photo/Lionel Cironneau)

Alps shooting

A Royal Logistic Corps bomb disposal truck arrives at the cordon close to the home of Saad al-Hilli in Claygate, Surrey, as police evacuated an area around his home due to "concerns" about items found at the address.

Alps shooting

A Royal Logistic Corps bomb disposal truck arrives at the cordon close to the home of Saad al-Hilli in Claygate, Surrey, as police evacuated an area around his home due to "concerns" about items found at the address.

Alps shooting

Police close to the home of Saad al-Hilli in Claygate, Surrey, as they evacuated an area around his home due to "concerns" about items found at the address.

Alps shooting

Police stand outside the home of Saad al-Hilli in Claygate, Surrey, who has been named by French media as one of the members of a British family who was shot dead by a gunman in the French Alps.

Alps shooting

Police walk close to the home of Saad al-Hilli in Claygate, Surrey, as they evacuated an area around his home due to "concerns" about items found at the address.

Alps shooting

Police close to the home of Saad al-Hilli in Claygate, Surrey, as they evacuated an area around his home due to "concerns" about items found at the address.

Alps shooting

Police search teams leave the home of French shooting victim, Saad al-Hilli in Claygate, Surrey, after police resumed their search at the home of the family gunned down in the French Alps.

Alps shooting

A police firearms officer at the home of French shooting victim, Saad al-Hilli in Claygate, Surrey, as police resumed their search at the home of the family gunned down in the French Alps.

Alps shooting

Police firearms officers at the home of French shooting victim, Saad al-Hilli in Claygate, Surrey, as police resumed their search at the home of the family gunned down in the French Alps.

Alps shooting

Police at the home of French shooting victim, Saad al-Hilli in Claygate, Surrey, as police resumed their search at the home of the family gunned down in the French Alps.

Saad al-Hilli killed in the French Alps