Eaten too much sausage, dog?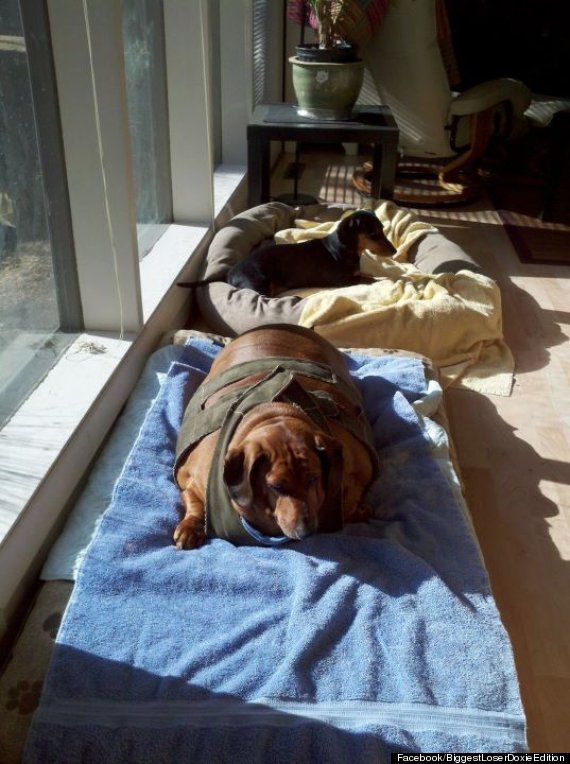 Yes, poor old Obie the dachshund of Portland, Oregon, weighs a whopping 77lbs (that's 5 and a half stone in British dog weight). Apparently his elderly owners "just couldn't say 'no' to those big brown eyes" and through many tears, relinquished him. He's now with a new owner - and on a mission to lose 40 pounds.
"He is on a special diet to lose the weight and get back to being a happy dog," say Obie's new carer. "I plan to do swim therapy with him and treadmill work once he starts to lose a little. He will need a dental and may eventually need to have excess skin surgically removed. "
Bless. If you'd like to help Obie in his dieting aims, check out the Facebook page devoted to his cause - or make a donation on his PayPal page. Because diet dog food don't come cheap, you know...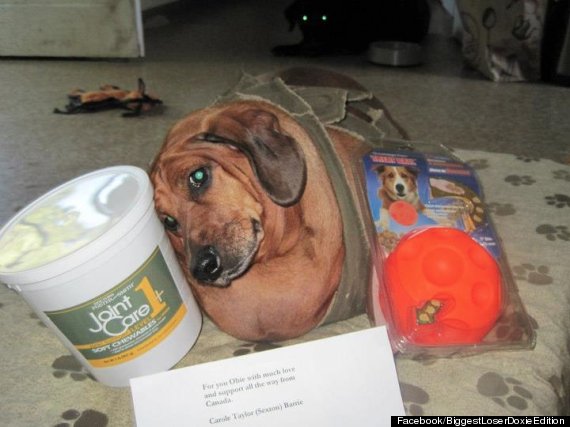 And Obie? You might want to take some inspiration from this guy.
Related on HuffPost:
Loading Slideshow
In this photo released by China's Xinhua news agency, Xu Jirong holds his fat cat at home in Qingdao, a coastal city in east China's Shandong Province, Thursday, Feb. 16, 2006. Xu said his nine-year-old pet weighs 15 kilograms and that its waist measures around 77 centimeters. (AP Photo/Xinhua, Zhang Jianhua)

file)- A bulky dog lies on the promenade of Chania on Crete, Greece, 15 September 2007. Photo: Bernd von Jutrczenka (Credit Image: © DPA/ZUMA Press)

Tiffany Noreuil, an animal care technician at the Oregon Humane Society, holds temporarily-named feline Goliath, Wednesday, Jan. 10, 2007, in Portland, Ore. Goliath, a 20-pound stray whose girth got him stuck in a pet door while trying to plunder some dog food, is back with his owner. His name isn't really Goliath, but it's close. It's Hercules, says owner Geoff Ernest, who was reunited with his tubby tabby Thursday at the society. Gresham, Ore., resident Jadwiga Drozdek found the feline stuck in the dog door of her home a few days ago, helped free him and gave him a plate of food on her patio. (AP Photo/The Oregonian, Benjamin Brink) ** NO SALES, MAGS OUT, **

Dog owner Becky Jones pets four year-old labrador Chubby Charlie in Northfield Birmingham, United Kingdom, October 24, 2001. Chubby Charlie is forced to go on a crash diet after ballooning to an astonishing 168 pounds. (Photo by Mike Thomas/Express Newspapers/Getty Images)

Overweight Cocker Spaniels in Mumbai, India - 20 Apr 2009 These three heavyweight doggy siblings were making very heavy weather indeed of their evening stroll in South Mumbai's Azad Maidan. They were accompanied by their none too slim owner, 21-year-old Sitanda Mashi, who described the daily rations enjoyed by the three six-year-old cocker spaniels Maggie, Prince and Dinah. The trio start the day off with milk and biscuits for breakfast, then move on to chapati and paneer [Indian cottage cheese] for lunch. Dinner is boiled chicken followed by ice cream. Maggie has developed arthritis and now has to be strapped into a stroller support. However, Sitanda does not attribute this to their diet.

NEW YORK - JUNE 09: Prince Chunk, the famous cat in who became the national face of pet abandonment due to the bad economy poses at the launch of the Prince Chunk Foundation at Riverside Animal Hospital on June 9, 2010 in New York City. (Photo by Slaven Vlasic/Getty Images) *** Local Caption *** Prince Chunk