Words have completely and utterly failed us.
Chris Brown has unveiled a monstrous new tattoo on his neck of a woman who looks rather familiar.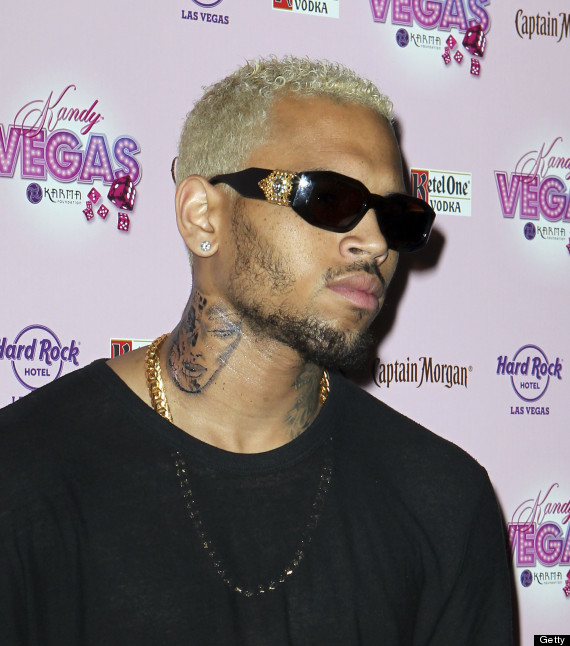 The inking bares an uncanny resemblance to a pic of a battered and bruised Rihanna, which was released following his attack on her in 2009.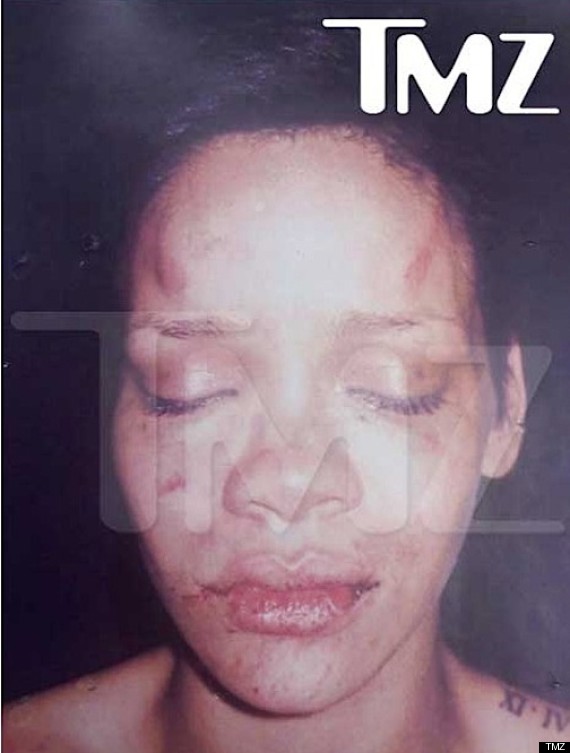 However, the rapper has reportedly insisted it is NOT a portrait of his ex-girlfriend who he was convicted of assaulting outside a pre-Grammys party.
A source told TMZ any resemblance to the Umbrella singer is "coincidental".
"It's a random woman," they added.
The singer's publicist was quick to point out the tattoo is actually a picture of a skull and not an abused woman, and now the star has taken to Twitter to explain the image was inspired by Mexico's Day of the Dead celebration.
"I'm an artist and this is art. Dia de los Muertos (Day of the Dead)," he wrote.
@chrisbrown

Chris Brown
I'm an artist and this is art. Dia de los Muertos.
The singer is said to have paid a MAC make-up artist who created the design to allow him to replicate it on his neck.
Chris debuted the new tattoo on 1 September - nearly a week before he and Rihanna publicly kissed at the MTV Music Video Awards.
ENTER OUR COMPETITION TO WIN A RETRO PAPARAZZI-STYLE CAMERA
> IN PICS: THE MTV VMAs 2012

Loading Slideshow
Rihanna

Rihanna arrives at the MTV Video Music Awards on Thursday, Sept. 6, 2012, in Los Angeles. (Photo by Matt Sayles/Invision/AP)

MTV VMA 2012 Arrivals - Los Angeles

Rihanna arriving at the MTV Video Music Awards at the Staples Centre, Los Angeles.

MTV VMA 2012 Arrivals - Los Angeles

Rihanna arriving at the MTV Video Music Awards at the Staples Centre, Los Angeles.

Rihanna

Rihanna arrives at the MTV Video Music Awards on Thursday, Sept. 6, 2012, in Los Angeles. (Photo by Jordan Strauss/Invision/AP)

MTV VMA 2012 Arrivals - Los Angeles

Rihanna arriving at the MTV Video Music Awards at the Staples Centre, Los Angeles.

Rihanna

Rihanna performs at the MTV Video Music Awards on Thursday, Sept. 6, 2012, in Los Angeles. (Photo by Matt Sayles/Invision/AP)

Rihanna

Rihanna performs at the MTV Video Music Awards on Thursday, Sept. 6, 2012, in Los Angeles. (Photo by Mark J. Terrill/Invision/AP)

Rihanna, A$AP Rocky

Rihanna, left, and A$AP Rocky perform at the MTV Video Music Awards on Thursday, Sept. 6, 2012, in Los Angeles. (Photo by Matt Sayles/Invision/AP)

Rihanna

Rihanna performs at the MTV Video Music Awards on Thursday, Sept. 6, 2012, in Los Angeles. (Photo by Mark J. Terrill/Invision/AP)

Emma Watson

Emma Watson attends the MTV Video Music Awards on Thursday, Sept. 6, 2012, in Los Angeles. (Photo by Jordan Strauss/Invision/AP)

Emma Watson

Emma Watson arrives at the MTV Video Music Awards on Thursday, Sept. 6, 2012, in Los Angeles. (Photo by Matt Sayles/Invision/AP)

MTV Video Music Awards - Arrivals - Los Angeles

Emma Watson arriving at the MTV Video Music Awards at the Staples Centre, Los Angeles.

Ezra Miller, Emma Watson

Ezra Miller, left, and Emma Watson arrive at the MTV Video Music Awards on Thursday, Sept. 6, 2012, in Los Angeles. (Photo by Matt Sayles/Invision/AP)

MTV Video Music Awards - Arrivals - Los Angeles

Emma Watson and Ezra Miller arriving at the MTV Video Music Awards, at the Staples Centre, Los Angeles.

MTV VMA 2012 Arrivals - Los Angeles

The Saturdays arriving at the MTV Video Music Awards at the Staples Centre, Los Angeles.

Rebel Wilson, Max George, Jay McGuiness, Nathan Sykes, Siva Kaneswaran, Tom Parker

From left, Rebel Wilson and Max George, Jay McGuiness, Nathan Sykes, Siva Kaneswaran and Tom Parker, of musical group The Wanted, present an award onstage at the MTV Video Music Awards on Thursday, Sept. 6, 2012, in Los Angeles. (Photo by Matt Sayles/Invision/AP)

Rebel Wilson, Max George, Jay McGuiness, Nathan Sykes, Siva Kaneswaran, Tom Parker

Australian actress Rebel Wilson and Max George, Jay McGuiness, Nathan Sykes, Siva Kaneswaran and Tom Parker, of musical group The Wanted, present an award onstage at the MTV Video Music Awards on Thursday, Sept. 6, 2012, in Los Angeles. (Photo by Matt Sayles/Invision/AP)

MTV VMA 2012 Arrivals - Los Angeles

The Wanted arriving at the MTV Video Music Awards at the Staples Centre, Los Angeles.

Louis Tomlinson, Liam Payne, Harry Styles, Zayn Malik, Niall Horan,

Members of the British band One Direction, from left, Louis Tomlinson, Liam Payne, Harry Styles, Zayn Malik and Niall Horan pose backstage with their awards at the MTV Video Music Awards on Thursday, Sept. 6, 2012, in Los Angeles. (Photo by Jordan Strauss/Invision/AP)

Harry Styles

Harry Styles, of musical group One Direction, gestures as he wins the best pop video award for "What Makes You Beautiful" at the MTV Video Music Awards on Thursday, Sept. 6, 2012, in Los Angeles. (Photo by Matt Sayles/Invision/AP)

Harry Styles, Zayn Malik

Harry Styles, center, and Zayn Malik, background right, of musical group One Direction, walk onstage to accept the award for best new artist at the MTV Video Music Awards on Thursday, Sept. 6, 2012, in Los Angeles. (Photo by Matt Sayles/Invision/AP)

2012 MTV Video Music Awards - Red Carpet

LOS ANGELES, CA - SEPTEMBER 06: Singer Katy Perry arrives at the 2012 MTV Video Music Awards at Staples Center on September 6, 2012 in Los Angeles, California. (Photo by Christopher Polk/Getty Images)

2012 MTV Video Music Awards - Red Carpet

LOS ANGELES, CA - SEPTEMBER 06: Singer Katy Perry arrives at the 2012 MTV Video Music Awards at Staples Center on September 6, 2012 in Los Angeles, California. (Photo by Christopher Polk/Getty Images)

2012 MTV Video Music Awards - Red Carpet

LOS ANGELES, CA - SEPTEMBER 06: Singer Katy Perry arrives at the 2012 MTV Video Music Awards at Staples Center on September 6, 2012 in Los Angeles, California. (Photo by Christopher Polk/Getty Images)

2012 MTV Video Music Awards - Red Carpet

LOS ANGELES, CA - SEPTEMBER 06: Singer Katy Perry arrives at the 2012 MTV Video Music Awards at Staples Center on September 6, 2012 in Los Angeles, California. (Photo by Christopher Polk/Getty Images)

Rihanna

Rihanna arrives at the MTV Video Music Awards on Thursday, Sept. 6, 2012, in Los Angeles. (Photo by Matt Sayles/Invision/AP)

2012 MTV Video Music Awards - Show

LOS ANGELES, CA - SEPTEMBER 06: (L-R) Singer Niall Horan (R) of One Direction accepts the Best Pop Video award from singer Katy Perry onstage during the 2012 MTV Video Music Awards at Staples Center on September 6, 2012 in Los Angeles, California. (Photo by Kevin Winter/Getty Images)

MTV VMA 2012 Arrivals - Los Angeles

Miley Cyrus arriving at the MTV Video Music Awards at the Staples Centre, Los Angeles.

MTV VMA 2012 Arrivals - Los Angeles

Miley Cyrus arriving at the MTV Video Music Awards at the Staples Centre, Los Angeles.

MTV VMA 2012 Arrivals - Los Angeles

Miley Cyrus arriving at the MTV Video Music Awards at the Staples Centre, Los Angeles.

Miley Cyrus

Singer-actress Miley Cyrus arrives at the MTV Video Music Awards on Thursday, Sept. 6, 2012, in Los Angeles. (Photo by Matt Sayles/Invision/AP)

Miley Cyrus

Miley Cyrus attends the MTV Video Music Awards on Thursday, Sept. 6, 2012, in Los Angeles. (Photo by Jordan Strauss/Invision/AP)

2012 MTV Video Music Awards - Arrivals

LOS ANGELES, CA - SEPTEMBER 06: (L-R) Rapper Wiz Khalifa and model Amber Rose arrive at the 2012 MTV Video Music Awards at Staples Center on September 6, 2012 in Los Angeles, California. (Photo by Frederick M. Brown/Getty Images)

Amber Rose

Amber Rose arrives at the MTV Video Music Awards on Thursday, Sept. 6, 2012, in Los Angeles. (Photo by Jordan Strauss/Invision/AP)

Peter Facinelli, Elizabeth Reaser, Wyck Godfrey, Robert Pattinson, Taylor Lautner, Jackson Rathbone

From left, Peter Facinelli, Elizabeth Reaser, Wyck Godfrey, Robert Pattinson, Taylor Lautner and Jackson Rathbone speak onstage at the MTV Video Music Awards on Thursday, Sept. 6, 2012, in Los Angeles. (Photo by Matt Sayles/Invision/AP)

Peter Facinelli, Elizabeth Reaser, Wyck Godfrey, Robert Pattinson, Taylor Lautner, Jackson Rathbone

From left, Peter Facinelli, Elizabeth Reaser, Wyck Godfrey, Taylor Lautner, Robert Pattinson and Jackson Rathbone speak onstage at the MTV Video Music Awards on Thursday, Sept. 6, 2012, in Los Angeles. (Photo by Matt Sayles/Invision/AP)

Peter Facinelli, Elizabeth Reaser, Robert Pattinson, Taylor Lautner, Jackson Rathbone

From left, Peter Facinelli, Elizabeth Reaser, Robert Pattinson, Taylor Lautner and Jackson Rathbone speak onstage at the MTV Video Music Awards on Thursday, Sept. 6, 2012, in Los Angeles. (Photo by Matt Sayles/Invision/AP)

MTV VMA 2012 Arrivals - Los Angeles

Pink arriving at the MTV Video Music Awards at the Staples Centre, Los Angeles.

MTV VMA 2012 Arrivals - Los Angeles

Pink arriving at the MTV Video Music Awards at the Staples Centre, Los Angeles.

Pink

Pink performs at the MTV Video Music Awards on Thursday, Sept. 6, 2012, in Los Angeles. (Photo by Matt Sayles/Invision/AP)

Pink

Pink performs at the MTV Video Music Awards on Thursday, Sept. 6, 2012, in Los Angeles. (Photo by Matt Sayles/Invision/AP)

Pink

Pink performs at the MTV Video Music Awards on Thursday, Sept. 6, 2012, in Los Angeles. (Photo by Matt Sayles/Invision/AP)

Pink

Pink performs in the audience at the MTV Video Music Awards on Thursday, Sept. 6, 2012, in Los Angeles. (Photo by Mark J. Terrill/Invision/AP)

MTV VMA 2012 Arrivals - Los Angeles

Taylor Swift arriving at the MTV Video Music Awards at the Staples Centre, Los Angeles.

Taylor Swift

Taylor Swift surfs the crowd at the MTV Video Music Awards on Thursday, Sept. 6, 2012, in Los Angeles. (Photo by Mark J. Terrill/Invision/AP)

Taylor Swift

Taylor Swift performs at the MTV Video Music Awards on Thursday, Sept. 6, 2012, in Los Angeles. (Photo by Matt Sayles/Invision/AP)

Taylor Swift

Taylor Swift performs at the MTV Video Music Awards on Thursday, Sept. 6, 2012, in Los Angeles. (Photo by Mark J. Terrill/Invision/AP)

Taylor Swift

Taylor Swift performs at the MTV Video Music Awards on Thursday, Sept. 6, 2012, in Los Angeles. (Photo by Matt Sayles/Invision/AP)

Taylor Swift

Taylor Swift performs at the MTV Video Music Awards on Thursday, Sept. 6, 2012, in Los Angeles. (Photo by Matt Sayles/Invision/AP)

Rita Ora

Rita Ora arrives at the MTV Video Music Awards on Thursday, Sept. 6, 2012, in Los Angeles. (Photo by Matt Sayles/Invision/AP)

Rita Ora

British singer-songwriter Rita Ora arrives at the MTV Video Music Awards on Thursday, Sept. 6, 2012, in Los Angeles. (Photo by Matt Sayles/Invision/AP)
Also on HuffPost: