The victims of the French Alps shooting were killed with the same gun fuelling speculation they were targeted by a contract killer.
French investigators revealed each person was shot twice in the head in a secluded car park in the Combe d'Ire forest, near Chevaline.
Police believe the attacker may have used a Czech-made machine pistol called a 'Skorpion', that was developed in the 1950s and used during the cold war. Detailed ballistic analysis of 25 spent cartridges found at the scene revealed they all came from a 7.65mm automatic pistol
The seven-year-old daughter of Saad al-Hilli who survived the attack, has since regained consciousness and was able to hold a brief discussion with officers in France, sources close to the investigation have said.
Zainab is seen as a key witness to the horrific attack that left her parents and grandmother dead.
Zainab al-Hilli, was shot and so brutally beaten during the attack that doctors placed her in a medically-induced coma. Her four-year-old sister Zeena survived by hiding beneath the skirts of her mother's corpse.
Their father Saad al-Hilli was killed in during the family car during a holiday, alongside his dentist wife Iqbal in a remote spot close to Lake Annecy. The caravan and tent used by the Al-Hilli family at the French campsite
Mrs al-Hilli's mother also died in the shooting along with Sylvain Mollier, 45, a French cyclist who apparently stumbled across the shooting on Wednesday.
A Dutch couple have told police that Mr al-Hilli moved his family from one campsite to another two days before they were gunned down.
The said they believed the group planned to spend a week at the three-star Village Camping Europa site in St Jorioz but they left after a two-night stay.
The family moved into neighbouring site Le Solitaire du Lac before the brutal attack in a remote spot close to Lake Annecy.
The campers said father-of-two Saad al-Hilli acted strangely during that time, leaving his family alone several times each day.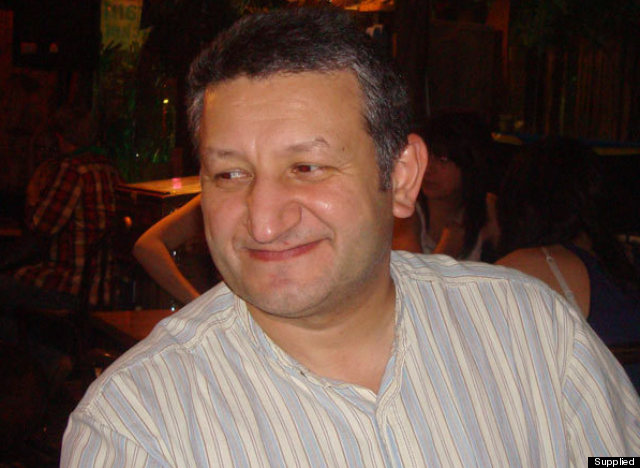 Iraqi born Saad al-Hilli was killed in the car alongside his wife and mother-in-law
However a manager at Village Camping Europa dismissed suggestions that Mr al-Hilli behaved oddly during his stay, adding: "There was nothing strange. All families leave the campsite at all sorts of times to run errands, go to the shop, organise activities, that sort of thing."
And she said comments about a mysterious man described as appearing "to come from the Balkans" were "ridiculous"
She said: "That was an Italian man who was here. He left and got on his plane as was planned.".
French police are also examining two mobile phones found in the al-Hilli's bullet-ridden BMW, just a few miles from Le Solitaire du Lac, a campsite in Saint-Jorioz where they were staying.
Meanwhile, witnesses have described seeing a green four-wheel-drive vehicle in the area at the time of the killings, and possibly a motorbike. The campsite in the French Alps where the murdered family was holidaying
One man, thought to be one of the last people to see the family alive, told reporters the family had arrived at the isolated car park at least an hour before the murders.
Laurent Fillion-Robin, 38, said there was no sign of any vehicle following the group when he watched the red British-registered BMW drive past between 2.30pm and 3pm. He heard no gun shots, fuelling speculation that the perpetrator was a professional hitman who used a silencer on his gun.
While Zainab is unable to shed much light on the murders, French police believe she could provide them with crucial details to help piece together what happened.
A source said: "They have been able to speak to her but this was just an initial meeting. They could not go into any detail and the child was very tired. It was not permitted for the discussion to go any further."
Police must now wait for medics to give them the green light to engage the girl in a more lengthy discussion when she is expected to be asked about her memories of the attack.
Zeena returned to Britain after two relatives, understood to be an aunt and uncle, flew out to France. She is under the care of the authorities and social services.
It is as yet unclear who will take custody of the two orphaned children.
The spotlight in the criminal investigation has turned on the al-Hilli family home in the affluent village of Claygate in Surrey after police identified items of concern and called in a bomb disposal squad from the Royal Logistic Corps. There were concerns over objects found at the address after police searched the family home for clues
Neighbouring properties were evacuated as experts examined the mock-Tudor house, focusing on a shed at the bottom of the garden. But officers later said that the unidentified items were not hazardous.
Surrey Police last night said officers were using power tools to try to open a safe in the al-Hilli home.
One theory is that shots could have been fired during a bungled armed robbery, with Mr Mollier being a witness to the crime. Another is that the killing was a pre-planned attack by professional hitmen.
Some media reports have suggested that Mr al-Hilli, an engineer who left Saddam Hussein's Iraq several years ago, was known to the security services and was put under surveillance by Metropolitan Police Special Branch during the second Gulf war.
A spokesman said Scotland Yard could not comment but it is understood there is no link between the deaths and any national security issues.
Police are now examining at all aspects of Mr al-Hilli's life to try to find a motive for the murders, looking at both personal and professional links.
Investigators have disclosed that his brother, Zaid Hilli, approached UK police to deny any feud with his sibling over an inheritance.
They are also likely to consider Mr al-Hilli's employment as a contractor for a satellite technology company in Surrey.
Loading Slideshow
Police around the BMW at scene of shooting in woods near Chevaline in the French Alps where british family and cyclist were shot dead

Police around the BMW at scene of shooting in woods near Chevaline in the French Alps where british family and cyclist were shot dead

French gendarmes talk with investigators near the caravan of the British family hit by gun attack on September 6, 2012 in the camping "Le Solitaire du lac" in the French Alpine village of Saint-Jorioz. A four-year-old girl spent hours curled up under her mother's body and miraculously survived the deadly attack that left her father, mother and grandmother dead and her elder sister seriously injured, officials said. (Photo credit: PHILIPPE DESMAZES/AFP/GettyImages)

A French gendarme stands guard near the caravan of the British family hit by gun attack on September 6, 2012 in the camping "Le Solitaire du lac" in the French Alpine village of Saint-Jorioz. A four-year-old girl miraculously survived the deadly attack that left her father, mother and grandmother dead and her elder sister seriously injured, officials said. (Photo credit: PHILIPPE DESMAZES/AFP/GettyImages)

A vehicle of rescuers arrives on Septembre 6, 2012, where four people were shot dead in or close to a British-registered car that was found in a forest car park on the edge of the French Alpine village of Chevaline. The car, a BMW, contained the bodies of a man, in the front, and two women who were seated in the back, police said. (Photo credit: JEAN-PIERRE CLATOT/AFP/GettyImages)

A road sign is seen while a Gendarme blocks access to a killing site near Chevaline, French Alps, Wednesday Sept. 5, 2012. French authorities say at least four people have been shot to death in a forest in the Alps. An official with the regional administration for the Haute-Savoie region says three of the bodies were found in a BMW registered in Britain. (AP Photo/Alexis Moro)

Gendarmes block access to a killing site near Chevaline, French Alps, Wednesday Sept. 5, 2012. French authorities say at least four people have been shot to death in a forest in the Alps. An official with the regional administration for the Haute-Savoie region says three of the bodies were found in a BMW registered in Britain. (AP Photo/Alexis Moro)

Gendarmes block access to a killing site near Chevaline, French Alps, Wednesday Sept. 5, 2012. French authorities say at least four people have been shot to death in a forest in the Alps.An official with the regional administration for the Haute-Savoie region says three of the bodies were found in a BMW registered in Britain. (AP Photo/Alexis Moro)

Gendarmes block access to a killing site near Chevaline, French Alps, Wednesday Sept. 5, 2012. French authorities say at least four people have been shot to death in a forest in the Alps.An official with the regional administration for the Haute-Savoie region says three of the bodies were found in a BMW registered in Britain. (AP Photo/Alexis Moro)

Gendarmes block access to a killing site near Chevaline, French Alps, Wednesday Sept. 5, 2012. French authorities say at least four people have been shot to death in a forest in the Alps.An official with the regional administration for the Haute-Savoie region says three of the bodies were found in a BMW registered in Britain. (AP Photo/Alexis Moro)

Gendarmes block access to a killing site near Chevaline, French Alps, Wednesday, Sept. 5, 2012. French authorities say at least four people have been shot to death in a forest in the Alps. An official with the regional administration for the Haute-Savoie region says three of the bodies were found in a BMW registered in Britain. (AP Photo / Alexis Moro)

Gendarmes block access to a killing site near Chevaline, French Alps, Wednesday, Sept. 5, 2012. French authorities say at least four people have been shot to death in a forest in the Alps. An official with the regional administration for the Haute-Savoie region says three of the bodies were found in a BMW registered in Britain. (AP Photo / Alexis Moro)

A Gendarme's car heads to a killing site near Chevaline, French Alps, Wednesday Sept.5, 2012. French authorities say at least four people have been shot to death in a forest in the Alps. An official with the regional administration for the Haute-Savoie region says three of the bodies were found in a BMW registered in Britain. (AP Photo/Alexis Moro)

Alps shooting

Members of the public arrive with flowers at the home of French shooting victim, Saad al-Hilli in Claygate, Surrey, as French police investigating the murder of four people are sending four officers to the UK to work with British detectives and plan to search the house of victim Saad al-Hilli.

Alps shooting

A police officer accepts flowers outside the home of French shooting victim, Saad al-Hilli in Claygate, Surrey, as French police investigating the murder of four people are sending four officers to the UK to work with British detectives and plan to search the house of victim Saad al-Hilli.

Alps shooting

A police officer lays flowers outside the home of French shooting victim, Saad al-Hilli in Claygate, Surrey, as French police investigating the murder of four people are sending four officers to the UK to work with British detectives and plan to search the house of victim Saad al-Hilli.

Alps shooting

British Scenes of Crime Officers (SOCO) outside the home of French shooting victim, Saad al-Hilli in Claygate, Surrey, as French police investigating the murder of four people are sending four officers to the UK to work with British detectives and plan to search the house of victim Saad al-Hilli.

Alps shooting

A British Scenes of Crime Officer (SOCO) outside the home of French shooting victim, Saad al-Hilli in Claygate, Surrey, as French police investigating the murder of four people are sending four officers to the UK to work with British detectives and plan to search the house of victim Saad al-Hilli.

Alps shooting

A British Scenes of Crime Officer (SOCO) outside the home of French shooting victim, Saad al-Hilli in Claygate, Surrey, as French police investigating the murder of four people are sending four officers to the UK to work with British detectives and plan to search the house of victim Saad al-Hilli.

Alps shooting

British Scenes of Crime Officers (SOCO) outside the home of French shooting victim, Saad al-Hilli in Claygate, Surrey, as French police investigating the murder of four people are sending four officers to the UK to work with British detectives and plan to search the house of victim Saad al-Hilli.

Alps shooting

British Scenes of Crime Officers (SOCO) outside the home of French shooting victim, Saad al-Hilli in Claygate, Surrey, as French police investigating the murder of four people are sending four officers to the UK to work with British detectives and plan to search the house of victim Saad al-Hilli.

Alps shooting

Forensic officers outside the home of French shooting victim, Saad al-Hilli in Claygate, Surrey, as French police investigating the murder of four people are sending four officers to the UK to work with British detectives and plan to search the house of victim Saad al-Hilli.

Alps shooting

Forensic officers outside the home of French shooting victim, Saad al-Hilli in Claygate, Surrey, as French police investigating the murder of four people are sending four officers to the UK to work with British detectives and plan to search the house of victim Saad al-Hilli.

Alps shooting

British police forensic officers Saturday Sept. 8, 2012, outside the home of Saad al-Hilli, in Claygate, Britain, during investigations into the death of four people shot dead on Wednesday in the French Alps. French police officers are expected to arrive Saturday in Britain as part of an investigation into the slayings of the British-Iraqi al-Hilli family members while vacationing in France. The children of the al-Hilli family survived the killing, as 4-year-old daughter Zeena stayed hidden below the body of her dead mother, and 7-year-old Zaina who was shot in the shoulder and beaten. (AP Photo / Steve Parsons, PA) UNITED KINGDOM OUT - NO SALES - NO ARCHIVES

Alps shooting

British Scenes of Crime forensic officers (SOCO) Saturday Sept. 8, 2012, outside the home of Saad al-Hilli, in Claygate, Britain, during investigations into the death of four people shot dead on Wednesday in the French Alps. French police officers are expected to arrive Saturday in Britain as part of an investigation into the slayings of the British-Iraqi al-Hilli family members while vacationing in France. The children of the al-Hilli family survived the killing, as 4-year-old daughter Zeena stayed hidden below the body of her dead mother, and 7-year-old Zaina who was shot in the shoulder and beaten. (AP Photo / Steve Parsons, PA) UNITED KINGDOM OUT - NO SALES - NO ARCHIVES

Alps shooting

British police officers places flower tributes Saturday Sept. 8, 2012, outside the home of Saad al-Hilli, in Claygate, Britain, during investigations into the death of four people shot dead on Wednesday in the French Alps. French police officers are expected to arrive Saturday in Britain as part of an investigation into the slayings of the British-Iraqi al-Hilli family members while vacationing in France. The children of the al-Hilli family survived the killing, as 4-year-old daughter Zeena stayed hidden below the body of her dead mother, and 7-year-old Zaina who was shot in the shoulder and beaten. (AP Photo / Steve Parsons, PA) UNITED KINGDOM OUT - NO SALES - NO ARCHIVES

Alps shooting

British police forensic officers Saturday Sept. 8, 2012, outside the home of Saad al-Hilli, in Claygate, Britain, during investigations following the deaths of four people shot dead on Wednesday in the French Alps. French police officers are expected to arrive Saturday in Britain as part of an investigation into the slayings of the British-Iraqi al-Hilli family members while vacationing in France. The children of the al-Hilli family survived the killing, as 4-year-old daughter Zeena stayed hidden below the body of her dead mother, and 7-year-old Zaina who was shot in the shoulder and beaten. (AP Photo / Steve Parsons, PA) UNITED KINGDOM OUT - NO SALES - NO ARCHIVES

Alps shooting

The home of Saad al-Hilli, in Claygate, Britain, who was shot dead on Wednesday with three others while vacationing in the French Alps, as it is secured by British police Saturday Sept. 8, 2012. French police officers are expected to arrive Saturday in Britain as part of an investigation into the slayings of the British-Iraqi al-Hilli family. The children of the al-Hilli family survived the killing, as 4-year-old daughter Zeena stayed hidden below the body of her dead mother, and 7-year-old Zaina who was shot in the shoulder and beaten. (AP Photo / Steve Parsons, PA) UNITED KINGDOM OUT - NO SALES - NO ARCHIVES

Alps shooting

British police secure the area Saturday Sept. 8, 2012, outside the home of Saad al-Hilli, in Claygate, Britain, who was shot dead on Wednesday with three others while vacationing in the French Alps. French police officers are expected to arrive Saturday in Britain as part of an investigation into the slayings of the British-Iraqi al-Hilli family. The children of the al-Hilli family survived the killing, as 4-year-old daughter Zeena stayed hidden below the body of her dead mother, and 7-year-old Zaina who was shot in the shoulder and beaten. (AP Photo / Steve Parsons, PA) UNITED KINGDOM OUT - NO SALES - NO ARCHIVES

Alps shooting

The home of French shooting victim, Saad al-Hilli in Claygate, Surrey, as French police investigating the murder of four people are sending four officers to the UK to work with British detectives and plan to search the house of victim Saad al-Hilli.

Alps shooting

Police outside the home of French shooting victim, Saad al-Hilli in Claygate, Surrey, as French police investigating the murder of four people are sending four officers to the UK to work with British detectives and plan to search the house of victim Saad al-Hilli.

Alps shooting

Police on Thursday Sept. 6, 2012 stand outside the home of Saad al-Hilli in Claygate, Surrey, who has been named by French media as one of the members of a British family who was shot dead by a gunman in the French Alps. (AP Photo/Steve Parsons/PA) UNITED KINGDOM OUT NO SALES NO ARCHIVE

General view of the hospital of Grenoble , France, Thursday, Sept. 6, 2012, where the young British girl is hospitalized after four people were found shot to death on a forest road, last Wednesday, in the French alps. Immobilized with fear, a 4-year-old British girl huddled for eight hours beneath the legs of her slain mother in the back of a car filled with corpses on a remote Alpine road — all while French investigators stood nearby, unaware the girl was there. The stunning discovery Thursday of the girl, apparently unharmed, heightened the drama around a mysterious shooting rampage that left four adults dead and a 7-year-old girl hospitalized with bullet wounds and skull fractures. The reason for the killing, in a wooded area near the village of Chevaline, remains unclear. (AP Photo/Lionel Cironneau)

General view of the hospital of Grenoble , France, Thursday, Sept. 6, 2012, where the young british girl is hospitalized after four people were found shot to death on a forest road, on Wednesday, in the French alps. Immobilized with fear, a 4-year-old British girl huddled for eight hours beneath the legs of her slain mother in the back of a car filled with corpses on a remote Alpine road — all while French investigators stood nearby, unaware the girl was there. The stunning discovery Thursday of the girl, apparently unharmed, heightened the drama around a mysterious shooting rampage that left four adults dead and a 7-year-old girl hospitalized with bullet wounds and skull fractures. The reason for the killing, in a wooded area near the village of Chevaline, remains unclear. (AP Photo/Lionel Cironneau)

Alps shooting

A Royal Logistic Corps bomb disposal truck arrives at the cordon close to the home of Saad al-Hilli in Claygate, Surrey, as police evacuated an area around his home due to "concerns" about items found at the address.

Alps shooting

A Royal Logistic Corps bomb disposal truck arrives at the cordon close to the home of Saad al-Hilli in Claygate, Surrey, as police evacuated an area around his home due to "concerns" about items found at the address.

Alps shooting

Police close to the home of Saad al-Hilli in Claygate, Surrey, as they evacuated an area around his home due to "concerns" about items found at the address.

Alps shooting

Police stand outside the home of Saad al-Hilli in Claygate, Surrey, who has been named by French media as one of the members of a British family who was shot dead by a gunman in the French Alps.

Alps shooting

Police walk close to the home of Saad al-Hilli in Claygate, Surrey, as they evacuated an area around his home due to "concerns" about items found at the address.

Alps shooting

Police close to the home of Saad al-Hilli in Claygate, Surrey, as they evacuated an area around his home due to "concerns" about items found at the address.

Alps shooting

Police search teams leave the home of French shooting victim, Saad al-Hilli in Claygate, Surrey, after police resumed their search at the home of the family gunned down in the French Alps.

Alps shooting

A police firearms officer at the home of French shooting victim, Saad al-Hilli in Claygate, Surrey, as police resumed their search at the home of the family gunned down in the French Alps.

Alps shooting

Police firearms officers at the home of French shooting victim, Saad al-Hilli in Claygate, Surrey, as police resumed their search at the home of the family gunned down in the French Alps.

Alps shooting

Police at the home of French shooting victim, Saad al-Hilli in Claygate, Surrey, as police resumed their search at the home of the family gunned down in the French Alps.

Saad al-Hilli killed in the French Alps
SEE ALSO:

French Alps Shooting: Older Woman Confirmed As Maternal Grandmother To Zeena And Zainab Al-Hilli