Oli Beale, take a bow! Anyone who's ever been starved of sleep by inconsiderate, tone-deaf, partying neighbours will fully appreciate the mood the 33-year-old ad executive was in when he posted this damning-but-hilarious notice in the communal area of his block of flats in London on Sunday morning...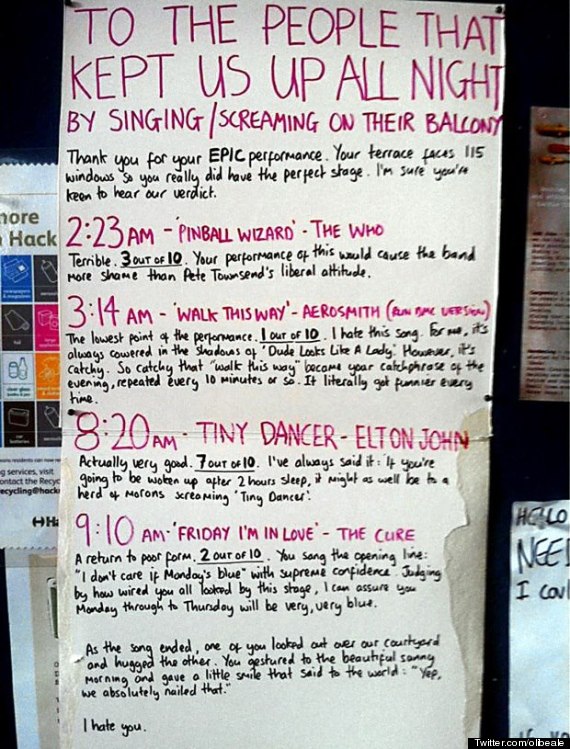 Our favourite line? "I've always said it: if you're going to be woken up after 2 hours sleep, it might as well be to a herd of morons screaming 'Tiny Dancer'."
After Oli had also popped his review on Twitter, the snap swiftly went viral.
He later told the Evening Standard: "I was lying in bed, getting more and more wound up about it and then I just thought I would write a little critique of their songs as a way of getting through the night."
Well, you know what they say: if you can't beat 'em, pretend you're Simon Cowell. (Er... that is what "they" say, isn't it?)
Mind you, it could be worse, Oli: you could live next door to this woman.

Related on HuffPost:
Loading Slideshow
Barack Obama makes an old man very happy.

The Duke of York abseils down the Shard. [insert 'When he was only halfway up' joke here]

Angela Merkel enjoys her daily breakfast pint. Sorry! Litre.

Say hello to your new Health Secretary, Britain! *Britain sobs*

Well, they do say you should never meet your heroes.

Pierce Brosnan's feet: shaken but not stirred.

The only time Michael Gove has ever been the bigger man.

See <a href="http://www.huffingtonpost.co.uk/2012/09/07/funny-david-cameron-nick-clegg-picture-captions_n_1864425.html?utm_hp_ref=uk-comedy" target="_hplink">all the picture caption goodness here</a>.

Best. Unintentional photobomb. Ever.

David Cameron's Cabinet reshuffle throws up some unexpected choices.

Fun fact: the collective noun for a group of puppies is 'a barrowful'.

German heavyweight boxer Manuel Charr goes into the ring with a Russian boy - and, amazingly, loses.

The Duke of York tackles commoner food - a task even harder than abseiling down the Shard.

Chinese quadruplets have numbers shaved into their hair - and subvert this by sitting out of order. High five!

Prince Harry discovers that, when you're a royal, even the slightest, most mundane things are fascinating to others.

Well, you didn't think we could get through Pictures Of The Week without <em>him</em>, did you?!