Kim Kardashian has her fair share of knockers (ahem) but the reality star insists she has no idea why.
Kim and her family have always attracted a lot of negative press and even famous names like Daniel Craig have spoken out about the K clan, labelling them 'idiots', but Kimmy - who has just posted yet another underwear shot on Twitter (below) - has hit back, saying she has a bona fide talent and is worth every penny she makes.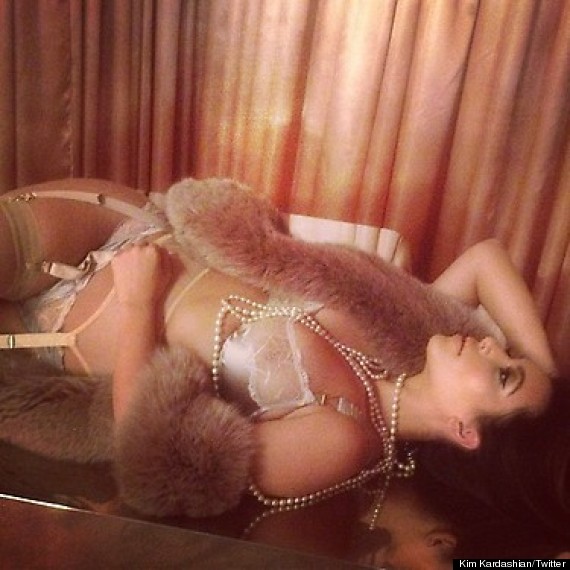 She told Contact Music: ''I have no idea why [people hate me]. I work really hard. I'm constantly on the go. I have a successful clothing line. A fragrance.
"I mean, acting and singing aren't the only ways to be talented. It's a skill to get people to really like you, instead of a character written for you by somebody else.''
Or you could just launch your career on the back of a sex tape, eh Kim?
Speaking of which, sources claim that Kim's current beau, Kanye West, used to watch her homemade movie with previous girlfriends in the bedroom - something Kim's mum and manager, Kris Jenner, is said to be fuming about. Kim with her current beau, Kanye West
A source told RadarOnline: "Kris had stern words with Kanye when she saw that he said he would put Kim's sex tape on while romping with other women.
"She thinks it's a disrespectful claim and told Kanye to stop talking about it at every given opportunity."
So she'll be REALLY pleased to hear that Kanye raps about the tape in his new song, Clique, which features the line: "Eat breakfast at Gucci. My girl a superstar all from a home movie".
Over to you, Kris.
ENTER OUR COMPETITION TO WIN A RETRO PAPARAZZI-STYLE CAMERA
Also on HuffPost: