Boris Johnson's photo opportunities are one of the few political gifts that keep on giving.
Appearing alongside the global chief executive of Starbucks in Mayfair on Wednesday, the Mayor of London donned the famous green apron and tried his hand a coffee-making to launch a new apprenticeship initiative in the capital.
If it wasn't enough that he looked oafish playing sitting volleyball or getting stuck on a zipwire, Johnson somehow manages to raise a smile simply by holding a cup of coffee.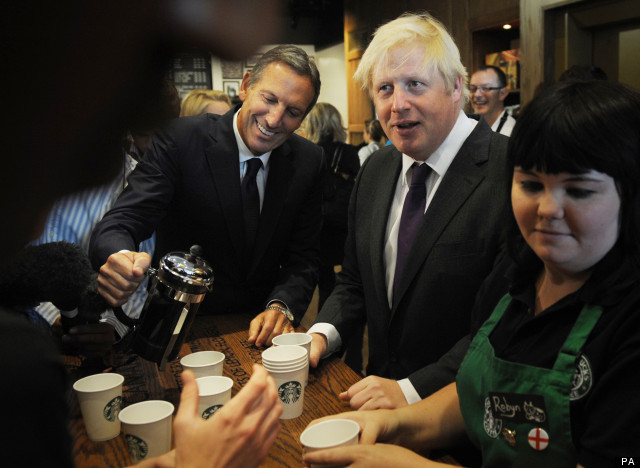 The Mayor served customers alongside Starbucks CEO Howard Schultz in Mayfair
Starbucks boss Howard Schultz stood alongside Johnson as he met staff at the branch before serving customers.
But did Johnson prove himself to be a deft hand at coffee-making or did he make a mocha-ry (*groan*) of himself?
Either way, it could be that Boris would be best served getting into Parliament, as on Wednesday YouGov polling revealed that if he were to take over from David Cameron as leader of the Conservative Party, Johnson would significantly cut the Labour Party's lead.

Loading Slideshow