Hugh Grant, best known for his foppish-boy-next-door-in-love roles, has taken on an almightily different challenge as the voice of Pirate Captain for the Aardman animination hit Pirates! In An Adventure With Scientists.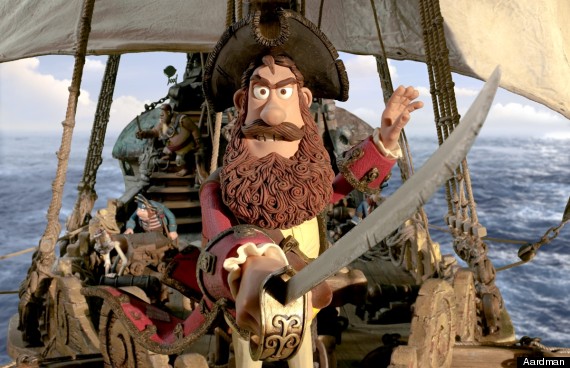 It's Hugh Grant, but not as you know him...
He put himself in the hands of director and Aardman guru Peter Lord, and below he talks about his (lack of) preparation for the role, with some enlightening asides from Lord on the alchemy of turning clay into art, however long it might take... (six seconds a week, in a good week, apparently)

Q. Hugh, how did you prepare to play the part?
HG: What did I do to prep? Nothing very much, I have to say. I just thought this was a very funny script and I kept reading it aloud to myself from my kitchen to try and master the timing of the jokes. That's all I ever really did. I never really asked myself deep, dark questions about the "Pirate Captain" and his psychological traumas or his childhood. Perhaps I should have.

Q. How does voice over work compare to live-action?
HG: It's very nice not to have to get up early and sit in makeup. When they started to show me some footage of what they had animated, the animators do seventy-five percent of the work for you. There are so many clever little physical jokes that you never thought of. You realize [you] don't have to worry so much about the acting performance.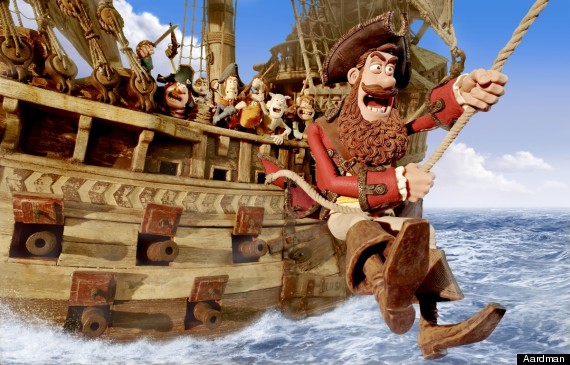 The Pirate Captain exerted himself, but Hugh Grant was happy that he did not

Q. Did you find yourself as klutzy as your character while voicing him and will we see some bloopers on the DVD?
HG: My language was quite appalling
PL: It was absolutely shocking. And that's not on the DVD.

Q. Did the character allow you to be silly in real life?
HG: It was nice to go back to the sort of acting I used to do when I was in my twenties, which was really just doing silly voices and silly characterizations without the tiresome business of having to be very real as well. You see what's funny or read what's funny and just try to make that work, so that was fun.

Q. What was it like directing Hugh?
PL: It was a great experience. It was very good. I was so grateful that he really engaged with it. The main thing is, if I go to an actor, I go for something that I can't do for the life of me. I couldn't start to find the comedy in those lines.
HG: That's not quite true, though because what they do when they animate things - to give the animators an idea of what a character might do in a certain moment – [Peter] videos himself moving about the set and being the Pirate Captain. The animator is then listening to my voice while watching Peter Lord moving about.
PL: But miming very accurately to Hugh. I got very good at his lines by the end. As a director, you want to share the pain amongst as many people as possible. You want the great vocal performance and the great animator, which we had.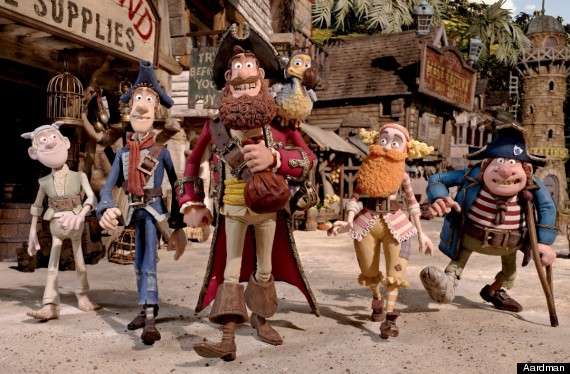 For every minute of claymation action... guess how many hours of work behind the scenes

Q. How many set-ups are needed for a minute of claymation action?
PL: We shoot 24 still images per second, so the puppet is posed twenty-four times every second of film. It's hard to explain the whole thing but all I can tell you is that a good animator having a successful week will have shot six seconds of film during that week. And that's a good week. They get a shake of the hand and slap on the back if they do that. That's the speed at which we go. Sometimes an animator would work on one of Hugh's lines for three weeks solidly.

Q. Hugh, why did you decide to voice this character?
HG: I loved the script, which just made me laugh. It was original, fresh, properly funny and silly in a very British way. And I adore Aardman cartoons. I've never seen one that I didn't think was a masterpiece so the decision to do it was pretty easy.

Q. How did you find his voice?
HG: I was slightly troubled in the beginning because there's a standard pirate voice that they didn't want. I found it somewhere in the lines and looking at this character. Looking at the little model and thinking beard and big chest and so positive with those big eyes.
The Pirates! In An Adventure With Scientists is out now on Blu-ray 3D™, Blu-ray™ and DVD. Watch the trailer below...