We've watched him morph from cheeky toddler to wild child and today Prince Harry turns the grand old age of 28.
The red-haired scamp may have been left red-faced after naked pictures of him partying in Las Vegas were splashed across the Internet, but he's clawing his way back into his granny's good books with another stint in Afghanistan.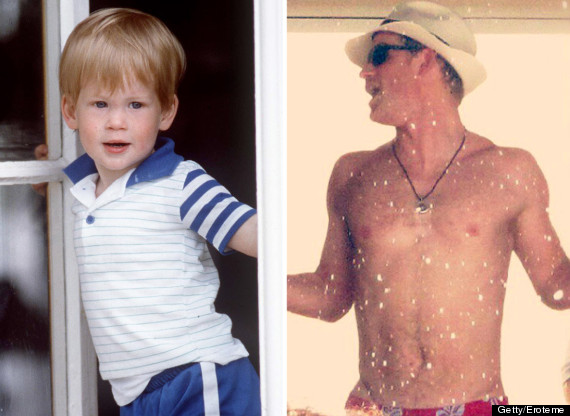 Fresh faced: Prince Harry as toddler and partying hard in Las Vegas (right)
The Prince returned to Helmand's frontline earlier this month, where he'll spend the next 16 weeks.
The deployment means Harry, who is third in line for the throne, will be away for both his birthday and Christmas.
Living in a dusty tent and eating rations must be some come-down after the booze and babes of his recent hols, so happy birthday Harry, we salute you!
SEE ALSO:
Loading Slideshow
Hello world!

A 1984 photo of Princess Diana with sons Prince William, foreground, and Prince Harry.

August 1987 with Diana and William at the Royal Palace

AP Image

October 1991 at the World Cup in Wales

Getty Photo

March 1994 on a ski trip to Austria

Getty Photo

August 1995 at the V-J Day Celebrations with Diana

Getty Photo

September 1995 at Eton College

AP Image

January 1996 in Switzerland

Getty Photo

November 1997 in South Africa

AP Image

November 1997 at a Spice Girls Concert in South Africa

AP Image

March 1998 on a visit to Vancouver

Getty Photo

March 2002 in Switzerland

AP Image

September 2002 at the English Premier League Soccer Club West Ham United

AP Image

September 2003 at the Sydney's Taronga Zoo

AP Image

July 2004 at the St. Jame's Palace Polo Day Charity Match in Tetbury, England

Getty Photo

September 2004 playing rugby in Walsall, England

Getty Photo

March 2005 at Prince Charles and Camilla's Wedding in Windsor, England

AP Image

July 2005 at Cartier Cup at Guards Polo Club in Windsor Great Park, England

AP Image

July 2005 at a Polo Match in Cirencester, England

Getty Photo

November 2005 training for the Army in England

AP Image

May 2006 at the Annual Parade and Service of the Combined Cavarly 'Old Comrades' Association in London, England

Getty Photo

April 2007 at the Cricket World Cup in Antigua

AP Image

October 2007 at the Royal Navy's squadron in Portsmouth, England

AP Image

January 2008 in Afghanistan

AP Image

February 2008 playing rugby in Afghanistan

AP Image

March 2008 returning from Afghanistan in Oxfordshire, southern England

AP Image

May 2009 at a Children's School Dance in Harlem, New York

AP Image

May 2009 at the Veuve Clicquot Manhattan Polo Classic Match

AP Image

May 2010 with girlfriend Chelsy Davy at a graduation ceremony in Middle Wallop, England

AP Image

June 2010 in combat simulation at the United States Military Academy in West Point, New York

AP Image

June 2010 in the remote village of Semongkong, Lesotho

AP Image

June 2010 at the Veuve Clicquot Polo Classic Match in New York

AP Image

July 2010 at the Canine Partners Organization in Midhurst, United Kingdom

Getty Photo

July 2010 at a Royal Wedding in Abergavenny, Wales

Getty Photo

July 2010 at the Asprey World Class Cup in Ewhurst, United Kingdom

Getty Photo

November 2010 at the Royal British Legion Field of Remembrance in Wootton Bassett, England

AP Image

April 2011 at the Royal Wedding

Getty Photo

April 2011 at the Royal Wedding

AP Image

May 2011 in training for an expedition on an Island near the Norwegian mainland and the North Pole

AP Image

June 2011 at the Founder's Day Parade in London, England

Getty Photo

July 2011 at Zara Phillips & Mike Tindall's wedding

Getty Photo

August 2011 after cousin Zara Phillip's wedding weekend

PA Wire Photo

September 2011 at the BGC Partners' Charity Day in London, England

Getty Photo

December 2011

Getty photo

February 2012 visiting RAF Honington

(Getty photo)

March 2012 during a royal visit to Belize

Getty photo

March 2012 during a royal visit to Belize

Getty photo

March 2012 during a royal visit to the Bahamas

Getty photo

March 2012 during a royal visit to Jamaica

Getty photo

March 2012 during a royal visit to Jamaica

Getty photo

March 2012 during a royal visit to Jamaica

Getty photo

March 2012 during a royal visit to Jamaica

Getty photo