The man known as the Naked Rambler was jailed for five months for a breach of the peace on Thursday after he told a court he would not co-operate with social workers tasked with assessing his mental health.
Stephen Gough, 53, who has spent much of the past six years in prison for similar offences, was convicted of the charge last month after walking unclothed near a children's play park in Dunfermline, Fife, on 20 July.
The incident took place three days after Gough, a well-known campaigner for his right to appear nude in public, was released from prison in Perth.
The former Marine, from Eastleigh, Hampshire, was sentenced at Kirkcaldy Sheriff Court, where he appeared naked in the dock and represented himself.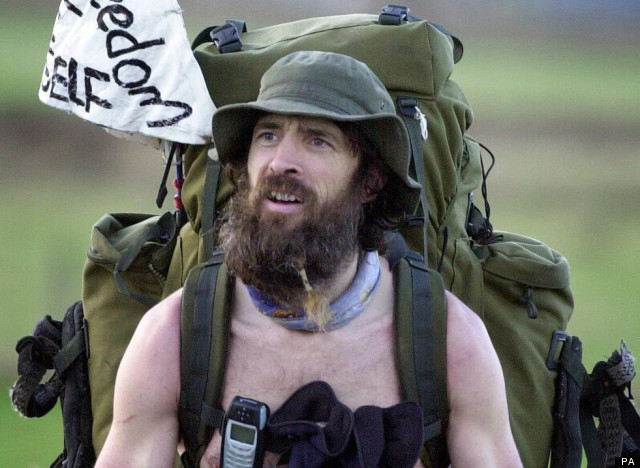 Gough, who has been arrested over a dozen times for his naked walking
Sheriff James Williamson had expressed his concern at a previous hearing about the accused's demeanour and ordered social workers to produce a report assessing Gough's emotional and mental health.
But the sheriff told the rambler on Thursday he had "no alternative" but to impose another custodial sentence after Gough refused to meet the officials and indicated he has no intention of doing so in the future.
Gough denied conducting himself in a disorderly manner and committing a breach of the peace by walking naked in Dunfermline's Cairncubie Road, in the Townhill area, arguing there is nothing about him that was indecent, alarming or offensive.
But he was convicted of the charge after a two-hour trial, in which he again appeared naked in the dock. Gough at Land's End in 2005, before an attempt to walk to John O'Groats
Passing sentence, Sheriff Williamson told him: "You were indulged by the authorities and the police.
"I understand you to have left prison some time before your arrest.
"Police officers told you that if you carried on your journey you would pass a playground occupied by children.
"You were given three options: one to change direction, two to cover your private parts, or three to enter the police van, who would then take you round the play park, release you and allow you on your way.
"Despite that, you refused. That shows a degree of arrogance and disregard for other members of the public, in particular children, who have a right not to be confronted by naked men."