Violent protests against against an American-made film about the prophet Muhammad continued to rage across the Middle East and North Africa in the wake of the deadly attack on the US embassy in Libya.
Libya said arrests had been made after three embassy staff and US ambassador Chris Stevens were killed after guns, mortars and grenades were fired at the consulate.
Libyan prime minister Mustafa Abu Shagur told the AFP news agency: "We have some names and some photographs. Arrests have been made and more are under way as we speak." During a demonstration in front of the U.S. embassy in Cairo, Egypt, protesters hold up a flag that says "No God but Allah, and Mohammed is his prophet," and chant anti U.S. slogans
The announcement that Libya had made a "big advance" in finding those responsible came as a senior Libyan security official raised questions over whether the protests were a cover for a militant jihadist operation.
Wanis el-Sharef, eastern Libya's deputy interior minister told the Associated Press that it was an organised attack on the US organised to co-incide with the 9/11 attacks. American warships are being sent to Libya as a "precautionary measure" reported the BBC.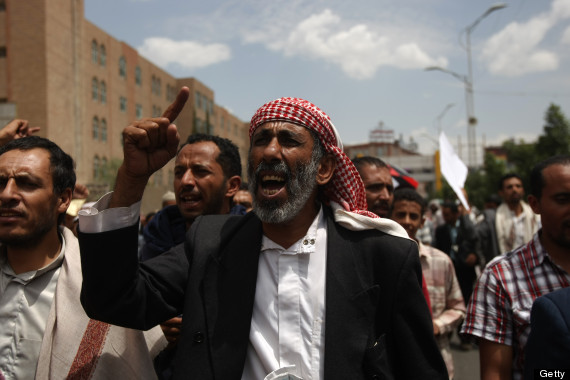 A Yemeni protestor chants slogans during a demonstration in the capital, Sana'a
Four people were killed in protests in Sana'a, Yemeni officials said, after thousands of demonstrators stormed the embassy gates chanting "death to America" on Thursday.
Security forces fired water cannon and tear gas into the crowds and demonstrators were driven back before reaching access to the main house. The White House confirmed that US embassy staff were safe and had been moved to another location. Over 200 people have been injured in clashes in Cairo
In Cairo, hundreds of protesters could be seen gathering outside the US embassy as clashes between police and demonstrators continued into a third day.
More than 220 people, including members of the security forces have been injured in the attacks, according to the Egyptian Health Ministry.
Egypt's governing Muslim Council described the film as "disgraceful" but issued a call to stop the violence.
In a translated statement, they said: "The peoples and governments of the Muslim world have every right to condemn, with all peaceful and legal means, this new violation and heinous attack, and to take appropriate action to deter repeats of such acts of barbaric aggression.
"While we reject and condemn the bloodshed and violent response to that abuse and the incredible tolerance certain countries show towards it, we cannot ignore the fact that these countries never made a move regarding the abuse until after the strong reaction seen across the Muslim world.
The protests appeared to be static in Cairo, although Sky News reported that missiles were being thrown by protesters closest to the embassy.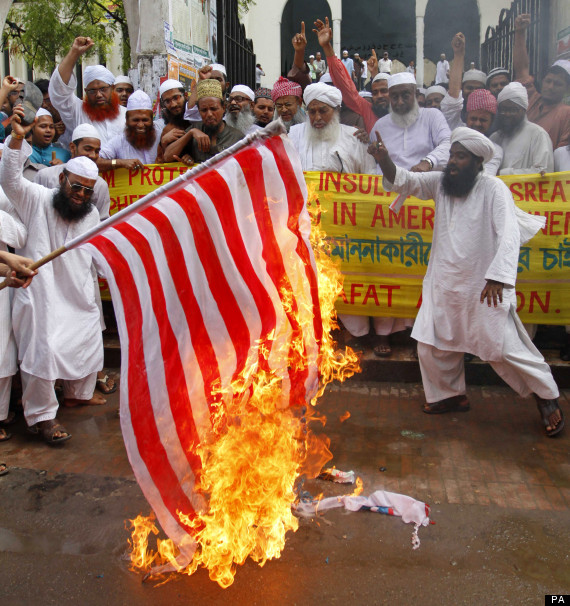 A US flag was also burnt during a protest in Dhaka, Bangladesh
Protests have been on a much smaller scale in Gaza and Iran, with no reports of violence. An AFP photographer said around 500 people demonstrated near the Swiss embassy, which represents American interests in Iran, in the capital Tehran, chanting "Death to America, while American flags were reportedly burned outside the US embassy in Tunisia.
Large protests in Baghdad and Basra are expected after Friday prayers, AP reports. Israel is stepping up its security in Jerusalem for the same reason.
The violence was sparked by a low budget American film The Innocence Of Muslims that apparently depicted the Prophet Muhammad as a homosexual.
Secretary of State Hillary Clinton said Washington had nothing to do with the video, which she called "disgusting and reprehensible".
SEE ALSO
Loading Slideshow
YEMEN-UNREST-US-FILM-PROTEST

Yemeni protesters try to break through the gate of the US embassy in Sanaa during a protest over a film mocking Islam on September 13, 2012. Yemeni forces managed to drive out angry protesters who stormed the embassy in the Yemeni capital with police firing warning shots to disperse thousands of people as they approached the main gate of the mission. AFP PHOTO/MOHAMMED HUWAIS (Photo credit should read MOHAMMED HUWAIS/AFP/GettyImages)

YEMEN-UNREST-US-FILM-PROTEST

Yemeni protesters try to break through the gate of the US embassy in Sanaa during a protest over a film mocking Islam on September 13, 2012. Yemeni forces managed to drive out angry protesters who stormed the embassy in the Yemeni capita with police firing warning shots to disperse thousands of people as they approached the main gate of the mission. AFP PHOTO/MOHAMMED HUWAIS (Photo credit should read MOHAMMED HUWAIS/AFP/GettyImages)

YEMEN-UNREST-US-FILM-PROTEST

A Yemeni protester holds a flag bearing Islamic calligraphy as he stands above the gate of the US embassy in Sanaa during a protest over a film mocking Islam on September 13, 2012. Yemeni forces managed to drive out angry protesters who stormed the embassy in the Yemeni capital with police firing warning shots to disperse thousands of people as they approached the main gate of the mission. AFP PHOTO/MOHAMMED HUWAIS (Photo credit should read MOHAMMED HUWAIS/AFP/GettyImages)

YEMEN-UNREST-US-FILM-PROTEST

Yemeni protesters try to break the security camera of the US embassy in Sanaa during a protest over a film mocking Islam on September 13, 2012. Yemeni forces managed to drive out angry protesters who stormed the embassy in the Yemeni capital with police firing warning shots to disperse thousands of people as they approached the main gate of the mission. AFP PHOTO/MOHAMMED HUWAIS (Photo credit should read MOHAMMED HUWAIS/AFP/GettyImages)

YEMEN-UNREST-US-FILM-PROTEST

Yemeni protesters gather around fire during a demonstration outside the US embassy in Sanaa over a film mocking Islam on September 13, 2012. Yemeni forces managed to drive out angry protesters who stormed the embassy in the Yemeni capital with police firing warning shots to disperse thousands of people as they approached the main gate of the mission. AFP PHOTO/MOHAMMED HUWA (Photo credit should read MOHAMMED HUWAIS/AFP/GettyImages)

YEMEN-UNREST-US-FILM-PROTEST

Yemenis hold a poster reading in Arabic, 'no embassy and no ambassador.. no relations with enemies...' outside the gate of the US embassy in Sanaa during a protest over a film mocking Islam on September 13, 2012. Yemeni forces managed to drive out angry protesters who stormed the embassy in the Yemeni capital with police firing warning shots to disperse thousands of people as they approached the main gate of the mission. AFP PHOTO/MOHAMMED HUWAIS (Photo credit should read MOHAMMED HUWAIS/AFP/GettyImages)

YEMEN-UNREST-US-FILM-PROTEST

A Yemeni protester waves a flag bearing Islamic calligraphy outside the gate of the US embassy in Sanaa during a protest over a film mocking Islam on September 13, 2012. Yemeni forces managed to drive out angry protesters who stormed the embassy in the Yemeni capital with police firing warning shots to disperse thousands of people as they approached the main gate of the mission. AFP PHOTO/MOHAMMED HUWAIS (Photo credit should read MOHAMMED HUWAIS/AFP/GettyImages)

YEMEN-UNREST-US-FILM-PROTEST

Yemeni protesters try to break through the gate of the US embassy in Sanaa during a protest over a film mocking Islam on September 13, 2012. Yemeni forces managed to drive out angry protesters who stormed the embassy in the Yemeni capital with police firing warning shots to disperse thousands of people as they approached the main gate of the mission. AFP PHOTO/MOHAMMED HUWAIS (Photo credit should read MOHAMMED HUWAIS/AFP/GettyImages)

Yemeni protestors break windows of the U.S. Embassy during a protest about a film ridiculing Islam's Prophet Muhammad, in Sanaa, Yemen, Thursday, Sept. 13, 2012. Dozens of protesters gather in front of the US Embassy in Sanaa to protest against the American film "The Innocence of Muslims" deemed blasphemous and Islamophobic. (AP Photo/Hani Mohammed)

Yemeni protestors break windows of the U.S. Embassy during a protest about a film ridiculing Islam's Prophet Muhammad, in Sanaa, Yemen, Thursday, Sept. 13, 2012. Dozens of protesters gather in front of the US Embassy in Sanaa to protest against the American film "The Innocence of Muslims" deemed blasphemous and Islamophobic. (AP Photo/Hani Mohammed)

A Yemeni protestor, left, holds a white flag with Islamic inscription in Arabic that reads, "No God but Allah, and Mohammed is his prophet," in front of the U.S. embassy during a protest about a film ridiculing Islam's Prophet Muhammad, in Sanaa, Yemen, Thursday, Sept. 13, 2012. Dozens of protesters gather in front of the US Embassy in Sanaa to protest against the American film "The Innocence of Muslims" deemed blasphemous and Islamophobic. (AP Photo/Hani Mohammed)

Yemeni protestors break a widow of the U.S. Embassy during a protest about a film ridiculing Islam's Prophet Muhammad, in Sanaa, Yemen, Thursday, Sept. 13, 2012. Dozens of protesters gather in front of the US Embassy in Sanaa to protest against the American film "The Innocence of Muslims" deemed blasphemous and Islamophobic. (AP Photo/Hani Mohammed)

Yemeni protesters break a window of the U.S. Embassy during a protest about a film ridiculing Islam's Prophet Muhammad, in Sanaa, Yemen, Thursday, Sept. 13, 2012. Dozens of protesters gather in front of the US Embassy in Sanaa to protest against the American film "The Innocence of Muslims" deemed blasphemous and Islamophobic. (AP Photo/Hani Mohammed)

Yemenis protest in front fo the U.S. Embassy about a film ridiculing Islam's Prophet Muhammad, in Sanaa, Yemen, Thursday, Sept. 13, 2012. Dozens of protesters gather in front of the US Embassy in Sanaa to protest against the American film "The Innocence of Muslims" deemed blasphemous and Islamophobic. (AP Photo/Hani Mohammed)

Yemenis protest in front of the U.S. Embassy about a film ridiculing Islam's Prophet Muhammad, in Sanaa, Yemen, Thursday, Sept. 13, 2012. Dozens of protesters gather in front of the US Embassy in Sanaa to protest against the American film "The Innocence of Muslims" deemed blasphemous and Islamophobic. (AP Photo/Hani Mohammed)

Yemeni protestors break a door of the U.S. Embassy during a protest about a film ridiculing Islam's Prophet Muhammad, in Sanaa, Yemen, Thursday, Sept. 13, 2012. Dozens of protesters gather in front of the US Embassy in Sanaa to protest against the American film "The Innocence of Muslims" deemed blasphemous and Islamophobic. (AP Photo/Hani Mohammed)

Yemeni protestors climb the gate of the U.S. Embassy during a protest about a film ridiculing Islam's Prophet Muhammad, in Sanaa, Yemen, Thursday, Sept. 13, 2012. Dozens of protesters gather in front of the US Embassy in Sanaa to protest against the American film "The Innocence of Muslims" deemed blasphemous and Islamophobic. (AP Photo/Hani Mohammed)

Yemeni protestors climb the gate of the U.S. Embassy during a protest about a film ridiculing Islam's Prophet Muhammad, in Sanaa, Yemen, Thursday, Sept. 13, 2012. Dozens of protesters gather in front of the US Embassy in Sanaa to protest against the American film "The Innocence of Muslims" deemed blasphemous and Islamophobic. (AP Photo/Hani Mohammed)

Yemenis protest in front of the U.S. Embassy about a film ridiculing Islam's Prophet Muhammad, in Sanaa, Yemen, Thursday, Sept. 13, 2012. Dozens of protesters gather in front of the US Embassy in Sanaa to protest against the American film "The Innocence of Muslims" deemed blasphemous and Islamophobic. (AP Photo/Hani Mohammed)
Loading Slideshow
An Egyptian protester throws back a tear gas canister toward riot police, unseen, outside the U.S. embassy in Cairo, Egypt, Thursday, Sept. 13, 2012. Tens were injured in clashes in front of the U.S. embassy in Cairo, the state TV reported on Thursday, quoting Egypt's Health Ministry. (AP Photo/Nasser Nasser)

An Egyptian protester throws back a tear gas canister toward riot police, unseen, outside the U.S. embassy in Cairo, Egypt, Thursday, Sept. 13, 2012. Tens were injured in clashes in front of the U.S. embassy in Cairo, the state TV reported on Thursday, quoting Egypt's Health Ministry. (AP Photo/Nasser Nasser)

Egyptian protesters burn tires as they clash with riot police, unseen, outside the U.S. embassy in Cairo, Egypt, early Thursday, Sept. 13, 2012, as part of widespread anger across the Muslim world about a film ridiculing Islam's Prophet Muhammad. (AP Photo/Hussein Tallal)

Egyptian protesters run during clashes with riot police, background, outside the U.S. embassy in Cairo, Egypt, Thursday, Sept. 13, 2012. Tens were injured in clashes in front of the U.S. embassy in Cairo, the state TV reported on Thursday, quoting Egypt's Health Ministry. (AP Photo/Nasser Nasser)

Egyptian protesters burn tires as they clash with riot police, unseen, outside the U.S. embassy in Cairo, Egypt, early Thursday, Sept. 13, 2012, as part of widespread anger across the Muslim world about a film ridiculing Islam's Prophet Muhammad. (AP Photo/Hussein Tallal)

An Egyptian protester throws back a tear gas canister toward riot police, unseen, outside the U.S. embassy in Cairo, Egypt, Thursday, Sept. 13, 2012. At least 30 people were injured in clashes in front of the U.S. embassy in the Egyptian capital of Cairo, the state TV reported on Thursday, quoting Egypt's Health Ministry. (AP Photo/Nasser Nasser)

Egyptian protesters burn tires as they clash with riot police, unseen, outside the U.S. embassy in Cairo, Egypt, early Thursday, Sept. 13, 2012, as part of widespread anger across the Muslim world about a film ridiculing Islam's Prophet Muhammad. (AP Photo/Hussein Tallal)

An Egyptian protester throws back a tear gas canister toward riot police, unseen, outside the U.S. embassy in Cairo, Egypt, Thursday, Sept. 13, 2012. At least 30 people were injured in clashes in front of the U.S. embassy in the Egyptian capital of Cairo, the state TV reported on Thursday, quoting Egypt's Health Ministry. (AP Photo/Nasser Nasser)

An Egyptian protester runs during clashes with riot police, background, outside the U.S. embassy in Cairo, Egypt, Thursday, Sept. 13, 2012. At least 30 people were injured in clashes in front of the U.S. embassy in the Egyptian capital of Cairo, the state TV reported on Thursday, quoting Egypt's Health Ministry. (AP Photo/Nasser Nasser)

An Egyptian protester throws back a tear gas canister toward riot police, unseen, outside the U.S. embassy in Cairo, Egypt, Thursday, Sept. 13, 2012. At least 30 people were injured in clashes in front of the U.S. embassy in the Egyptian capital of Cairo, the state TV reported on Thursday, quoting Egypt's Health Ministry. (AP Photo/Nasser Nasser)

Egyptian protesters throw rocks during clashes with riot police, background, outside the U.S. embassy in Cairo, Egypt, Thursday, Sept. 13, 2012. Tens were injured in clashes in front of the U.S. embassy in Cairo, the state TV reported on Thursday, quoting Egypt's Health Ministry. (AP Photo/Nasser Nasser)

Egyptian protesters clash with riot police, unseen, outside the U.S. embassy in Cairo, Egypt, Thursday, Sept. 13, 2012. Tens were injured in clashes in front of the U.S. embassy in Cairo, the state TV reported on Thursday, quoting Egypt's Health Ministry. (AP Photo/Nasser Nasser)

Egyptian protesters throw rocks during clashes with riot police, background, outside the U.S. embassy in Cairo, Egypt, Thursday, Sept. 13, 2012. Tens were injured in clashes in front of the U.S. embassy in Cairo, the state TV reported on Thursday, quoting Egypt's Health Ministry. (AP Photo/Nasser Nasser)

Egyptian protesters throw rocks during clashes with riot police, background, outside the U.S. embassy in Cairo, Egypt, Thursday, Sept. 13, 2012. Tens were injured in clashes in front of the U.S. embassy in Cairo, the state TV reported on Thursday, quoting Egypt's Health Ministry. (AP Photo/Nasser Nasser)

Egyptian protesters clash with riot police, unseen, outside the U.S. embassy in Cairo, Egypt, Thursday, Sept. 13, 2012. At least 30 people were injured in clashes in front of the U.S. embassy in the Egyptian capital of Cairo, the state TV reported on Thursday, quoting Egypt's Health Ministry. (AP Photo/Nasser Nasser)

A vehicle burns during clashes outside the U.S. embassy in Cairo, Egypt, early Thursday, Sept. 13, 2012, as part of widespread anger across the Muslim world about a film ridiculing Islam's Prophet Muhammad. (AP Photo/Hussein Tallal)

A riot policeman passes burning vehicles during clashes outside the U.S. embassy in Cairo, Egypt, early Thursday, Sept. 13, 2012, as part of widespread anger across the Muslim world about a film ridiculing Islam's Prophet Muhammad. (AP Photo/Hussein Tallal)

Protesters clash with police in front of the U.S. embassy in Cairo, Egypt, early Thursday, Sept. 13, 2012, as part of widespread anger across the Muslim world about a film ridiculing Islam's Prophet Muhammad.(AP Photo/Mohammed Abu Zaid)

Smoke from tear gas fired by riot police fills the street to disperse protesters gathered in front of the U.S. embassy in Cairo, Egypt ,Thursday, Sept. 13, 2012, as part of widespread anger across the Muslim world about a film ridiculing Islam's Prophet Muhammad.(AP Photo/Ahmed Gomaa)

A riot policeman passes burning vehicles during clashes outside the U.S. embassy in Cairo, Egypt, early Thursday, Sept. 13, 2012, as part of widespread anger across the Muslim world about a film ridiculing Islam's Prophet Muhammad. (AP Photo/Hussein Tallal)

Protesters clash with police in front of the U.S. embassy in Cairo, Egypt, early Thursday, Sept. 13, 2012, as part of widespread anger across the Muslim world about a film ridiculing Islam's Prophet Muhammad.(AP Photo/Mohammed Abu Zaid)

A policeman stands in front of a police car set on fire by protesters in front of the U.S. embassy in Cairo, Egypt, during clashes between protesters and police earlyThursday, Sept. 13, 2012, as part of widespread anger across the Muslim world about a film ridiculing Islam's Prophet Muhammad.(AP Photo/Ahmed Gomaa)

A protester sets a tire on fire during clashes with police in front of the U.S. embassy in Cairo, Egypt, early Thursday, Sept. 13, 2012, as part of widespread anger across the Muslim world about a film ridiculing Islam's Prophet Muhammad.(AP Photo/Mohammed Abu Zaid)

A riot policeman passes a burning vehicle during clashes outside the U.S. embassy in Cairo, Egypt, early Thursday, Sept. 13, 2012, as part of widespread anger across the Muslim world about a film ridiculing Islam's Prophet Muhammad. (AP Photo/Hussein Talal)

Protesters run through tear gas as they clash with police in front of the U.S. embassy in Cairo, Egypt, early Thursday, Sept. 13, 2012, as part of widespread anger across the Muslim world about a film ridiculing Islam's Prophet Muhammad.(AP Photo/Mohammed Abu Zaid)

Protesters clash with police in front of the U.S. embassy in Cairo, Egypt, early Thursday, Sept. 13, 2012, as part of widespread anger across the Muslim world about a film ridiculing Islam's Prophet Muhammad.(AP Photo/Mohammed Abu Zaid)

An Egyptian protester holds tear gas canisters fired during clashes between Egyptian police and protesters in front of the U.S. embassy in Cairo, Egypt ,Thursday, Sept. 13, 2012, as part of widespread anger across the Muslim world about a film ridiculing Islam's Prophet Muhammad.(AP Photo/Ahmed Gomaa)

An Egyptian protester carries an anti-U.S. banner that reads in Arabic, "men who defeated the Americans," during a demonstration in front of the U.S. embassy in Cairo, Egypt, Wednesday, Sept. 12, 2012, as part of widespread anger across the Muslim world about a film ridiculing Islam's Prophet Muhammad. (AP Photo/Nasser Nasser)

Egyptian protesters chant anti-U.S. slogans during a demonstration in front of the U.S. embassy in Cairo, Egypt, Wednesday, Sept. 12, 2012 as part of widespread anger across the Muslim world about a film ridiculing Islam's Prophet Muhammad.(AP Photo/Nasser Nasser)

Egyptian protesters carry their national flag and a flag with Arabic that reads "No God but Allah, and Mohammed is his prophet," and chant anti U.S. slogans during a demonstration in front of the U.S. embassy in Cairo, Egypt, Wednesday, Sept. 12, 2012, as part of widespread anger across the Muslim world about a film ridiculing Islam's Prophet Muhammad. (AP Photo/Nasser Nasser)

Egyptian protesters carry flags with Arabic that reads "No God but Allah, and Muhammad is his prophet," and chant anti U.S. slogans during a demonstration in front of the U.S. embassy in Cairo, Egypt, Wednesday, Sept. 12, 2012, as part of widespread anger across the Muslim world about a film ridiculing Islam's Prophet Muhammad.(AP Photo/Nasser Nasser)

Egyptian protesters burn a U.S. flag and chant anti U.S. slogans during a demonstration in front of the U.S. embassy in Cairo, Egypt, Wednesday, Sept. 12, 2012, as part of widespread anger across the Muslim world about a film ridiculing Islam's Prophet Muhammad.(AP Photo/Nasser Nasser)

Egyptian protesters carry anti U.S. banners and chant anti U.S. slogans while they lineup by the walls of the U.S. embassy, background left, in Cairo, Egypt, Wednesday, Sept. 12, 2012, as part of widespread anger across the Muslim world about a film ridiculing Islam's Prophet Muhammad. (AP Photo/Nasser Nasser)

CORRECTS NATIONALITY OF FILMMAKER - An Egyptian soldier stands guard in front of the U.S. embassy in Cairo, Egypt, Wednesday, Sept. 12, 2012, as part of widespread anger across the Muslim world about a film ridiculing Islam's Prophet Muhammad. A man identifying himself as Sam Bacile, a 56-year-old California real estate developer, said he wrote, produced and directed the movie. He told the AP he was an Israeli Jew and an American citizen. But Israeli officials said they had not heard of Bacile and there was no record of him being a citizen. Arabic on the wall reads, "anyone but God's prophet." (AP Photo/Nasser Nasser)

Egyptian protesters carry anti U.S. banners while they lineup by the walls of the U.S. embassy in Cairo, Egypt, Wednesday, Sept. 12, 2012, as part of widespread anger across the Muslim world about a film ridiculing Islam's Prophet Muhammad. Arabic on the center banner reads "the United Nations ignore the killing of Muslims, nuclear weapons, internet and media channels are used to kill the principles and ethics, leadership is not about the numbers of bombs and soldiers or supporting Israel with no religious word." (AP Photo/Nasser Nasser)

Egyptian riot police secure the walls of the U.S. embassy during an anti U.S. demonstration in front of it in Cairo, Egypt, Wednesday, Sept. 12, 2012, as part of widespread anger across the Muslim world about a film ridiculing Islam's Prophet Muhammad. The graffiti on the wall reads, "anyone but God's Prophet."(AP Photo/Nasser Nasser)

Egyptian protesters attend Muslims evening prayers during a demonstration in front of the U.S. embassy in Cairo, Egypt, Wednesday, Sept. 12, 2012, as part of widespread anger across the Muslim world about a film ridiculing Islam's Prophet Muhammad. Arabic graffiti on the wall reads "there is one God, we will live with dignity," and "anyone but God's prophet." (AP Photo/Nasser Nasser)