The Saturdays mission to win the US over seems to be paying off.
They managed to sneak into the MTV Video Music Awards last week and now they've bagged themselves front row seats at New York Fashion Week.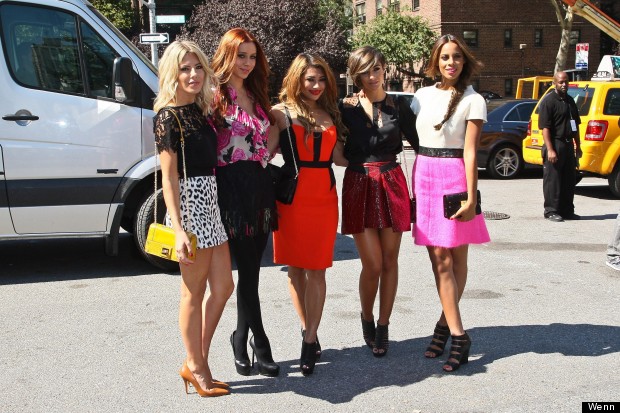 So far on their US jaunt they've stayed in LA, but they were putting their best fashion feet forward as they headed to NYC to preview the Spring/Summer '13 collections.
Mollie, Una, Frankie, Vanessa and Rochelle were looking uber glam as they took up their seats at the Milly SS13 collection preview sporting outfits from the designer.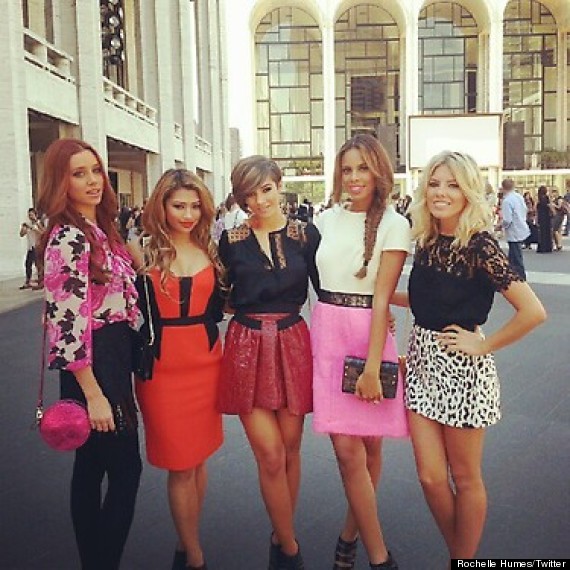 The designer is a favourite amongst other celebs including Emma Watson, Cheryl Cole, Jennifer Lopez, Katy Perry, Anne Hathaway and Victoria Beckham.
HUFFPOST UK CELEB ON FACEBOOK | FOLLOW US ON TWITTER
The Saturdays have been busy trying to crack the States and follow in the footsteps of One Direction, The Wanted and Cher Lloyd.
They are currently filming their new US reality TV series, which is set to air on E! later this year.
ENTER OUR COMPETITION TO WIN A CAMERA
> IN PICS: THE SATURDAY'S SYLE EVOLUTION

Loading Slideshow
Style Evolution: The Saturdays

<strong>2008</strong> The Saturdays arrive for the Disney Channel European premiere of Camp Rock

Style Evolution: The Saturdays

<strong>2008</strong> The Saturdays arrive at the Nickelodeon Kids' Choice Awards

Style Evolution: The Saturdays

<strong>2008</strong> The Saturdays arrive at the Nickelodeon Kids' Choice Awards

Style Evolution: The Saturdays

<strong>2008</strong> The Saturdays attend the UK premiere of <em>High School Musical 3</em>

Style Evolution: The Saturdays

<strong>2008</strong> The Saturdays arrive at the Jingle Bell Ball

Style Evolution: The Saturdays

<strong>2009</strong> The Saturdays at the <em>Red Nose Day Launch</em>

Style Evolution: The Saturdays

<strong>2009</strong> The Saturdays at the Tesco Magazine's Mum Of The Year Awards

Style Evolution: The Saturdays

<strong>2009</strong> The Saturdays in the press run at Capital 95.8 Summertime Ball

Style Evolution: The Saturdays

The Saturdays at T4 on the beach

Style Evolution: The Saturdays

The Saturdays before their gig at Oceana nightclub

Style Evolution: The Saturdays

<strong>2009</strong> The Saturdays pose for a Samsung mobile photocall

Style Evolution: The Saturdays

<strong>2009</strong> The Saturdays pose backstage at the Girlguiding UK's Centeneary Big Gig

Style Evolution: The Saturdays

Style Evolution: The Saturdays

Style Evolution: The Saturdays

Style Evolution: The Saturdays

Style Evolution: The Saturdays

Style Evolution: The Saturdays

Style Evolution: The Saturdays

Style Evolution: The Saturdays

Style Evolution: The Saturdays

Style Evolution: The Saturdays

Style Evolution: The Saturdays

Style Evolution: The Saturdays

Style Evolution: The Saturdays

Style Evolution: The Saturdays

Style Evolution: The Saturdays

Style Evolution: The Saturdays

Style Evolution: The Saturdays

Style Evolution: The Saturdays

Style Evolution: The Saturdays

Style Evolution: The Saturdays

Style Evolution: The Saturdays
> WATCH: CATCH UP ON ALL TODAY'S CELEB GOSS