Kim Kardashian is taking her relationship with Kanye West to the next level by reportedly moving in with the rapper.
Kanye is said to have handed the reality star the keys to his luxury apartment in New York's Soho district. The couple plan to see if they get on well in a shared space, before deciding whether or not they want to purchase a home together in Los Angeles.
A source told The Sun: "They've agreed it will be a trial basis. They're putting a three-month period on it. If it works, they've agreed to look for a house they can buy together in L.A."
The pair started dating after Kim's 72-day marriage to Kris Humphries broke down in October last year and she hinted about their plans to move in together on Twitter on Wednesday.
She tweeted: "Packing for 3 months is so hard! But I did it and I'm off!!! I'm gonna miss you LA."
When one follower quizzed her about her destination, she replied: "Can't say yet but it will be revealed during our season finale. But we're soooo excited!!!"
After arriving in New York, Kim and Kanye have been seen out and about at Fashion Week and were reportedly "all over each other" as they took up their front row seats at one show next to Tyra Banks.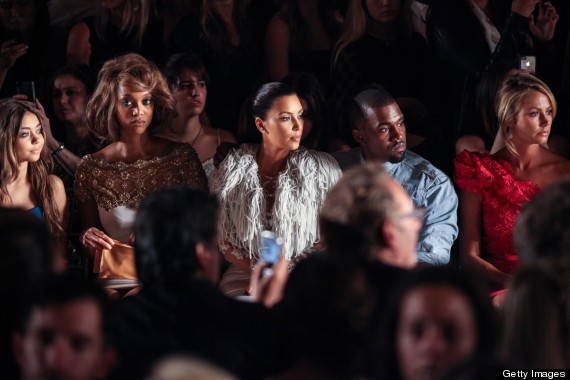 And by the look of Tyra's face she was less than impressed by the couple - she couldn't even raise a trademark smize.
An onlooker told Us Weekly: "Kanye was twirling Kim's 'fur' fringe jacket. He kept his arm around her the entire time and she kept touching the inside of his leg. They could barely keep their hands off of each other."
Honestly, there's a time and a place.
Loading Slideshow
Marchesa S/S '13

(Getty photo)

Marchesa S/S '13

With Tyra Banks. (Getty photo)

Louise Golden S/S '13

(Getty photo)

Louise Golden S/S '13

With Rachel Roy and Derek Blasberg. (Getty photo)

Louise Golden S/S '13

(Getty photo)

Louise Golden S/S '13

(Getty photo)

Louise Golden S/S '13

(FilmMagic photo)

Kim Kardashian Launches Jewelry Collection

Kim Kardashian launches her Belle Noel jewelry collection
Also on HuffPost: