A grandfather will take part in his 30th consecutive half-marathon with a fridge strapped to his back at tomorrow's Great North Run.
For the past 29 days Tony 'The Fridge' Phoenix-Morrison has completed the Newcastle to South Shields course weighed down by a 40kg fridge.
He undertook the fitness challenge in aid of the Sir Bobby Robson Foundation which funds cancer research.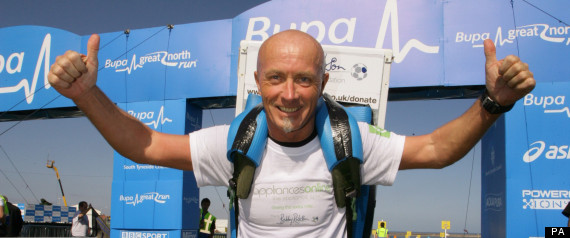 Tony Phoenix-Morrison will run the same course on Monday without the appliance on his back "just for fun"

Mr Phoenix-Morrison, from Jarrow, South Tyneside, was joined for the last mile of his 29th run by players from the under-14 football team he coaches, and the Geordie chapter of the Harley Davidson Club.
At tomorrow's race - the biggest mass participation event in the country - there will be 55,000 other runners to spur him on.
He said: "I feel really honoured by all the wonderful support today and every day. Everybody coming together like this and celebrating what we've achieved is just fantastic.
"The success of the fundraising really is testament to how much Sir Bobby was loved and, sadly, because so many people are affected by cancer.
"I've heard all kinds of really touching stories from people as I've been running and I've been in tears some days.
"It's been an honour to carry out this challenge. I worked really hard to prepare for it and I've got stronger as it has gone on.
"I've got the run itself tomorrow but it'll probably be the Great North Walk because I'll be stopping to say hello to people on the way. I'm just going to take my time and enjoy it.
"I am a little bit broken but I won't take long to repair. I stopped drinking for this challenge and I've never wanted a pint of lager more in my life."
While tomorrow will be his 30th with the fridge in as many days, he will run the same course on Monday without the appliance on his back "just for fun".
To donate to the Sir Bobby Robson Foundation please visit www.justgiving.com/tonythefridge.